U.S. employers add a robust 304,000 jobs in January despite government shutdown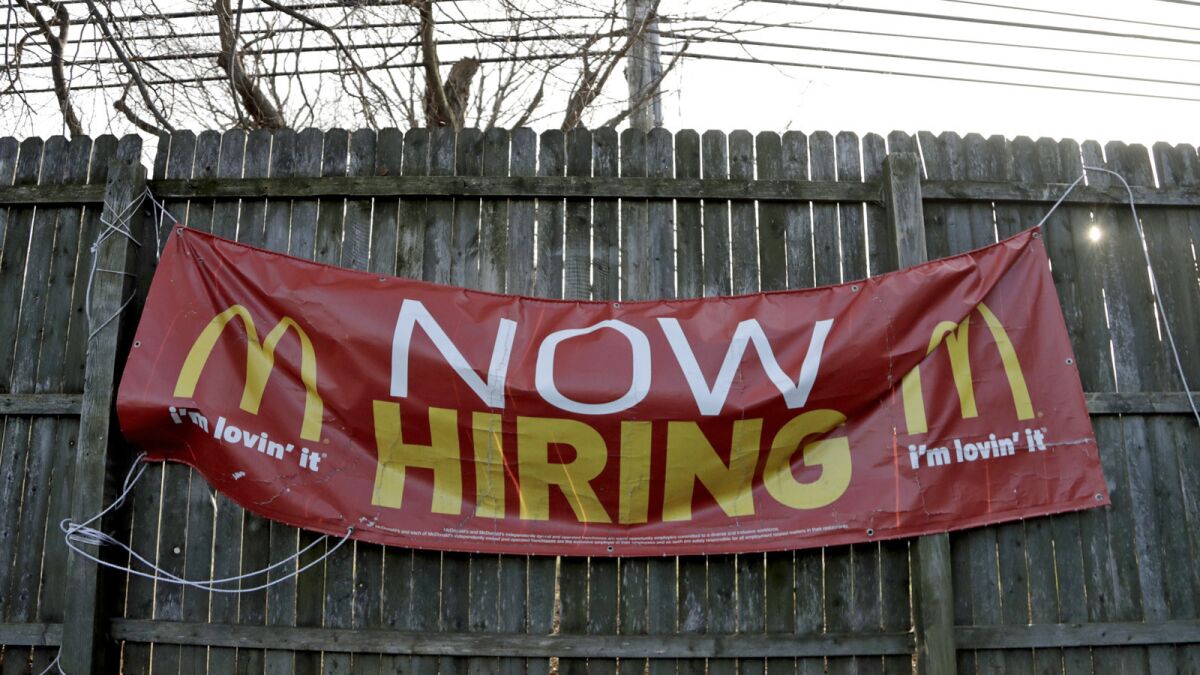 Reporting from WASHINGTON —
U.S. employers shrugged off last month's partial government shutdown and engaged in a burst of hiring in January, adding 304,000 jobs, the most in nearly a year.
The healthy gain the Labor Department reported Friday illustrated the job market's durability nearly a decade into the economic expansion. The U.S. has now added jobs for 100 straight months, the longest such period on record.
The numbers also validate the Federal Reserve's decision to pledge patience on future interest rate hikes to head off any inflation amid the continued economic expansion.
"The trend looks very favorable in terms of momentum of job growth," said JPMorgan Chase & Co. chief U.S. economist Michael Feroli. "Right now we don't have an inflation problem."
The government said the unemployment rate rose to 4%, from 3.9%, but mostly for a technical reason: About 175,000 federal workers were counted as temporarily unemployed because of the shutdown, though they were still included in the payroll tally because they will collect back pay. But workers in related businesses, such as contractors, may have lost hours and earnings they may never fully recoup.
In addition, the number of Americans working part time for economic reasons had an unusually large jump of about 500,000, which acting labor statistics Commissioner William Wiatrowski said was almost all in the private sector and may reflect the shutdown. That pushed up the U-6, or underemployment rate, to 8.1% from 7.6%.
Job growth in December also was revised sharply lower, to 222,000 from a previously estimated 312,000. Still, hiring has accelerated since last summer, a development that has surprised economists because hiring typically slows when unemployment is so low.
In January, gains in hiring included construction, with the biggest increase in almost a year. Leisure and hospitality, education and health, transportation and warehousing, and retail all had solid advances. Manufacturing payrolls increased by 13,000, a five-month low.
Meanwhile, other data showed a more stable outlook for manufacturing at the start of the year. The Institute for Supply Management index unexpectedly rose to 56.6 in January, exceeding all economist estimates in a Bloomberg survey — and rebounding after the steepest drop in a decade, data showed Friday. Measures of new orders and production snapped back after steep declines.
The solid jobs report provided a note of reassurance that the economy remains mostly healthy and likely to shake off any effects of the shutdown, which will probably end up slowing the economy's growth for the first quarter. The nonpartisan Congressional Budget Office estimates that the shutdown lowered annual growth for January through March by about 0.4 percentage point, to a rate of 2.1%.
Thousands of government workers who missed two paychecks slowed their spending. The federal government itself also spent less. In addition, many businesses across the country lost income. Tourists cut back on visits to national parks, for example, thereby hurting nearby restaurants and hotels.
Yet even employers whose revenue dropped probably held on to their workers during January. With unemployment so low and many companies struggling to fill jobs, layoffs might not have been widespread.
Data from the employment site Glassdoor show that the number of job postings rose nearly 9% in late January compared with a year earlier, suggesting that demand for labor remained strong.
But consumer confidence fell in January for a third straight month as Americans' optimism dimmed amid the shutdown and sharp drops in the stock market. Falling confidence can cause consumers to restrain their spending, though economists note that confidence typically returns quickly after shutdowns end.
The housing market also has slumped as mortgage rates have increased. Sales of existing homes plunged in December and fell 3.1% in 2018 from the previous year. Mortgage rates have fallen back after nearly touching 5% last year, but the number of Americans who signed contracts to buy homes still declined in December.
China's economy is decelerating sharply and Italy's economy has entered recession, exacerbating fears that slower global growth will cut into U.S. exports.
Federal Reserve Chairman Jerome H. Powell this week cited the weaker global economy as a key reason why the central bank will be "patient" before it raises its benchmark interest rate again. That was a sharp turnaround from January, when Fed policymakers forecast two additional hikes for this year.
However, if future jobs reports continue to be this strong, Bank of America Corp. economists Joseph Song and Michelle Meyer say "the conversation will once again shift to further hikes."
"But this won't likely happen immediately. The committee will likely stick with its call for patience and monitoring the data further for longer," they wrote in a note.
Bloomberg was used in compiling this report.
---
Sign up for the California Politics newsletter to get exclusive analysis from our reporters.
You may occasionally receive promotional content from the Los Angeles Times.