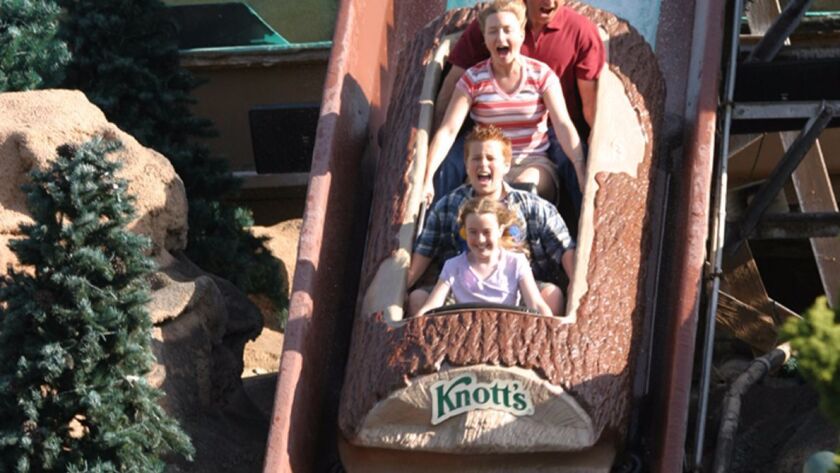 A state agency that oversees amusement park safety has given Knott's Berry Farm in Buena Park a Jan. 29 deadline to make improvements on a log ride that has a record of rider injuries.
The state Division of Occupational Safety and Health imposed several safety requirements to address injuries suffered by dozens of children and adults over the last five years on the Timber Mountain Log Ride.
In a statement, Knott's Berry Farm said it "takes this report seriously and will work to comply with the requirements issued by the State of California's Division of Occupational Safety and Health."
"Safety is Knott's number one priority and we are committed to the protection of all our guests," the statement said.
The attraction, a chute ride that culminates with a watery plunge, was the subject of a lawsuit filed this summer by the family of Charles Miller, 6, of Illinois, who was injured last year when he was a passenger on the ride with his father.
The boy's face smashed into the back of the seat in front of him when the floating log vehicle slowed abruptly after coming down the final drop, the suit alleges.
During a previous inspection, the state agency concluded that a device that monitors the water level was not working properly. The water level can affect how quickly the ride slows at the bottom of the plunge. The agency ordered the park to make repairs and pay more than $5,000 in inspection fees.
The latest inspection of the log ride was sparked by a report in May that a 4-year-old boy was hurt while exiting the ride.
During the inspection, the state agency documented 43 injuries to riders since 2012, ranging from a bloody nose to a chipped tooth, with more than twice as many injuries to riders under the age of 13 than those over 13.
The state agency, in the inspection report presented to Knott's Berry Farm on Nov. 9, imposed eight requirements on the theme park, including a mandatory inspection by an attraction designer to ensure that the padding, floorboards and handrails are adequate to "prevent injury from contact during the moments of movement."
The park also was ordered to determine the proper water level to ensure that the ride vehicles slow safely. In addition, it was instructed to "enhance the means by which they provide safety instructions to patrons as they board the ride."
Knott's was ordered to pay $12,800 in inspection fees for work that produced the report.
To read more about the travel and tourism industries, follow @hugomartin on Twitter.
---
UPDATES:
2:25 p.m.: This article was updated to include a statement from Knott's Berry Farm.
This article was originally published at 12:15 p.m.
---