Kung Fu Panda attraction opens at Universal Studios Hollywood with high-tech special effects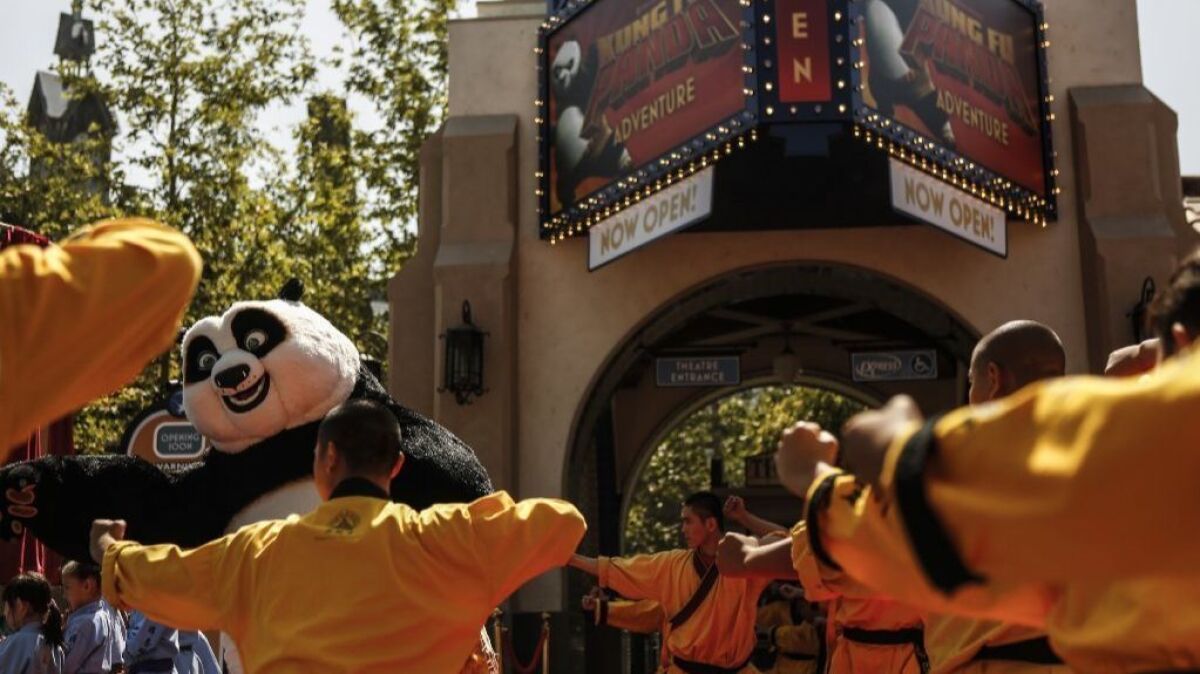 The future of theme park attractions is being ushered in by an overweight panda from China.
During an early preview of its latest attraction, Universal Studios Hollywood officials described its new Kung Fu Panda attraction as a theater spectacular that can be overhauled and reconfigured every few years to feature characters and scenes from the latest box office hit.
Kung Fu Panda: The Emperor's Quest opens to the public Friday in a specially designed theater equipped with new projection mapping technology that can project moving images on uneven surfaces, such as the pillars and walls of the theater.
The DreamWorks Theater, which seats about 250, was previously the home of a similar attraction featuring the characters from the 2001 film "Shrek." This time the theater's show stars the characters from 2008's "Kung Fu Panda." Both movies were DreamWorks productions.
"What's particularly exciting about this DreamWorks theater is versatility," said Karen Irwin, president and chief operating officer at Universal Studios Hollywood. "This theater has the flexibility to change the entertainment and feature other DreamWorks animation stories in the coming years."
Other Southern California tourist attractions, including TCL Chinese Theatre in Hollywood and Disneyland in Anaheim, have begun using projection mapping to put moving images on walls and buildings without the cost of building old-fashioned animatronics or hiring actors in costumes. The images are designed on powerful computers so programmers and artists can create new stories and shows based on characters and scenes from the newest box office smash.
The seats in the theater are programmed to shift and vibrate to the scenes shown on the screen and on the walls of the theater to make audience members feel as if they were, for instance, rolling on a boat on turbulent waters. Hidden sprayers spritz the audience with water to give the effect of splashing waves against the boat.
When several characters in the story shoot flaming arrows, the projection mapping sends the smoking arrows streaking into the walls and columns of the theater.
The previous Shrek show — called Shrek 4-D — opened in 2003 and closed last year. It also featured moving seats that tilt and vibrate and special effects that included air blasts, water misters and leg ticklers. But instead of projection mapping, the Shrek show relied on what is now antiquated 3-D technology, dubbed "OgreVision" in the attraction, which required special glasses.
To read more about the travel and tourism industries, follow @hugomartin on Twitter.
---
Sign up for the California Politics newsletter to get exclusive analysis from our reporters.
You may occasionally receive promotional content from the Los Angeles Times.