Q&A: Jared Kushner's sister puts EB-5 visas back in the spotlight. Here's what they are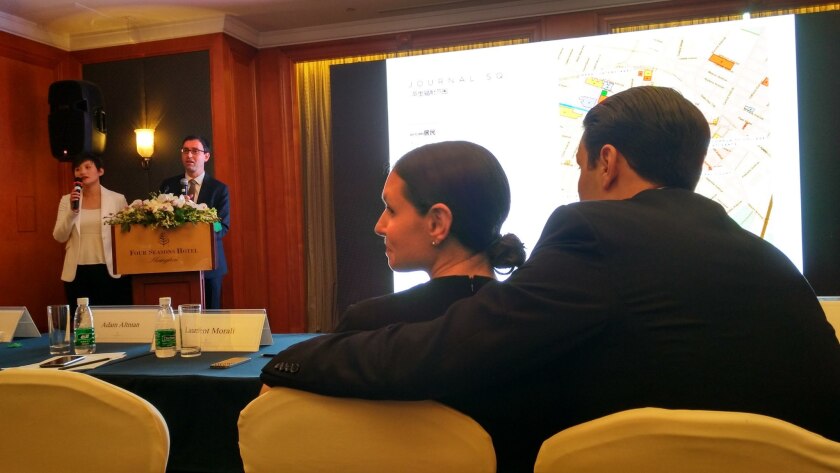 The EB-5 federal visa program is back in the spotlight after Jared Kushner's sister used the immigrant investor program — which provides a pathway to permanent U.S. residence — to court Chinese investors.
Nicole Meyer promoted One Journal Square, a Kushner Cos. development in Jersey City, N.J., at an event Sunday at the Four Seasons Hotel in Shanghai, according to participants.
The event was organized by Beijing-based immigration services company QWOS and Kushner Cos., according to an advertisement on the Chinese company's website, which says the project is seeking $150 million from 300 EB-5 investors.
The Chinese company's advertisements for the Journal Square development described the project as "Kushner 1," with punchy subtitles declaring that it has "government support" and is "founded by celebrity developers" without elaborating on those claims.
Organizers prevented reporters from attending the event, saying it was a private function even though it was publicly advertised.
Kushner, who is President Trump's son-in-law and senior advisor, stepped down as chief executive of Kushner Cos. in January and has sold stakes in several properties to help allay concerns about conflict of interest.
The EB-5 program is for entrepreneurs who invest in a new commercial enterprise that creates or preserves at least 10 U.S. jobs. Under the program, those entrepreneurs, their spouses and their unmarried children under 21 years old can apply for green cards.
How does the EB-5 program work?
To gain eligibility for permanent residence under the program, foreign investors must invest in a new business venture in the U.S. that creates or preserves at least 10 permanent, full-time jobs for U.S. workers.
Investors must contribute at least $500,000 if the project is in a rural or high-unemployment area. If it is not, the minimum investment is $1 million.
How popular is this program?
The EB-5 visa program, established in 1990, was little used until 2008. The jump in applications coincided with the Great Recession, when traditional bank financing was difficult to come by. At the same time, the number of wealthy investors in developing countries rose, according to a 2014 report from the Brookings Institution and the Rockefeller Foundation.
A maximum of 10,000 total EB-5 visas can be authorized each year, according to the U.S. Citizenship and Immigration Services agency.
Last fiscal year, a total of 8,505 EB-5 visas were issued — up dramatically from 471 in fiscal 2007, according to the State Department. (The federal government's fiscal years start in October.)
Where are EB-5 investors from?
In fiscal 2016, about 80% of the investors came from mainland China, according to State Department data. Here are the top five countries of origin for the 8,505 people who were issued EB-5 visas last year.
82% from mainland China (6,968 visas issued)
3.3% from Vietnam (287 visas issued)
2.3% from South Korea (195 visas issued)
2.1% from Taiwan (175 visas issued)
1.1% from India (90 visas issued)
Are there projects in Southern California that were funded through EB-5 investments?
Yes. Here are just a few:
Europa Village, a proposed residential, hotel, winery and event space in Temecula, has been partially paid for with $60 million from more than 100 Chinese investors through EB-5 visas.
The Hilton Garden Inn in El Monte, which opened this year, was funded with EB-5 investments.
The JW Marriott hotel at L.A. Live in downtown Los Angeles benefited from funding from more than 300 EB-5 investors.
Have there been controversies associated with the program?
Yes. The program has been criticized in recent years as developers have stretched the rules to channel investor funds toward pricey condos and hotels in Los Angeles and other urban environments, rather than toward poor or rural communities.
There also have been myriad allegations of fraud. For example:
Last month, federal agents raided San Gabriel Valley homes and an office linked to people accused of collecting $50 million in EB-5 funds from more than 100 Chinese nationals. The money was supposed to be invested in development projects that authorities say never occurred.
In December, the Securities and Exchange Commission filed a fraud lawsuit against an Orange County attorney who said he would use EB-5 funds from Chinese investors to open coffee shops and assisted-living facilities. The SEC said some coffee shops were built, but none of the assisted-living facilities were established and that the attorney instead diverted the investors' money to pay expenses for himself and his company.
In 2015, the SEC filed a fraud suit against a Redlands doctor-turned-developer. The agency said he misspent funds from Chinese investors that were intended to convert an adult day care facility into a nursing home.
Already a subscriber? Thank you for your support. If you are not, please consider subscribing today. Get full access to our signature journalism for just 99 cents for the first four weeks.
The Associated Press contributed to this report.
---
Must-read stories from the L.A. Times
Get the day's top news with our Today's Headlines newsletter, sent every weekday morning.
You may occasionally receive promotional content from the Los Angeles Times.