San Gabriel Valley's El Monte getting a boost from Chinese investors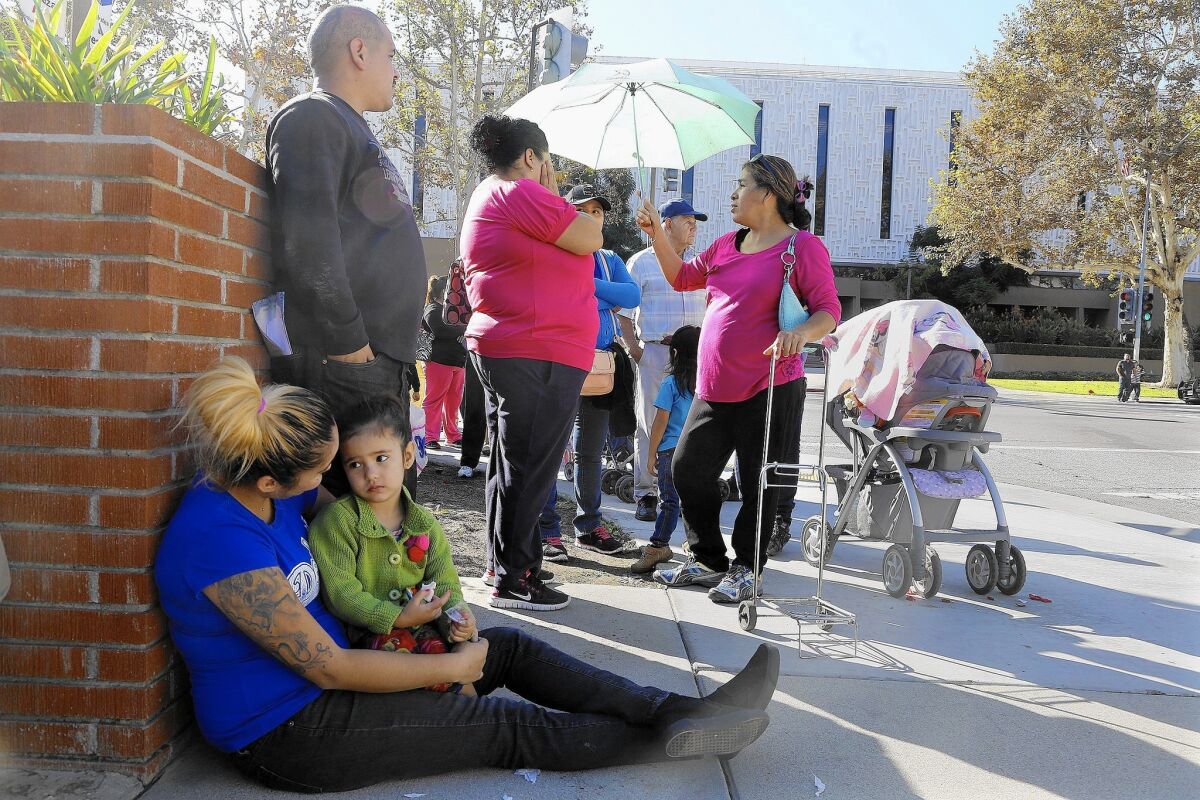 Trucks loaded with construction materials park in front of a vacant lot in El Monte, where a homeless man slumbers on the sidewalk next to a mountain of rags and trash bags.
Overhead, colorful flags whip in the breeze, advertising opportunities for wealthy Chinese investors. A large sign above the sidewalk explains the reason for the trucks: the construction of a 133-room Hilton Garden Inn on a run-down section of Valley Boulevard.
The Hilton is part of an unprecedented wave of Chinese investment in a working-class, mostly Latino city, where more than $720 million in projects are under discussion or development.
When it opens in 2015, the Hilton will become El Monte's first full-service hotel since the city was incorporated in 1912. If approved, a $220-million development with about half a million square feet of retail and office space would add another hotel.
"The current interest in development is the most I've seen in 14 years with the city," said Minh Thai, El Monte's economic development director. "These projects will be pivotal and transformative."
It's a familiar tale in the San Gabriel Valley, where Chinese tourists, home buyers and investors are remaking the suburban landscape, replacing single-story ranch homes with mega-mansions and adding luxury hotels, skylines and density to once quaint towns.
That has been the case in cities with large, upwardly mobile Chinese populations and strong tourism markets such as San Gabriel, Arcadia and Monterey Park.
Then there's El Monte. A densely populated city of 113,000 where nearly a quarter of the population lives below the poverty line, the city is a departure from the trend.
The closest thing the city has to a tourist attraction may be the Valley Mall, a humble promenade of discount and check-cashing stores, Mexican restaurants, hair salons and an El Pollo Loco. Hit hard by the recession and pockmarked with unused or vacant lots and foreclosed homes, the city was contemplating bankruptcy just a few years ago.
But experts say investors are betting on a vision of the San Gabriel Valley as a vibrant center for Chinese tourism and culture in Los Angeles. And El Monte, minutes from Chinese cultural hubs and blessed with access to the 10, 605 and 60 freeways, could play an important role, said Robert Kleinhenz, an economist with the Los Angeles County Economic Development Corp.
"By just about any other perspective, it doesn't make sense to build a luxury hotel in El Monte," Kleinhenz said. "But given the San Gabriel Valley's potential to attract Chinese tourists, it makes sense to put some stakes down there."
::
El Monte's sudden development boom has some of its roots in China, where cooling markets have forced investors to send their money overseas, said Thilo Hanemann, an economist with the Rhodium Group, a research firm that tracks Chinese investment. Since 2005, China's outward foreign direct investment — a term measuring China's investment in other countries — has increased from an annual average of about $3 billion to $60 billion in 2011.
This year the Chinese government has radically tightened the domestic real estate market, and investors are expanding into every sector of the U.S. economy to maintain the profit margins they're accustomed to, Hanemann said. California is one of their primary targets: The state alone could see up to $60 billion of Chinese direct investment by 2020, he estimates.
"They're chasing returns," Hanemann said, "trying to escape low-yield environments in China."
This is happening as a growing Chinese middle class is visiting the U.S. in larger numbers than ever. Chinese tourism in Los Angeles County has quadrupled since 2009, and last year more Chinese people visited Los Angeles County — 570,000 — than the number of Chinese who actually live here. More than half of China's millionaires are considering emigration, with the U.S. as a top destination, according to the Hurun Report, a publication chronicling Chinese wealth.
The combination of Chinese tourism, immigration and investment has sparked a small hotel-building boom across the San Gabriel Valley, a region of 2 million people east of downtown Los Angeles and home to one of the highest concentrations of Chinese people in the U.S.
Monterey Park has three hotel proposals in various stages of discussion on Atlantic Boulevard. San Gabriel could add two more hotels along Valley Boulevard in addition to the Hilton built there in 2005. The owner of Arcadia's Santa Anita Inn wants to replace it with two Marriott hotel properties. At least five new hotels have been proposed in Pasadena.
But El Monte is the unlikely newcomer to the Chinese tourism market. The last time the city had anything resembling an international tourist attraction was in the first half of the 20th century, when a lion preserve called Gay's Lion Farm drew visitors from around the world. In the 1950s, Southland residents flocked to the American Legion Stadium's television variety shows.
That was all a long time ago, said Donna Crippen, curator of the El Monte Museum.
"You hear El Monte, and people tend to curl up their nose," she said. "But I tell people, we were the first city in L.A. County. We have a lot of history."
While other cities in the region experienced rebounds in home prices and tax revenues after the 2008 housing bust, El Monte hasn't recovered. For years the city ran a structural deficit of $12 million thanks to precipitous declines in sales tax revenue, and 30% of the city's workforce was eliminated.
For the most part, new waves of immigrant investors and home buyers skipped El Monte and proceeded farther east to Walnut, Diamond Bar and Rowland Heights.
In 2013, El Monte's median income of $39,535 — though rising — was nearly 40% below the state average, and about 14% of the city's population is unemployed.
But low incomes and high unemployment work in El Monte's favor, at least in one way: attracting foreign investment.
The California Investment Regional Center, the Hilton Garden Inn project developer, uses funds from the EB-5 investor visa, a federal program that offers visas and a pathway to permanent residency to immigrants who invest at least $1 million in a U.S. business that creates at least 10 jobs.
But in state-designated low-employment areas such as El Monte, the minimum investment to get a visa is only half that: $500,000. That gives developers targeting El Monte — especially those with Chinese connections — easier access to visa investors who desire permanent residency. Chinese investors represent about 85% of the EB-5 program's applicants.
The Hilton's developer plans to use up to $26 million in EB-5 funds, and the other hotel project, called the Flair Spectrum, is also considering using visa dollars.
El Monte has had trouble with EB-5 funding in the past. In 2011 the development company of a proposed billion-dollar EB-5 project called the El Monte Transit Village was shut down by immigration authorities for possible misuse of funds.
But Mayor Andre Quintero said that foreign capital gives the city options it didn't have before.
"Private capital here in the U.S. has not been interested in cities like ours," Quintero said. "But foreign capital is coming. We're encouraged by that."
::
The $32.4-million Hilton project sits next to auto repair shops, liquor stores and taco stands on a largely deserted section of Valley Boulevard.
Project developers say they are looking at the big picture. The city has been a regional transit hub ever since early California settlers dubbed it "The End of the Santa Fe Trail." El Monte offers large, affordable lots, access to the 605, 60 and 10 freeways, a Metrolink stop and a recently renovated MTA bus station that is the largest of its kind west of Chicago.
And it's not just hotels heading to El Monte. Cathay Bank, the nation's largest Chinese American bank, recently relocated its headquarters to the city.
"Because of demographics, perhaps investors have shied away from El Monte," said Monika Polinska, public relations director for the Flair Spectrum project. "But things are changing."
The eastern and western regions of the San Gabriel Valley feature some of the densest populations of Chinese people in the country, and El Monte is between them. The Hilton's promotional materials for potential investors underscore that the hotel is located in a Chinese area, with Chinese-dominated cities just a five-mile drive away.
For travelers and investors, there's comfort in being in culturally familiar surroundings, said Mike Margolis, an attorney who works with overseas Chinese investors. He said the richest investors prefer to buy homes and develop properties in traditionally prestigious neighborhoods such as the Westside and downtown Los Angeles. But sooner or later they end up in the San Gabriel Valley, Margolis said.
Even billionaires who can hire translators and guides feel more comfortable when they can read the street signs. And relationships, important to all business, have particular resonance in Chinese culture, Margolis said.
Kleinhenz, the economist, compared El Monte to Little Tokyo in the 1980s, when it was an economically depressed neighborhood next to an expanding skid row. Japanese investors with surpluses of capital sought profits overseas. Cultural links with the existing immigrant population in Little Tokyo drew huge developments to what was considered an unusual area for them. The neighborhood was transformed.
The main difference is that there's far more wealth being created in China, Kleinhenz said, and the changes happening in the San Gabriel Valley, and El Monte, will unfold "on a much larger scale."
---
Life is stressful. Our weekly mental wellness newsletter can help.
You may occasionally receive promotional content from the Los Angeles Times.