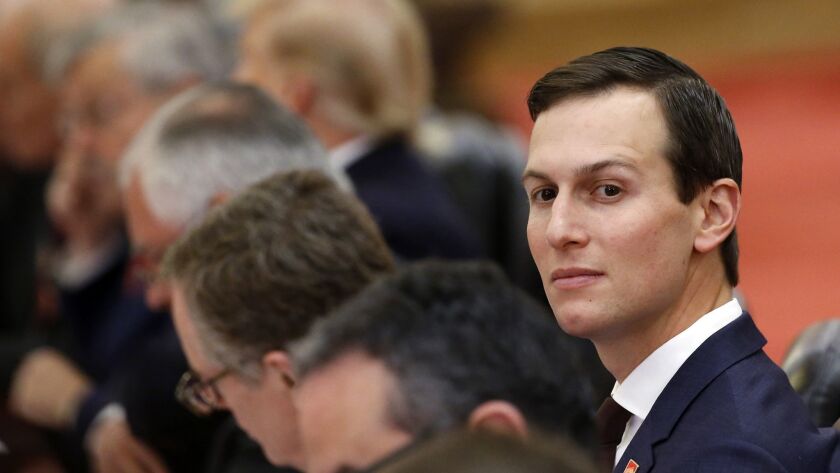 In a deal that would bail out the family of senior White House advisor Jared Kushner, Kushner Cos. is nearing a deal with a unit of Brookfield Asset Management Inc. to salvage its investment in an over-leveraged Manhattan office tower, according to two people familiar with the talks.
The Qatar Investment Authority, which invests on behalf of Qatar's government, is the largest owner of the the unit, Brookfield Property Partners LP, according to data compiled by Bloomberg.
Kushner Cos. had earlier talked with a member of Qatar's royal family about investing in the building at 666 5th Ave. The family company has been trying for years to find a partner to save its investment in the 41-story building it bought for $1.8 billion in 2006, near the top of the real-estate boom. Recently Kushner Cos. has been losing millions of dollars a year on the building due to low occupancy and high mortgage interest payments.
The deal would buy out the Kushners' partner, Vornado Realty Trust, which owns 49.5% of the building's offices. Vornado would continue to own the building's lucrative retail spaces. It isn't immediately clear what would happen to a $1.2-billion mortgage that is due in February, or if Kushner Cos.' ownership stake would shrink as a result of new funds.
Brookfield would provide the bulk of the new capital to rework the facade and modernize the building, said one of the people, who asked not to be identified because the talks are private. The talks are continuing and exact figures are still under discussion, the person said.
"No Qatar-linked entity has any involvement in, investment in or even knowledge of this potential transaction," a spokeswoman for Brookfield said. "They are in no way involved."
Christine Taylor, a spokeswoman for Kushner Cos., didn't immediately respond to requests for comment. The New York Times reported the talks earlier Thursday.
Jared Kushner, the son-in-law of President Trump, stepped aside from managing his family company when he became a senior White House advisor. His family firm's talks with international investors while he serves in government have drawn scrutiny.
During the U.S. presidential campaign, Kushner and his father, Charlie Kushner, had talked with Sheikh Hamad bin Jassim bin Jabr Al Thani, who'd previously served as Qatar's prime minister as well as head of the QIA, about investing in the tower.
The deal would have included $500 million from the sheikh's investment firm, contingent on investment from others. Talks with the Qatari royal stalled after Kushner Cos.' simultaneous negotiations with China's Anbang Insurance Group for more funds fell apart in March 2017.
If the deal is consummated, Brookfield and Kushner would update the aging property with lighter and airier offices that would command higher rents, according to one of the people familiar with the deal. The update would be similar to those Brookfield has made to properties including Manhattan's old Daily News building, the person said.
Brookfield has done deals with Kushner Cos. before, investing in a New Jersey mall redevelopment and putting up loans to buy floors of the former New York Times building.
---