LAX ranked among the top 100 world's airports--just barely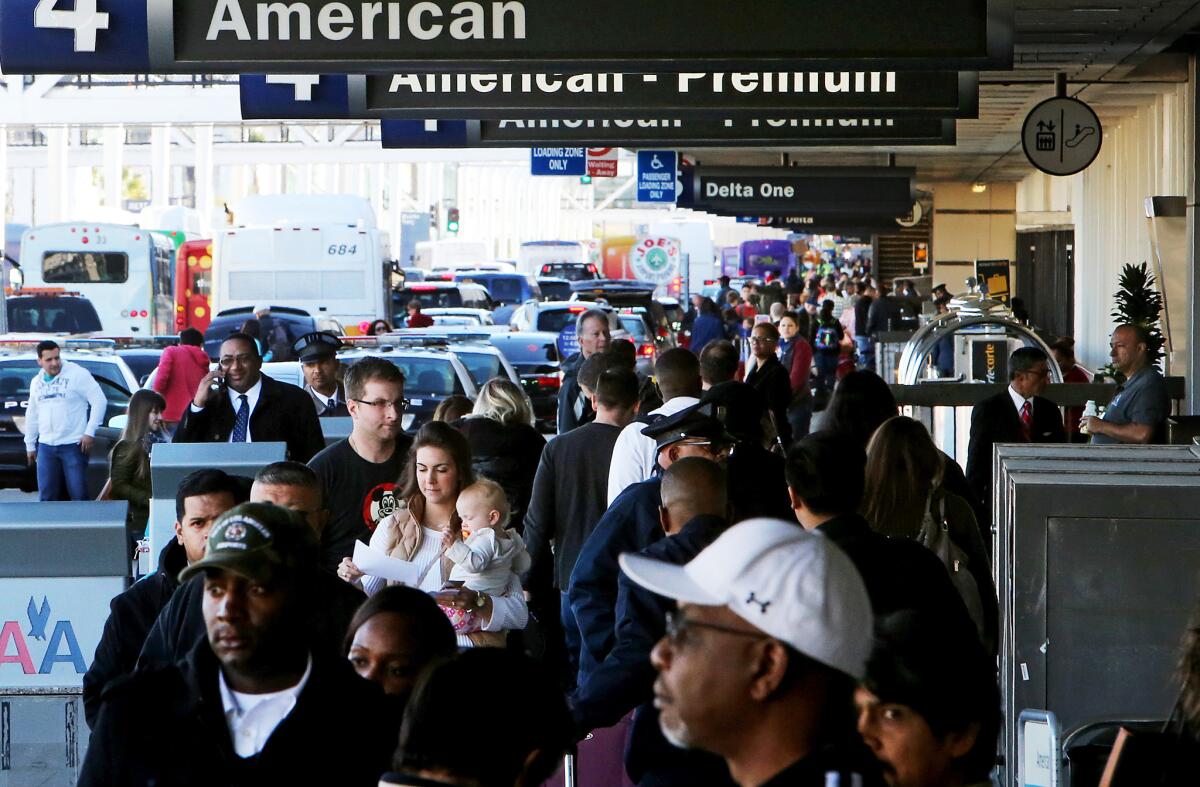 Los Angeles International Airport has returned to the list of the world's top 100 airports. But just barely.
After failing for several years to make a top 100 ranking that is based on a survey of 13.5 million air travelers, LAX broke into the list in 98th position last year and moved up to 91st this year.
The world's top airport was Singapore Changi Airport, followed by Incheon International Airport in South Korea and Munich Airport in Germany, according to the annual rankings by SkyTrax, an air-transport industry research company based in Britain.
The top U.S. airports were Denver International, Cincinnati/Northern Kentucky International Airport and San Francisco International Airport.
LAX, which hosted nearly 75 million passengers last year, ranks low because of dirty facilities, long lines and rude staff, according to air travelers who have posted reviews on the SkyTrax website.
"This is a terrible airport, the worst I have visited in the last couple of years," an Australian traveler wrote on the website in January about LAX. "I would try to avoid this airport in future."
LAX officials say the airport will continue to improve by tackling one of its biggest shortfalls: a lack of connection to mass transit.
Los Angeles County transit officials have approved funding for a light rail station, connected to a people-mover system to link a consolidated car-rental facility, a ground transportation hub and the LAX terminal area. Unfortunately, the multibillion-dollar rail project to LAX isn't scheduled to open until 2023.
"As we continue to modernize the airport and improve congestion and create an atmosphere that makes people feel they are appreciated, LAX will move up the ranking," LAX spokeswoman Mary Grady said.
LAX got hit with more bad news this month: In a ranking of airports with the longest lines at customs and immigration checkpoints, LAX came in fourth, with an average wait times of about 20 minutes.
The longest waits were at John F. Kennedy International Airport (25 minutes) in New York, San Francisco International Airport (24 minutes) and Miami International Airport (22 minutes), according to Global Gateway Alliance, a nonprofit New York advocacy group promoting improved public access.
To read more about travel, tourism and the airline industry, follow me on Twitter at @hugomartin.
ALSO
Hotels are using guest perks to battle online travel agencies
Newest Apple iPhone is expected to target fans of smaller gadgets
Obama administration's OK means Airbnb can open its Cuba bookings to all travelers