LeBron James-backed Blaze Pizza chain will expand outside North America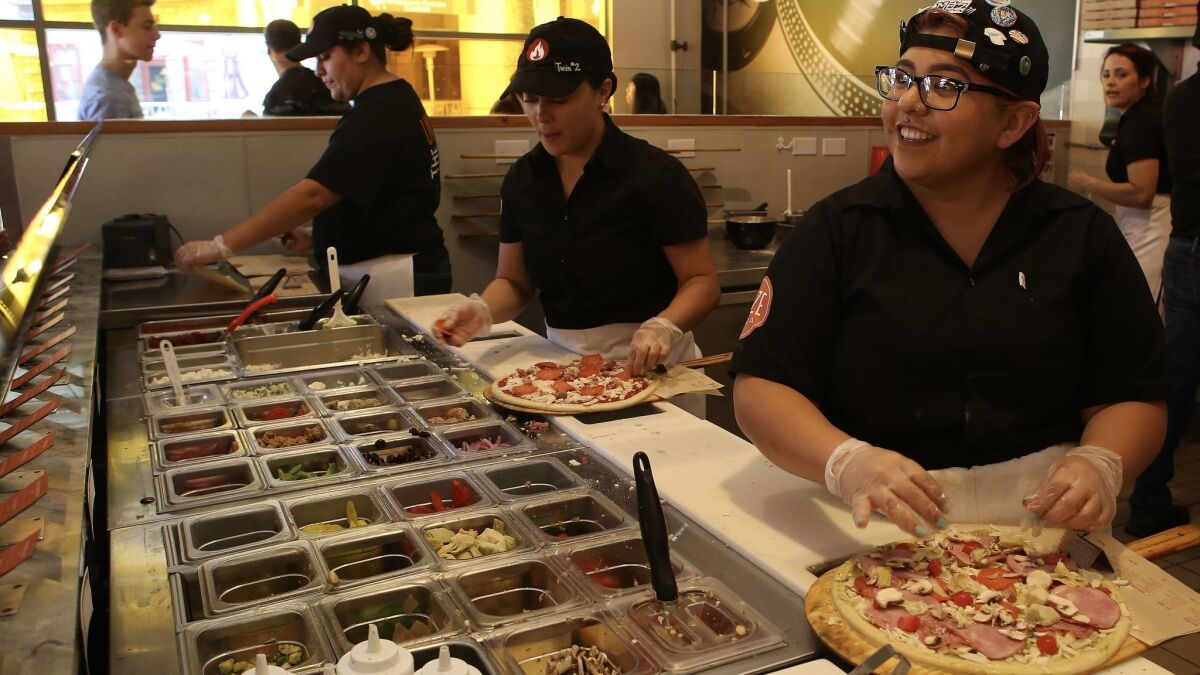 Bloomberg
Blaze Pizza, the Pasadena-based upstart chain backed by basketball star LeBron James, is expanding outside North America for the first time after sales surged last year.
The chain, founded in 2011, will open its first overseas shop in March in Kuwait through a partnership with M.H. Alshaya Co. Blaze also is looking to expand to Mexico, Asia and Europe, Chief Executive Jim Mizes said in an interview.
The company is angling to lead the market for so-called fast-casual pizza, a category known for fresh ingredients and the use of a Chipotle-style assembly line. Blaze Pizza's system sales — a metric that includes money generated by franchisees — jumped 51% last year.
The goal is "global domination in the fast-casual pizza space," Mizes said. "There are many more countries we are going to plant our flag in."
James, who has won three NBA championships, has helped market Blaze Pizza, including an ad where he portrayed a worker behind the counter. James invested in the company in 2012 and walked away from an endorsement deal with McDonald's Corp. in 2015 to become Blaze's "brand ambassador."
The company also sold a significant noncontrolling stake last year to Brentwood Associates, giving it an enterprise value of more than $100 million. Blaze has set a goal to reach 1,000 stores and go public as soon as 2022.
"We'd like to go public when we can achieve a billion-dollar valuation," Mizes said. "We think that's sometime in the next four to seven years."
In the meantime, Blaze — which has 248 outlets in the U.S. and Canada, including more than three dozen in Southern California — is introducing delivery options and recently starting offering the service through Caviar in about 18 of its locations. It's also working with Postmates Inc., DoorDash Inc. and Uber Eats to bring pizzas to customers' homes and offices.
But the fast-casual category can be treacherous. Chipotle Mexican Grill Inc., long the industry darling, has struggled to bounce back from a food-safety crisis. Noodles & Co., another chain that was seen as an innovator, saw sales drop 5.8% in 2017, according to research firm Technomic.
Blaze is projecting a comparable sales increase of 3% to 5% this year after gaining 3.7% in 2017, Mizes said. The company looks to maintain growth by updating its menu. It also is testing a half-pizza and salad option, along with cheese-stuffed dough knots.
The restaurant industry has become more price-conscious this year, especially with McDonald's rolling out a new dollar menu. To stay competitive, Blaze recently advertised a buy-one-get-one-free special.
"It has been a challenging first couple of months," Mizes said.
writes for Bloomberg.
---
Sign up for the California Politics newsletter to get exclusive analysis from our reporters.
You may occasionally receive promotional content from the Los Angeles Times.