Lime blamed its fire-prone batteries on Segway's manufacturing. Segway is pushing back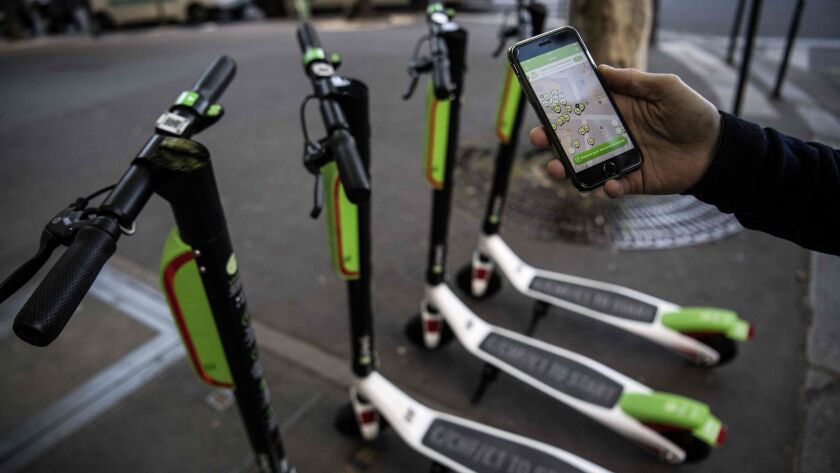 The Washington Post
Lime, one of the nation's largest electric-scooter companies, said this week that it pulled thousands of its scooters off the streets this summer, in Los Angeles and beyond, because a small number of defective batteries had the potential to burst into flames.
San Francisco-based Lime said the batteries were fire-prone because of a welding issue that could cause them to short-circuit.
Segway — the personal-transportation company responsible for producing Lime's batteries — disagreed late Thursday, in essence saying batteries don't work that way. One of its executives suggested the problem might be improper charging and maintenance.
Lime pulls some electric scooters from L.A., San Diego and Lake Tahoe, saying they could catch fire »
Segway engineers who specialize in battery technology believe that faulty welding "will typically stop a battery from charging or discharging, but it's highly unlikely to cause a battery to short circuit," the company said in a statement.
A Lime spokesman said his company "strongly disagrees with Segway's comments" and will "continue to test scooters every day to ensure user safety."
Segway, which also supplies electric scooters to Lime's rival Bird and other companies, said Lime was the only one experiencing the problem.
"We take Lime's fire issue very, very seriously," said Tony Ho, Segway's vice president of global business development. "We actually went to all of our shared scooter partners, and so far we've found that only the Lime operation has had fire incidents."
Ho said it's possible that any defective Lime scooter batteries had become damaged after being involved in crashes or subjected to rider abuse. Batteries can also catch fire if they're overcharged or don't use Segway-issued charging devices, he said.
Ho added that Segway is working closely with Lime to resolve technical questions about malfunctioning batteries.
In a statement Tuesday, Lime said that it learned in August that a "manufacturing defect" in some of its scooters "could result in the battery smoldering, or in some cases catching fire." The only known case in which a Lime scooter caused a fire was at the company's Lake Tahoe facility on Aug. 27.
Lime acknowledged that it had received an unconfirmed report that another scooter model "may also be vulnerable to battery failure."
This week, Lime said Segway Ninebot scooters will be charged only at Lime's "scooter storage facilities." It said it also plans to staff its global charging facilities 24 hours a day with employees trained to handle "these particular batteries."
Holley writes for the Washington Post.
---
Your guide to our new economic reality.
Get our free business newsletter for insights and tips for getting by.
You may occasionally receive promotional content from the Los Angeles Times.