Lyft files for IPO: It touts its growth and reveals it lost $991 million last year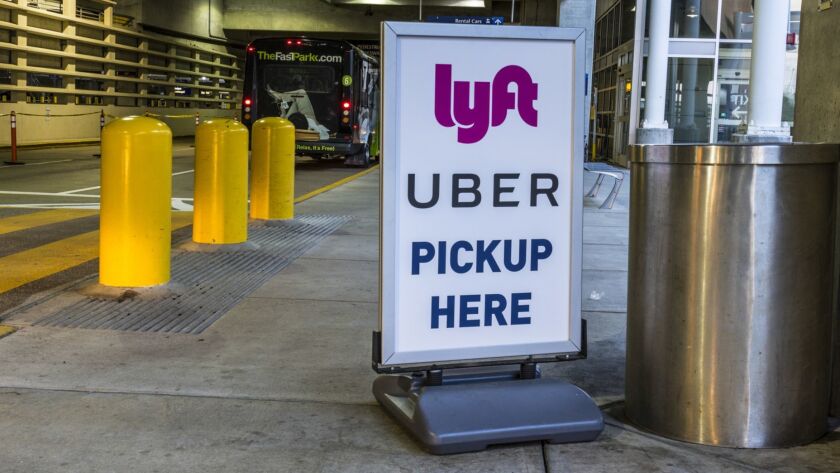 Bloomberg
Potential investors in Lyft Inc.'s initial public offering got their first look at the ride-hailing company's financials Friday, revealing a start-up that's hustling to outrun its growing losses.
Lyft's revenue is exploding, but so is its net loss. Like many other IPO candidates, the San Francisco company has never turned a profit. It lost $991 million in 2018 — up 32% from the year before, even as revenue for the same period doubled.

For the record:
9:25 AM, Mar. 25, 2019This article states that Lyft lost $991 million last year. The company lost $911 million.
Those losses have no end in sight. Among the potential risk factors listed in its Friday filing with the Securities and Exchange Commission, the second-place U.S. ride-hailing company warned that its expenses are likely to increase and that it may not be able to "achieve or maintain profitability in the future."
Lyft filed with an initial offering size of $100 million, but that's only a placeholder amount used to calculate fees and will change. The company is aiming for a market valuation of $20 billion to $25 billion, a person familiar with the matter said last week, meaning the listing could be the biggest from a tech upstart since Snap Inc. went public two years ago — and might even top that.
Since it pivoted to ride-hailing in 2012, Lyft has built its business under an unrelenting onslaught from larger rival Uber Technologies Inc. Both companies generate enormous revenue; Lyft's hit $2.2 billion last year from just $343 million in 2016. Market share climbed at the same time, and Lyft now holds 39% of the U.S. market as measured by trips, the filing shows. That could be enough to satisfy potential investors.
"Significant revenue growth is everything in an IPO," said Barrett Daniels, head of IPOs at consulting firm Deloitte. "People often like to talk about losses, but they really don't matter nearly as much."
Uber, which is expected to have its own IPO this year, has lost more than $10 billion since it was founded. Despite a slowdown in growth, its revenue for 2018 was more than four times that of Lyft at $11.4 billion, and though Uber's adjusted losses fell 15% from the year before, they still hit $1.8 billion.
While Uber has thrown the kitchen sink at investors by promising food and freight delivery, scooters, electric bikes and flying cars, Lyft's message has always been focused on transportation. It stuck to that plan Friday, making no mention of potential diversification and noting that Americans spend more on cars than food anyway.
At the same time, a letter from co-founders Logan Green and John Zimmer said Lyft's mission was to "redesign our cities around people, not cars" by drawing riders into its ride-hailing vehicles where they can be "comforted by their driver's kind words" or find common ground on opposing political views. Lyft already offers bike and scooter-sharing schemes.
Investors are most interested in Lyft's ability to take market share from Uber, said Matthew Kennedy, senior IPO strategist at research firm Renaissance Capital.
"Lyft is dwarfed by Uber, but it's clearly growing and edging into Uber's customer base," Kennedy said.
Another number that potential investors could home in on is Lyft's cost of revenue, which includes items such as insurance charges, tech costs and some personnel-related compensation. For 2018 it represented 58% of Lyft's total costs and expenses, which increased overall by 77% from the year before, the filing shows.
"We expect that cost of revenue will increase in absolute dollars in future periods and vary from period to period as a percentage of revenue," the company said.
Based on the revenue figures revealed Friday and a potential market value of as much as $25 billion, Lyft's valuation multiple could make it more expensive than tech heavyweights such as Snap, Facebook Inc. and Twitter Inc., according to data compiled by Bloomberg.
By making its filing public Friday, Lyft has kicked off what could become a race to the public markets for a glut of start-ups that have raised billions of dollars from private investors. Uber will be the star of that procession when it lists this year; bankers have said Uber's IPO could value the company at $120 billion. Smaller start-ups such as Postmates Inc. and Slack Technologies Inc. are also considering publicly listing.
The dash to market has also left bankers jostling for position underwriting the biggest IPOs, especially in the coveted lead-left slot. Lyft's IPO is being led by JPMorgan Chase & Co., Credit Suisse Group AG and Jefferies Financial Group Inc., according to the filing. Morgan Stanley will lead Uber's offering, people familiar with the matter have said, joined by Goldman Sachs Group Inc.
Lyft had 30.7 million riders and 1.9 million drivers in 2018, racking up $8.1 billion in total bookings, the filing shows. Lyft is offering some of its most dedicated drivers — who are contractors — a cash bonus that they can use to buy shares in the IPO, the company said in a statement. The bonuses will range from $1,000 to $10,000.
Like many tech companies before it, from Facebook to Snap, Lyft touted its number of active users as a key metric for investors to consider. Lyft said it had almost 19 million active riders who took 178 million rides last quarter. That's up from 3.5 million active riders hailing 29 million rides in the first quarter of 2016.
Its quarterly revenue per active rider more than doubled since the beginning of 2016, to $36.04 as of Dec. 31 from $15.88.
Lyft's two biggest holders are Japanese e-commerce giant Rakuten Inc., with 13.05% of Class A common stock before the offering, and General Motors Co., with 7.76%.
Although full details weren't disclosed in Friday's filing, Lyft will follow in the footsteps of Facebook, Google parent Alphabet Inc. and Snap by using a dual-class structure for its shares. Holders of the Class A stock will be entitled to one vote per share, while owners of the Class B shares will get 20 votes per share.
Regulators have criticized the structure, saying it can give outsize power to insiders and put regular investors at a disadvantage when it comes to power over matters such as picking board members and corporate strategy.
Lyft applied to list shares on the Nasdaq Global Market under the symbol "LYFT."
---
Your guide to our new economic reality.
Get our free business newsletter for insights and tips for getting by.
You may occasionally receive promotional content from the Los Angeles Times.