Macy's to slash 4,800 jobs and close 40 stores after disappointing holidays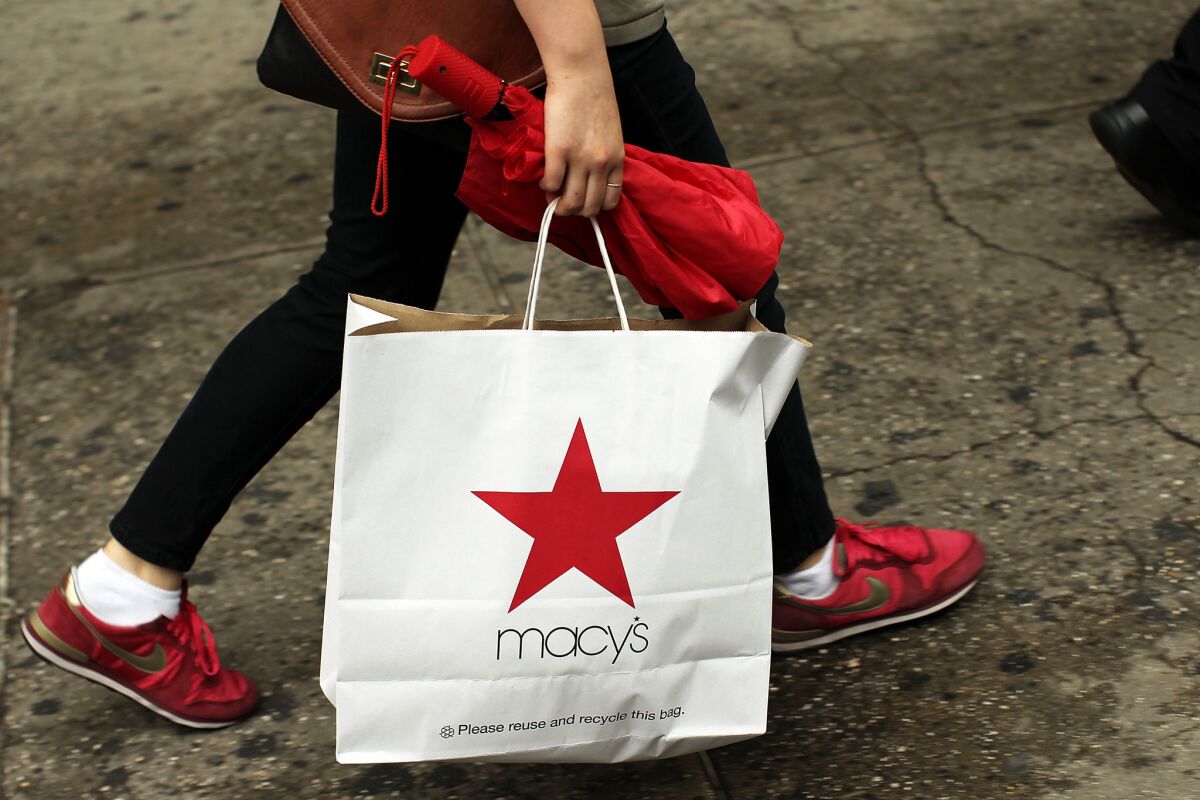 After a disappointing holiday season, Macy's Inc. said Wednesday that it planned to cut about 4,800 jobs and close 40 stores as part of efforts to slash costs.
The department store chain, which is closely associated with the holiday season, said comparable sales for November and December 2015 dropped 4.7% compared with the previous year.
That could be a sign of trouble for the overall retail industry, where some companies make as much as 40% of their annual revenue during the holidays.
Read the latest Essential California newsletter >>
Terry J. Lundgren, Macy's chief executive, described the holiday season as "challenging."
"In the November/December period, we were particularly disadvantaged by the historically warm weather," he said in a statement.
Lundgren said about 80% of the drop in comparable sales was due to slow buying of cold-weather gear, including sweaters, gloves and coats. The strong dollar also depressed tourist spending, he said.
One bright spot was the growth in online sales, which increased 25% to nearly 17 million orders in November and December, a record for the company, Lundgren said.
On Wednesday, Macy's, which operates both Bloomingdale's as well as its namesake chain, said it planned to cut about $400 million in expenses. That includes slashing about 3,000 jobs at stores and 165 executive positions. A call center in St. Louis will be closed. Some of those whose jobs are eliminated will be moved to other positions.
"We believe we can operate more effectively with an organization that is flatter and more agile," Lundgren said.
The 40 locations that will be closed represent about 5% of Macy's overall store count. The only permanent store to close in California will be at the Irvine Spectrum. The Macy's in Westfield Century City is closing this month, to be replaced by a bigger store in the same center in 2017.
Macy's also lowered its earnings guidance for the fourth quarter to $2.18 to $2.23 a share from previous guidance of $2.54 to $2.64 a share.
See more of our top stories on Facebook >>
Macy's is wrestling with problems faced by retailers -- consumers who remain budget-minded despite an improving job market and gas savings, as well as an overall shift toward online shopping.
Those changes in the industry could have a big effect on the overall holiday season. Next week, the National Retail Federation is set to release holiday sales results. The trade group had predicted that November and December sales would climb 3.7% to $630.5 billion, down slightly from the 4.1% growth of 2014.
Macy's said it planned to open another 50 of its off-price Macy's Backstage stores in the next two years (most of which will take up space within existing Macy's locations). It also plans to open about 40 freestanding Bluemercury beauty stores.
Follow Shan Li on Twitter @ByShanLi
MORE FROM BUSINESS
Inaccurate Zillow 'Zestimates' a source of conflict over home prices
Stocks close sharply lower as oil prices plunge and China worries return
If you weren't smart enough to know Lumosity was making bogus claims, the FTC has your back
---
Sign up for the California Politics newsletter to get exclusive analysis from our reporters.
You may occasionally receive promotional content from the Los Angeles Times.