Cyberattack cost Maersk as much as $300 million and disrupted operations for 2 weeks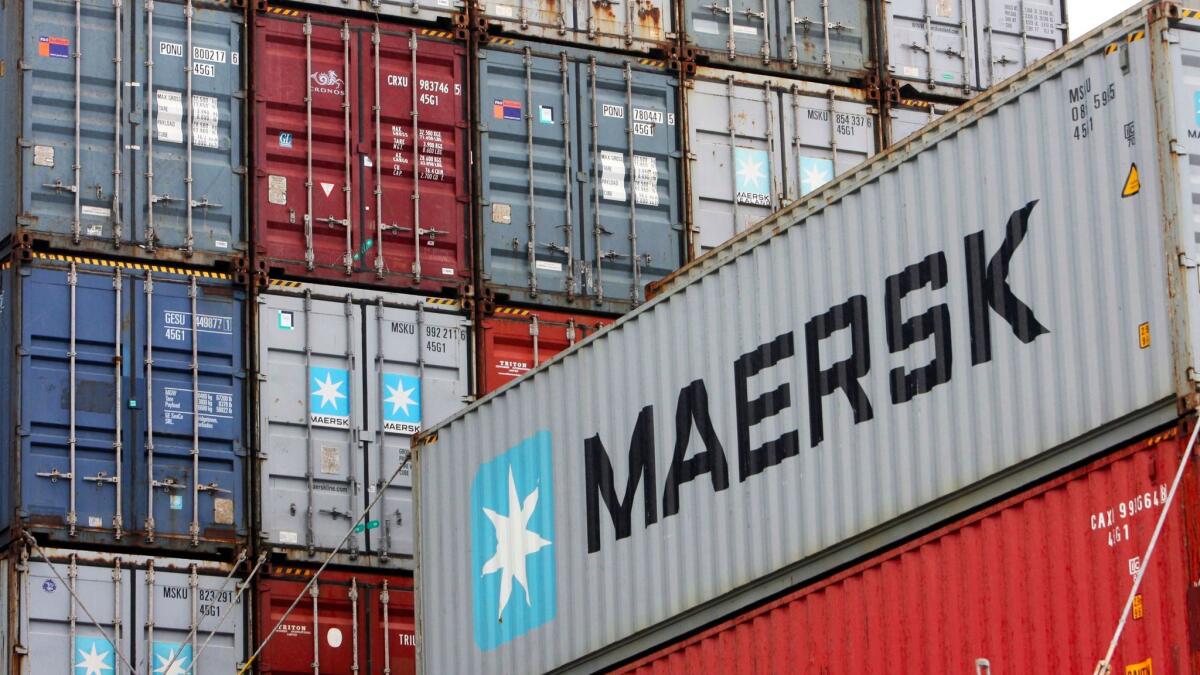 A June cyberattack that snarled shipping terminal operations worldwide — and briefly shut down the Port of Los Angeles' largest cargo terminal — has cost the Danish shipping giant A.P. Moller-Maersk $200 million to $300 million, the company said this week.
The unprecedented attack forced workers to improvise with Twitter, WhatsApp and Post-It notes as they struggled to get goods moving from ships to shore again, the company said.
The crisis put Maersk in uncharted territory. It responded as best it could, but "there's no benchmark for this," company spokeswoman Katherine Mosquera said. "Is it good? is it bad? We don't know. It happened."
Maersk's revelations were part of an interim second-quarter earnings report in which the Copenhagen-based global transport and energy company gave investors a preview of expected costs from the malware attack. The worm, dubbed NotPetya, locked access to systems that Maersk uses to operate shipping terminals all over the world and took two weeks to fix.
The company said the attack is expected to dampen its third-quarter results, but not enough to overshadow a generally good performance due to improving global economic conditions.
NotPetya, which has been traced to compromised tax-accounting software widely used in Ukraine, began spreading in late June, a few weeks after a similar ransomware attack called WannaCry seized computers in British health clinics. Like WannaCry, NotPetya exploited a vulnerability in unpatched Microsoft Windows operating systems and relied on a break-in technique that may have been stolen from the U.S. National Security Agency.
NotPetya's malware looked like ransomware on screens. But its function appeared merely to be wreaking havoc. Maersk was just one of about 7,000 companies attacked globally, Maersk Chief Executive Soren Skou said in an investor call.
Ukraine and Russia were hit especially hard in the attack, but the worm also reportedly struck operations of a British advertising agency, a maker of skin-care products, a German broadcaster and U.S. pharmaceutical giant Merck.
For the most part, NotPetya victims have been tight-lipped. That's typical for companies hit by cyberattacks, and "the closer you get to industrials — utilities and gas — the more secretive they are," said Earl Perkins, research analyst at Gartner Inc.
So it's significant that Maersk decided to publicly air some of its struggles, he said. The move is laudable, Perkins said, and signals a shift toward more collaboration as businesses grapple with their dependence on vulnerable technologies.
Maersk's experience should serve as a warning, he added: "I'm afraid this is the future."
Maersk chief Skou told investors that NotPetya "made all of our applications and data unavailable for a while." No data was lost, no workers were endangered, and ships operated normally throughout the ordeal, he said. But for up to two days, affected terminals couldn't move cargo.
Goods started flowing normally again bit by bit, thanks to "many work-arounds" devised by hard-pressed Maersk employees, Skou said. Two weeks later, business was back to normal, he said.
At the Port of Los Angeles, Maersk's APM Terminal at Pier 400 was closed June 27 to July 1, leaving at least one anchored ship waiting in the harbor. Cargo operations ramped back up in subsequent days.
NotPetya affected three of Maersk's global businesses: Maersk Line, Damco and APM Terminals. Not only did the company lose business during the shutdown and subsequent slow period, but it also bled money as it cobbled together ways to operate without the digital systems on which it normally relies, Skou said. Later, he said, the task of "rebuilding IT" incurred additional costs.
Maersk's overall business has improved, however, as rising freight rates have given the company a boost and global trade has ticked back up. Not only are the U.S., Europe and China doing well economically, but also the economies of some struggling countries such as Russia and Brazil that depend on oil and raw materials have stopped shrinking — all good news for shipping, Skou said.
Maersk reported $389 million in underlying net income for the second quarter for its consolidated business, almost three times last year's $134 million second-quarter profit. But because the consolidated company also recorded a substantial charge from lower asset valuations in its tanker businesses, total net loss for the quarter came to $264 million. Revenue was $9.6 billion.
The company's transport and logistics arm, which controls 15% of the total global container-ship fleet capacity, reported total revenue of $7.7 billion for the quarter. That's up nearly $1 billion from the corresponding period last year.
Second-quarter results also included a $339-million profit in the Maersk Line unit.
Maersk's financial outlook for the year is good, Skou said. "What we see now is probably the strongest fundamentals for container shipping that we have had for quite a while and certainly since the 2010 financial crisis."