Plans for a state-backed pot bank aren't feasible, a study says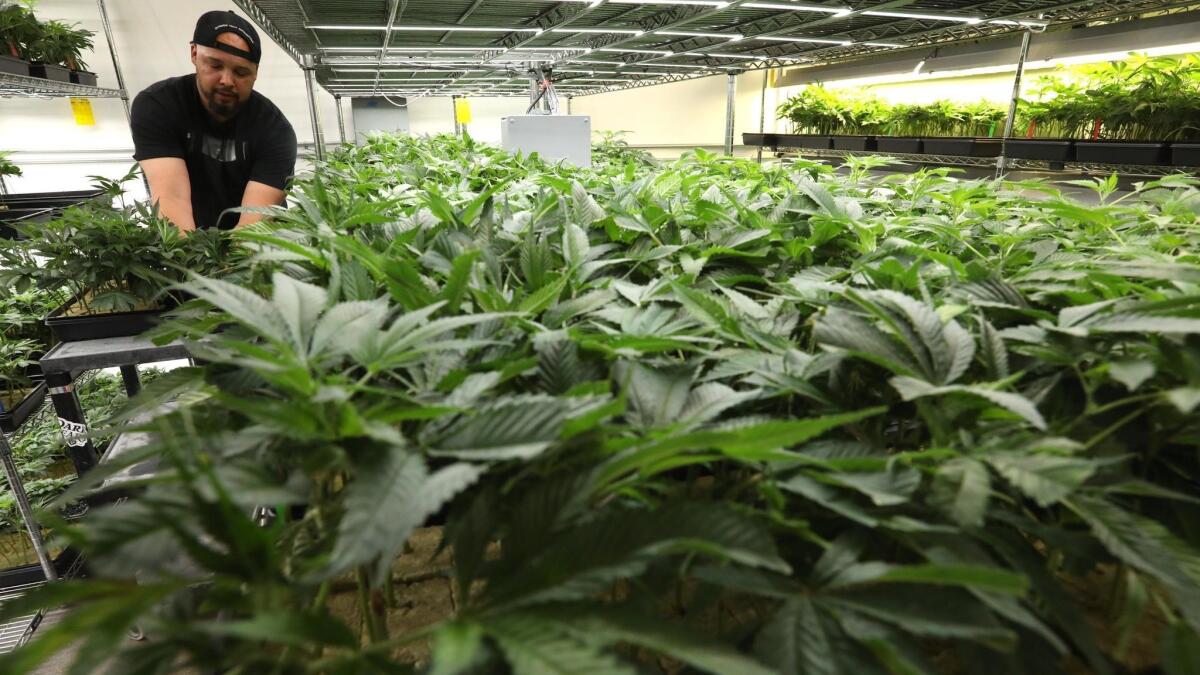 Hopes that California might create a public bank to serve the state's legal marijuana industry are nothing but a pipe dream, the authors of a new feasibility study told state officials Thursday.
"In the end we were not able to find any approach to doing this that makes any sense whatsoever," said William Roetzheim, founder and chief executive of Level 4 Ventures, the consulting firm hired to carry out the study for the State Treasurer's Cannabis Banking Working Group.
California voters approved Proposition 64 in 2016 to legalize growing, possessing and selling marijuana for recreational use. But since cannabis remains illegal under federal law, most banks— which are federally chartered and insured by the FDIC — refuse to hold weed money.
As a result, the industry still runs largely on cash, transported in envelopes and duffel bags and stored in safes. Businesses looking to expand can't access lines of credit, and companies that want to go public, such as Culver City's billion-dollar marijuana company MedMen, have to perform financial backflips to have their stocks listed on Canadian stock exchanges. This presents a challenge for tax collectors and businesses alike.
"Cannabis in general has been a very resilient industry — not having a public bank isn't going to kill it," said David Hua, co-founder and chief executive of Meadow, a cannabis technology company based in San Francisco. But finding workarounds, whether that means setting up management companies or brokering deals with banks willing to run the risk of federal crackdowns, slows everything down.
"It's extra work — especially if you're getting investment and need to make big capital expenditures — and there's a limited amount of time for every operator," Hua said.
The study looked into the feasibility of a state-owned bank dedicated to servicing only the cannabis industry, as well as models for a more general-purpose public bank and a correspondent bank to support commercial banks serving the industry. All three, the report found, are dead ends because of the high legal risks and large amounts of capital that would be required to create a functioning bank.
"The assets of the bank are subject to foreclosure by the federal government," Roetzheim said. "The staff of the bank is subject to criminal liability and could go to jail, state officers are subject to criminal liability and could go to jail.
"When we look at all the different dimensions of risk for this, it's just off the charts."
In order to keep up with the estimated needs of the industry, the report found that the bank would require an initial investment of at least $1 billion in state funds.
Instead of pursuing the public banking route, the report recommends creating a project to support research and make recommendations on how the state can make the cash economy function more smoothly, push for federal legal reform, and encourage private banks to offer more financial services to cannabis businesses.
Approximately 300 banks and 100 credit unions are providing financial services to the cannabis industry, Roetzheim noted, and reporting that activity to the federal government.
"I, for one, was hopeful that the idea of a public cannabis bank would be a feasible solution for our state," State Treasurer John Chiang said at the end of the hearing. "While today's announcement may not lay out the path some of us hoped for, it did reinforce the inconvenient reality that a definitive solution will remain elusive until the federal government takes action."
One year in, the state's legal marijuana sector has failed to live up to high expectations for growth and tax revenues, in part because of regulatory issues.
An attempt in the state Legislature to license privately financed banks to serve the cannabis industry overcame a significant hurdle in April of this year, making it out of the state Senate's Banking and Financial Institutions Committee, only to stall out in the face of a negative legislative analysis in August.
In addition to the banking difficulties, the industry faces fees and taxes at every point of the supply chain, which business owners and advocates say has kept costs and prices high, pushing many consumers back into the black market.
After the success of Proposition 64 in 2016, state officials estimated that as many as 6,000 new retail shops would be licensed in the first few years, which would bring in up to $1 billion in annual tax revenue.
But local opposition to new cannabis stores has also been stronger than projected, with fewer than 20% of California cities allowing retail shops to sell cannabis for recreational use. The state has issued only 547 licenses this year, and taxes collected in 2018 are expected to reach only $471 million — well short of the $630 million projected in Gov. Jerry Brown's budget.
Follow me on Twitter: @samaugustdean