Stocks lose ground as energy and consumer companies fall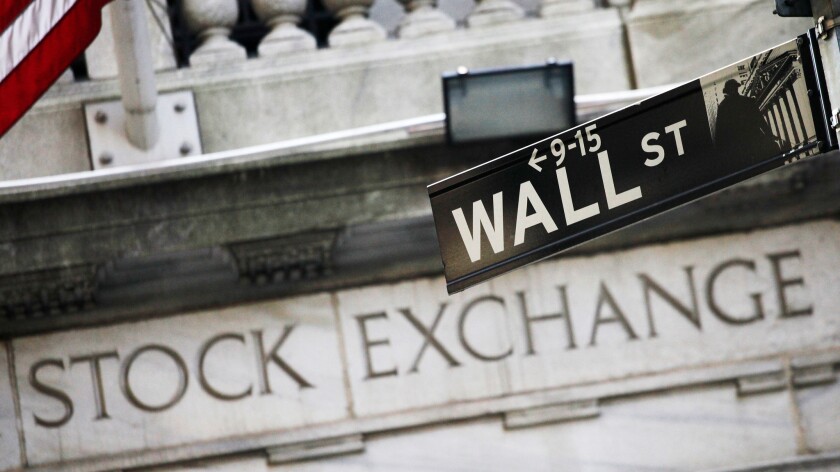 U.S. stocks surrendered early gains and finished mostly lower Wednesday as energy companies skidded with the price of oil. Apple led technology companies higher. The mixed finish came after three days of big, erratic moves.
The price of oil fell about 3% for the second day in a row, and energy firms fell with it. Household goods companies also slipped. Bond yields decreased after a big gain the day before, and high-dividend utility stocks made gains.
Investors have sent stocks in different directions as they wonder whether the Federal Reserve will raise interest rates next week. They are also speculating about the health of the global economy.
Bonds reflected that confusion as they changed direction again. Yields fell and prices rose. The yield on the 10-year Treasury note fell to 1.70%. A day earlier it jumped to 1.73%, the highest in almost three months.
David Lefkowitz, senior equity strategist at UBS Wealth Management Americas, said investors aren't sure what the Fed and central banks in Europe and Japan will do. He said they're expecting higher interest rates, or at least less economic stimulus.
The Dow Jones industrial average fell 31.98 points, or 0.2%, to 18,034. The Standard & Poor's 500 index slipped 1.25 points, or 0.1%, to 2,125.77. The Nasdaq composite climbed 18.52 points, or 0.4%, to 5,173.77.
After four months of public negotiations, seed and weedkiller maker Monsanto agreed to be bought by German drug and farm chemical company Bayer for $57 billion in cash. Bayer makes a wide range of crop protection chemicals that kill weeds, bugs and fungus, while Monsanto is known for its seeds business and the weedkiller Glyphosate. Monsanto shares rose 0.6% to $106.76.
Benchmark U.S. crude sank $1.32, or 2.9%, to $43.58 a barrel. That came after Tuesday's 3% drop. The international standard, Brent crude, fell $1.25, or 2.7%, to $45.85 a barrel.
Energy companies stumbled too. Chevron fell 1% to $98.42 and Murphy Oil sank 3.8% to $25.14.
Drugstore chain Walgreens fell 1.5% to $80.98 and CVS Health shed 1.6% to $89.44.
Apple jumped 3.6% to $111.83 for its second day of big gains. Its shares also rose Tuesday after T-Mobile said it's getting strong preorders for the new iPhones. Apple gets most of its revenue from the iPhone, and those sales, though still enormous, have started to decline in the last year. That has hurt Apple stock, which traded above $130 a little more than a year ago.
Stocks are at their lowest levels in two months after big losses Friday and Tuesday. In between came a big gain Monday.
"We're just kind of reverting back to a normal level of volatility," Lefkowitz said. "We got almost lulled to sleep because things were so unusually quiet in the last six weeks of the summer."
Dermatology drug developer Vitae Pharmaceuticals soared 157% to $20.85 after it agreed to be bought by Allergan, the maker of Botox. The deal values Vitae, which has no approved products, at $21 a share, or $606 million. Allergan shares rose 2% to $244.81.
Ford sank 1.9% to $12.14 after the automaker said its pretax profit will fall this year. Ford also said its results will weaken further in 2017 as the company invests more money in electric and autonomous cars and its costs rise. It expects results to start improving in 2018.
Cracker Barrel Old Country Store slumped 7% to $139.98 after investors weren't impressed with the restaurant chain's projections for the current fiscal year.
Wholesale gasoline fell 2 cents to $1.36 a gallon. Heating oil fell 4 cents, or 2.9%, to $1.38 a gallon. Natural gas fell 2 cents to $2.89 per 1,000 cubic feet.
Gold rose $2.40 to $1,326.10 an ounce. Silver rose 9 cents to $19.07 an ounce. Copper climbed 5 cents, or 2.5%, to $2.16 a pound.
The dollar fell to 102.42 yen from 102.72 yen. The euro rose to $1.1249 from $1.1208.
The CAC 40 in France fell 0.4%, Germany's DAX edged up 0.1% and the FTSE 100 index of leading British shares rose 0.1%. Japan's benchmark Nikkei 225 lost 0.7% and Hong Kong's Hang Seng was down 0.1%. South Korean markets were closed for a national holiday.
ALSO
Bayer to acquire pesticide firm Monsanto in $66-billion cash deal
Wells Fargo is eliminating retail sales goals after settlement over aggressive tactics
My ride in a self-driving Uber; or how I learned to stop worrying and trust the algorithm
---
UPDATES:
2:20 p.m.: This article has been updated with closing prices and additional information.
7:40 a.m.: This article has been updated with more recent market information and additional information.
This article was originally published at 6:55 a.m.
---
Your guide to our clean energy future
Get our Boiling Point newsletter for the latest on the power sector, water wars and more — and what they mean for California.
You may occasionally receive promotional content from the Los Angeles Times.