Stocks hit new records as an appetite for deals sends food companies up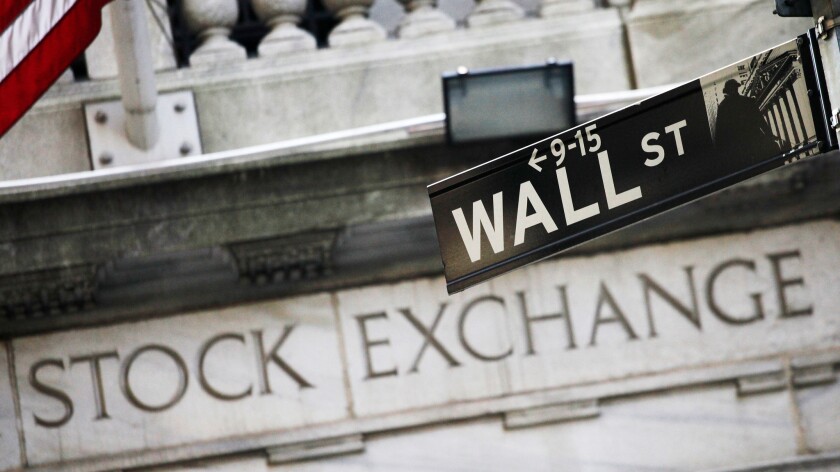 Stocks again broke records Tuesday as investors came back from a long weekend hungry for deals. Although Kraft Heinz and Unilever couldn't agree to a proposed $143-billion mega-merger, food and household goods makers rose as investors bet that other deals are coming.
Companies that make packaged foods, everyday household items and other consumer goods are usually seen as stable investments and rarely take center stage on Wall Street. But Tuesday they did just that, because investors believe that the failed Kraft Heinz-Unilever deal will be replaced by other deals. Oreo maker Mondelez and jam maker Smucker made the largest gains.
"That's why you saw the [home and personal care products] companies move up on Friday and you're seeing some of them follow through today," Jefferies & Co. analyst Kevin Grundy said.
Stocks built on their gains over the last two hours of trading to close at their highest prices of the day. Income-seeking investors also bought shares of real estate investment trusts and utilities.
The Dow Jones industrial average climbed 118.95 points, or 0.6%, to 20,743. The Standard & Poor's 500 index rose 14.22 points, or 0.6%, to 2,365.38. The Nasdaq composite went up 27.37 points, or 0.5%, to 5,865.95. All three indexes are at record highs after rising nine times in the last 10 days. The Russell 2000 index of smaller companies advanced 10.48 points, or 0.7%, to 1,410.34, also a record.
U.S. markets were closed Monday for the Presidents Day holiday.
Kraft Heinz and Unilever both slumped after Kraft withdrew a $143-billion offer to buy its rival. Unilever said the offer was too low and the companies said Kraft Heinz was giving up its effort. Unilever, the maker of Hellman's, Lipton and Knorr, slid 7.5% to $44.87. Kraft Heinz, which owns brands including Oscar Mayer, Jell-O and Velveeta, fell 1.8% to $94.87.
Grundy said the Kraft Heinz-Unilever talks surprised Wall Street because Unilever gets most of its revenue from household products, not food. With the Unilever talks apparently done, analysts think that Kraft Heinz is still interested in buying another company, and they are wondering if it will pursue a different consumer products company or stick to the food industry.
Unilever's shareholders might push that company to make a deal as well, he added.
Kraft Heinz, which is mostly owned by 3G Capital and Warren Buffett's Berkshire Hathaway, has a reputation for slashing costs to make bigger profits.
Mondelez, which was once part of Kraft, climbed 5.8% and J.M. Smucker rose 4.4%, while cereal makers General Mills and Kellogg gained 3% and 2.5%, respectively. Household goods makers Colgate-Palmolive, Kimberly-Clark and Clorox all jumped.
Wal-Mart rose 3% to $71.45 after the company said its online business surged in the fourth quarter and it reported more business in the U.S. during the holiday season. Wal-Mart recently bought Web-based retailers Jet.com and Moosejaw to strengthen its online sales, which have improved over the last two quarters.
Online rival Amazon continued to set record highs, rising 1.3% to $856.44.
Restaurant Brands International, the company that owns the Burger King and Tim Hortons brands, agreed to buy Popeyes Louisiana Kitchen for $1.8 billion. Last week Popeyes jumped from about $66 to $70 and then fell back again as reports about a possible deal swirled. Restaurant Brands agreed to pay $79 a share for Popeyes, which climbed 19.1% to $78.73. Restaurant Brands' stock jumped 6.9% to $57.60.
Scripps Networks, the parent of Food Network, Travel Channel and HGTV, climbed 7.2% to $81.50 after it reported better ratings and stronger ad sales. Discovery Communications, the parent of TLC and Animal Planet, rose 3.3% to $29.62. News Corp, which owns the Fox cable channels, advanced 1.9% to $13.33.
Benchmark U.S. crude oil rose 66 cents, or 1.2%, to $54.06 a barrel. Brent crude, used to price international oils, rose 48 cents to $56.66 a barrel.
Natural gas plunged 27 cents, or 9.5%, to $2.56 per 1,000 cubic feet. That was its lowest price in almost a year, and it dragged natural gas companies lower. Wholesale gasoline fell 2 cents to $1.49 a gallon. Heating oil rose 1 cent to $1.64 a gallon.
The dollar rose to 113.58 yen from Friday's 112.93 yen. The euro sank to $1.0547 from $1.0607.
Bond prices slipped. The yield on the 10-year Treasury note rose to 2.43% from 2.42%.
Gold slipped 20 cents to $1,238.90 an ounce. Silver fell 3 cents to $18 an ounce. Copper rose 4 cents to $2.75 a pound.
After a survey showed the economy of the 19-country Eurozone is growing at its fastest pace in almost six years, Germany's DAX climbed 1.2% while the French CAC 40 rose 0.5%. In Britain, the FTSE 100 retreated 0.3%. Tokyo's Nikkei 225 rose 0.7%. The Hang Seng in Hong Kong slid 0.8%.
ALSO
Column: Republicans make killing consumer protections a top priority
Tesla earnings preview: Analysts want details on Model 3 and Gigafactory
Most Super Bowl LI commercials were shot in L.A.; 84 Lumber's spot was filmed in Mexico
---
UPDATES:
3:45 p.m.: This article was updated with closing prices, context and analyst comments.
1:20 p.m.: This article was updated with the close of markets.
This article was originally published at 7:05 a.m.
---
Your guide to our clean energy future
Get our Boiling Point newsletter for the latest on the power sector, water wars and more — and what they mean for California.
You may occasionally receive promotional content from the Los Angeles Times.