Drugmaker and hospital shares fall, pulling stocks down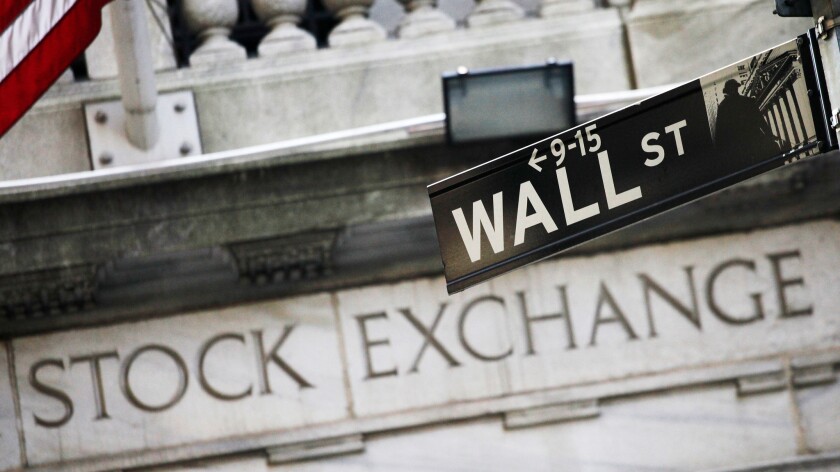 U.S. stocks declined for the third time in four days Tuesday as healthcare companies took center stage.
Drugmakers fell after President Trump said he wants to bring drug prices down. Insurers rose and hospital companies dropped after Republicans in Congress introduced a bill intended to replace the 2010 Affordable Care Act, also known as Obamacare.
Pharmaceutical and biotechnology companies fell after Trump said in a morning tweet that he intends to bring down drug prices. The healthcare proposal gave big health insurers a boost, but it hurt companies that do a lot of business with Medicaid.
It's not clear whether the bill will pass the Senate, as several Republicans have already questioned it. Stocks turned lower at the end of the day as that criticism increased, leaving the fate of the current bill, a key part of Trump's agenda, uncertain.
"We're going to still be having this conversation six months from now," said Les Funtleyder, healthcare portfolio manager for E Squared Asset Management.
Meanwhile, energy companies continued to slip and technology companies made smallish gains. Stocks hadn't fallen for two consecutive days since the end of January, and the major U.S. indexes set their latest record highs last Wednesday.
The Standard & Poor's 500 index fell 6.92 points, or 0.3%, to 2,368.39. The Dow Jones industrial average fell 29.58 points, or 0.1%, to 20,924.76. The Nasdaq composite sagged 15.25 points, or 0.3%, to 5,833.93. Two stocks fell for every one that rose on the New York Stock Exchange.
On Thursday the current bull market will turn 8 years old. It's lasted longer than any other since World War II except the decadelong run that ended in early 2000.
Since the middle of 2015, drug companies have repeatedly tumbled as investors worried that the government would take action to reduce prices or at least curb price increases. Although Trump has talked about dealing with the issue before, he has never discussed details. Funtleyder said the task might be harder than it sounds.
"There's no government mechanism at the moment to control costs directly," he said.
Companies that make high-priced drugs took some of the largest losses. Biotechnology company Alexion Pharmaceuticals slid 3.1% to $129.18. Alexion makes Soliris, an expensive drug that treats two rare genetic disorders. Mallinckrodt, which has faced criticism over repeated increases in the price of its HP Acthar gel, declined 3% to $49.71.
Prescription drug distributor Express Scripts and biotech company Gilead Sciences each fell as they bickered over the price of Gilead's hepatitis C drugs, some of which are listed at $1,000 a pill. Express Scripts stock dropped 3.8% to $67.39 and Gilead slipped 1.6% to $69.02.
The Republican healthcare legislation would provide tax credits for people buying their own insurance and would scale back the government's role in helping people afford coverage. It probably would leave more Americans uninsured, and it would overhaul Medicaid, a joint federal-state health program for low-income Americans.
Hospital operators tumbled. Community Health Systems lost 9.3% and Tenet Healthcare sank 7.1%. Insurers heavily involved with Medicaid also fell; Molina Healthcare was down 1.6%. But the largest national health insurers did better than the rest of the market. Humana climbed 2.4% to $217.95, the largest gain among S&P 500 stocks.
Benchmark U.S. crude fell 6 cents to $53.14 a barrel. Brent crude, used to price international oils, fell 9 cents to $55.92 a barrel. Energy companies lagged behind the overall market, however, continuing a pattern that's persisted since late last year. Hess fell 3% to $49.51 and Exxon Mobil fell 0.4% to $82.52, while natural gas companies fell with the price of that fuel.
Technology companies did better than the rest of the market. Video game maker Electronic Arts rose 1.3% to $88.30. Nimble Storage soared 46.3% to $12.58 after the San Jose data storage company agreed to be acquired by Hewlett Packard Enterprise for $12.50 a share, or about $1 billion.
Snap declined 9.8% to $21.44 as the maker of the Snapchat app continued to slide. It had leaped during its stock-market debut last week.
Bond prices fell. The yield on the 10-year Treasury note rose to 2.52% from 2.50%.
Wholesale gasoline rose 1 cent to $1.68 a gallon. Heating oil rose 1 cent to $1.61 a gallon. Natural gas fell 8 cents to $2.82 per 1,000 cubic feet.
Gold dropped $9.40 to $1,216.10 an ounce. Silver fell 24 cents to $17.54 an ounce. Copper fell 3 cents to $2.62 a pound.
The dollar bounced back to 114.05 yen from 113.92 yen. The euro fell to $1.0568 from $1.0588.
The CAC 40 in France fell 0.3%. Germany's DAX rose 0.1% and the FTSE 100 index in Britain fell 0.2%. The Nikkei 225 stock index in Tokyo fell 0.2%. The Hang Seng gained 0.4% and South Korea's Kospi gained 0.6%.
ALSO
Investors aren't ready for Bob Iger to step down as Disney CEO
Column: Which single-payer healthcare system would be best for California?
To attract more families to the movies, this theater chain is adding jungle gyms
---
UPDATES:
2:05 p.m.: This article was updated with closing prices, context and analyst comment.
8:05 a.m.: This article was updated with market prices and context.
This article was originally published at 7 a.m.
---
Your guide to our new economic reality.
Get our free business newsletter for insights and tips for getting by.
You may occasionally receive promotional content from the Los Angeles Times.