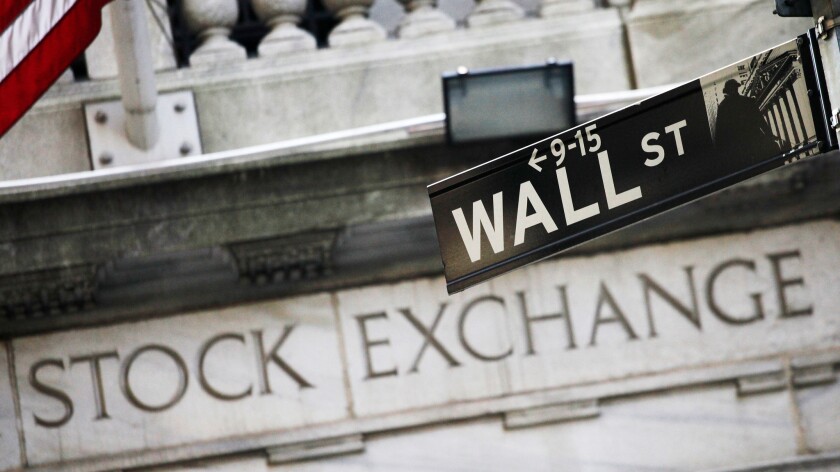 Brewing tensions between the U.S. and North Korea put investors in a selling mood again Thursday, dragging U.S. stocks lower for the third day in a row.
The latest sell-off was the most severe yet, amounting to the biggest single-day drop for the stock market in nearly three months.
Technology companies, which have been the biggest gainers this year as the market hit a succession of record highs, led the broad slide. Banks and department stores also were big decliners. Utilities eked out a small gain.
"The market has been looking for an excuse to sell off, and North Korea and the president gave the market that excuse," said David Schiegoleit, managing director at U.S. Bank Private Client Wealth Management. "As long as it doesn't go beyond just a war of words, this is going to be short-lived."
The Standard & Poor's 500 index dropped 35.81 points, or 1.4%, to 2,438.21. The Dow Jones industrial average slid 204.69 points, or 0.9%, to 21,844.01, just shy of its low point for the day.
The tech-heavy Nasdaq composite bore the brunt of the sell-off, sinking 135.46 points, or 2.1%, to 6,216.87.
May 17 was the last time the three indexes had a bigger single-day decline.
Smaller-company stocks also fell sharply. The Russell 2000 index slid 24.40 points, or 1.7%, to 1,372.54. All the indexes are down for the week.
Bond prices rose. The yield on the 10-year Treasury note fell to 2.20% from 2.25%.
Wall Street got off to a downbeat start Thursday as tensions between the U.S. and North Korea continued to escalate, rattling markets overseas.
Early in the day, North Korea revealed a detailed plan to launch a salvo of ballistic missiles toward the U.S. Pacific territory of Guam, a major military hub and home to U.S. bombers. Later, speaking to reporters, President Trump demanded that North Korea "get their act together" or face extraordinary trouble.
Unease over the situation pushed the VIX, a measure of how much volatility investors expect in stocks, up 44.4%. That's the biggest increase since May.
The market jitters gave investors an opportunity to pocket some of their recent gains after a string of record highs fueled by strong corporate earnings.
"There's not a fundamental reason why what we're seeing out of North Korea right now should affect stock market prices, but it's being used as the reason to sell off right now because we've been looking for it for so long," Schiegoleit said. "This really is a profit-taking sell-off. I don't see it as a fear-driven sell-off."
Heading into Thursday, some 89% of the companies in the S&P 500 had reported quarterly results. Of those, 52% delivered earnings and revenue that beat analysts' forecasts, according to S&P Global Market Intelligence.
Technology stocks, the biggest gainers this year, led Thursday's market slide.
Nvidia fell 4.3% to $164.74. Advanced Micro Devices sank 5.5% to $12.12.
Several financial firms also helped pull down the market. Bank of New York Mellon slid 3.9% to $51.95. Citizens Financial Group declined 3.8% to $33.71.
Disappointing quarterly results from big department store chains also weighed down the market.
Macy's tumbled 10.2% to $20.67 after it said its sales continued to decline in the second quarter. Dillard's slumped 15.9% to $61.70 after the chain booked a quarterly loss, saying increased inventory led to big discounts. Kohl's declined 5.8% to $39.50.
Blue Apron slumped 17.6% to $5.14 after the seller of meal kits reported a sequential decline in customers last quarter due to a planned reduction in marketing. The trend appeared to overshadow strong quarterly revenue growth in the quarter.
Oil prices ended lower after an early rally faded.
Benchmark U.S. crude fell 97 cents, or 2%, to $48.59 a barrel in New York. Brent crude, used to price international oils, fell 80 cents, or 1.5%, to $51.90 in London.
Other energy futures trading was mixed. Wholesale gasoline fell 2 cents to $1.60 a gallon. Heating oil fell 2 cents to $1.63 a gallon. Natural gas jumped 10 cents, or 3.5%, to $2.99 per 1,000 cubic feet.
Gold rose $10.80, or 0.8%, to settle at $1,290.10 an ounce. Silver rose 20 cents, or 1.2%, to $17.07 an ounce. Copper fell 2 cents to $2.90 a pound.
The dollar fell to 109.26 yen from 109.85 yen. The euro rose to $1.1774 from $1.1752.
Major stock indexes overseas also declined.
In Europe, Germany's DAX fell 1.1%, the CAC 40 in France lost 0.6%, and Britain's FTSE 100 sank 1.4%. Earlier in Asia, Japan's benchmark Nikkei 225 slipped less than 0.1%, while Hong Kong's Hang Seng slid 1.1% and South Korea's Kospi fell 0.5%. Australia's S&P/ASX 200 edged down nearly 0.1%.
---
UPDATES:
2:55 p.m.: This article was updated with closing prices, context and analyst comment.
7:55 a.m.: This article was updated with market prices and context.
This article was originally published at 6:50 a.m.
---