S&P 500 keeps climbing as calm continues to reign for stocks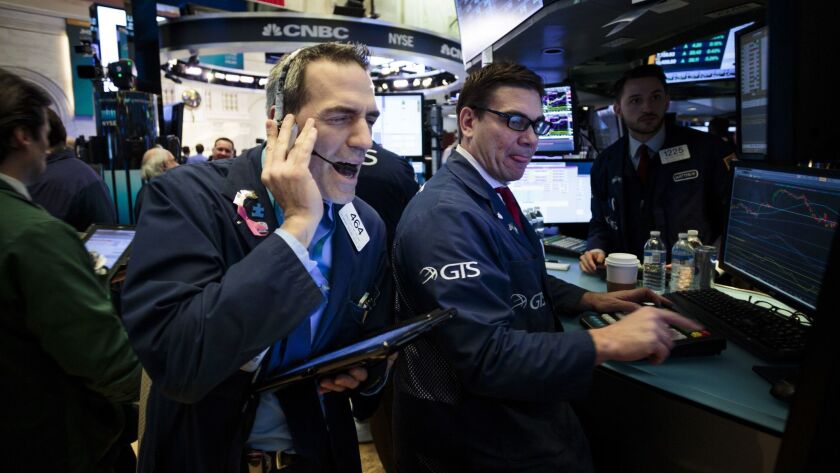 Stocks pushed further into record territory Tuesday, and the Standard & Poor's 500 index's immaculate start to the year extended to a sixth day.
Healthcare stocks and banks led the way as calm continued to reign over markets around the world. The strong gains overshadowed weakness for dividend-paying stocks and other areas of the market that were hurt by rising interest rates as 10-year Treasury yields hit their highest level since March.
The S&P 500 edged up 3.58 points, or 0.1%, to 2,751.29 to equal its longest start-of-year winning streak since 2010.
The Dow Jones industrial average rose 102.80 points, or 0.4%, to 25,385.80, the Nasdaq composite rose 6.19 points, or 0.1%, to 7,163.58 and the Russell 2000 index of small-cap stocks slipped 1.71 points, or 0.1%, to 1,560.10.
Stocks have been rising at a remarkably steady pace for more than a year as investors bask in a global economy that's strengthening in sync. Corporate profits are also on the upswing, and Washington's recently approved corporate tax cut should goose earnings even higher.
The powerful combination has kept markets marching upward, even though stock prices have grown to become more expensive than usual relative to corporate profits.
"I would like to say that there's something onerous coming, just because it would be different from what everyone is talking about," said Nate Thooft, senior portfolio manager at Manulife Asset Management. But he expects the market to continue gliding higher as the economy and corporate profits strengthen.
Healthcare stocks rose 1.1%, the biggest gain among the 11 sectors that make up the S&P 500.
Boston Scientific was at the front of the pack, jumping 8.3% to $27.96 after the medical device company gave preliminary results for its revenue last quarter that were stronger than Wall Street expected.
Illumina likewise reported preliminary results for fourth-quarter revenue that beat analyst expectations. Shares of the San Diego company, which makes tools for genetic analysis, climbed 6.9% to $242.80.
Companies are set to begin reporting their results for the last three months of 2017, and the pace will pick up later this week. They'll need to deliver strong profit growth to justify the big moves their shares already have made.
Investors, though, are also interested in what chief executives say about how Washington's overhaul of the tax system last month will affect their companies' bottom lines.
Strategists at Goldman Sachs say the tax changes will account for more than a third of the 14% growth they're forecasting for S&P 500 earnings per share in 2018.
Target cited taxes Tuesday as one reason for raising its profit forecast for the year. It also became the latest retailer to say it enjoyed a strong holiday season, and its shares rose 2.9% to $69.14.
On the losing end of the market were stocks that pay big dividends, which tend to move in the opposite direction of bond yields.
The yield on the 10-year Treasury note jumped to 2.55% from Monday's 2.48% late Monday. That makes dividend-paying stocks less attractive relative to bonds for investors who are seeking income.
Telecom stocks in the S&P 500 dropped 1.8%, the worst-performing sector in the index. Real-estate stocks slid 1.1%, and utilities stocks fell 1%.
When interest rates rise, banks can make bigger profits from making loans. Financial stocks in the S&P 500 climbed 0.7%.
The dollar fell to 112.61 yen from 113.07 yen. The euro fell to $1.1933 from $1.1965. The British pound fell to $1.3534 from $1.3564.
Benchmark U.S. crude oil rose $1.23 to settle at $62.96 a barrel. Brent crude, the international standard, rose $1.04 to $68.82 a barrel.
Natural gas rose 9 cents to $2.92 per 1,000 cubic feet. Heating oil rose 2 cents to $2.07 a gallon. Wholesale gasoline rose 4 cents to $1.84 a gallon.
Gold fell $6.70 to settle at $1,313.70 an ounce. Silver fell 13 cents to $17.01 an ounce. Copper fell a penny to $3.22 a pound.
In markets abroad, Japan's Nikkei 225 added 0.6%, Hong Kong's Hang Seng rose 0.4% and the Shanghai Composite inched up 0.1%. South Korea's Kospi lost 0.1%. The CAC 40 in France rose 0.7%, the DAX in Germany rose 0.1%, and the FTSE 100 in London gained 0.4%.
---
UPDATES:
2:25 p.m.: This article was updated with closing prices, context and analyst comment.
This article was originally published at 8:20 a.m.
---
Your guide to our new economic reality.
Get our free business newsletter for insights and tips for getting by.
You may occasionally receive promotional content from the Los Angeles Times.