Stocks brush off their first wobble of the year, returning to record highs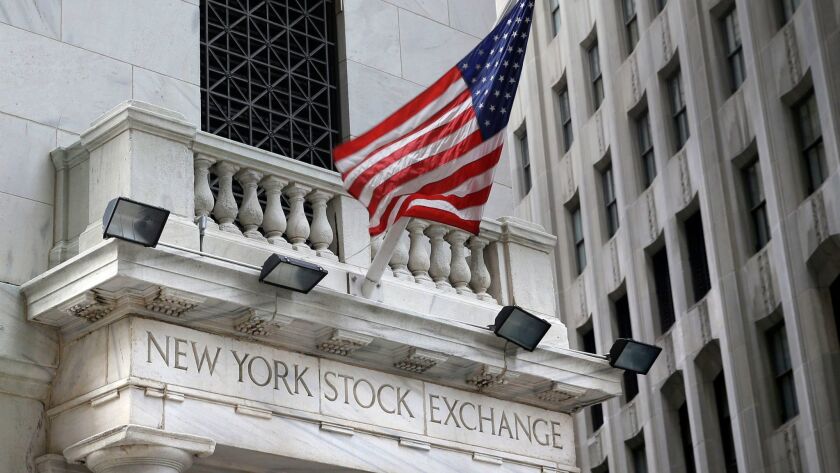 U.S. stocks brushed aside their first wobble of the year and got back to setting records Thursday. Energy stocks led the way after the price of oil touched its highest level since 2014.
The gains for indexes marked a return to calm, after a whiff of nervousness wafted through markets Wednesday as interest rates rose. Rates held steady Thursday, and the Standard & Poor's 500 index marked its seventh gain in the last eight days.
The S&P 500 rose 19.33 points, or 0.7%, to a record 2,767.56. The Dow Jones industrial average climbed 205.60 points, or 0.8%, to 25,574.73. The Nasdaq composite climbed 58.21 points, or 0.8%, to 7,211.78. The Russell 2000 index of small-cap stocks surged 26.99 points, or 1.7%, to 1,586.79.
Optimism about a strengthening global economy and growing corporate profits has helped propel markets even though, relative to earnings, stocks have become more expensive than they've historically been.
The market's smooth ride upward hit a bump Wednesday: worries that a jump in interest rates could derail the ascent. Rates have been ultra-low since the Great Recession, a culmination of a decline in bond yields over the last three-plus decades.
"Everyone's on edge about waiting for what's to come," even though central banks have promised to take a slow path toward higher rates, said Marina Severinovsky, investment strategist at Schroders.
"There shouldn't be a falling-off-the-cliff mentality, but we're so primed," she said. "We're 30 years into this, waiting for the trigger."
Rates retreated Thursday after China's foreign exchange regulator challenged a report that had helped drive up yields, which said China may slow or halt purchases of U.S. Treasurys.
And a U.S. government report Thursday showed that inflation was weaker on the wholesale level last month than economists expected.
The yield on the 10-year Treasury note fell to 2.53% from 2.56%. It had climbed as high as 2.59% on Wednesday.
Although a quick jump in rates could easily jolt markets out of their calm ride, experts say markets are prepared for rates to rise gradually.
"We're all anticipating rising rates, and have been for some time," Severinovsky said. "Given where global growth is, we should have higher rates than we do today."
Energy stocks were the day's biggest stars after the price of oil touched its highest price in more than three years. Benchmark U.S. crude rose 23 cents to settle at $63.80 a barrel; earlier in the day, they climbed as high as $64.77. Brent crude, the international standard, rose 6 cents to $69.26 a barrel.
That helped drive energy stocks in the S&P 500 to a 2% gain, the largest among the 11 sectors that make up the index. They're at their highest level since the end of 2016.
Anadarko Petroleum had one of the biggest gains in the index, jumping 5.6% to $58.50.
The stock market has repeatedly shrugged off concerns through its placid ride to record highs. Whether investors are worried about a future pickup in rates or about how stocks have become more expensive than usual, any dip for the market over the last year has been shallow and short.
That's rewarded investors who have repeatedly "bought the dip" and seen every wobble in prices as a buying opportunity. The next test for the market may arrive in coming weeks as companies report their profits from the last three months of 2017.
Businesses will need to produce strong growth to justify the gains their stocks have made. Expectations are also high that chief executives will unveil encouraging profit forecasts for 2018 after Washington cut their income-tax rates.
KB Home leaped 12.3% to $38.58 on Thursday after the Los Angeles homebuilder posted a bigger profit and better sales than analysts expected.
The dollar slipped to 111.09 yen from 111.35 yen. The euro rose to $1.2036 from $1.1957. The British pound rose to $1.3536 from $1.3509.
In the commodities markets, gold rose $3.20 to settle at $1,322.50 an ounce. Silver fell 7 cents to $16.97 an ounce. Copper rose 2 cents to $3.23 a pound.
Natural gas rose 18 cents to settle at $3.08 per 1,000 cubic feet. Heating oil was nearly flat at $2.08 a gallon. Wholesale gasoline was steady at $1.84 a gallon.
In markets abroad, Japan's Nikkei 225 fell 0.3%, South Korea's Kospi retreated 0.5%, and Hong Kong's Hang Seng index edged up 0.2%.
Britain's FTSE 100 rose 0.2%. France's CAC 40 was down 0.3%. Germany's DAX slid 0.6%.
---
UPDATES:
3:10 p.m.: This article was updated with closing prices, context and analyst comment.
This article was originally published at 1:20 p.m.
---
Your guide to our new economic reality.
Get our free business newsletter for insights and tips for getting by.
You may occasionally receive promotional content from the Los Angeles Times.