Pharma deals, shutdown pact help stocks set more records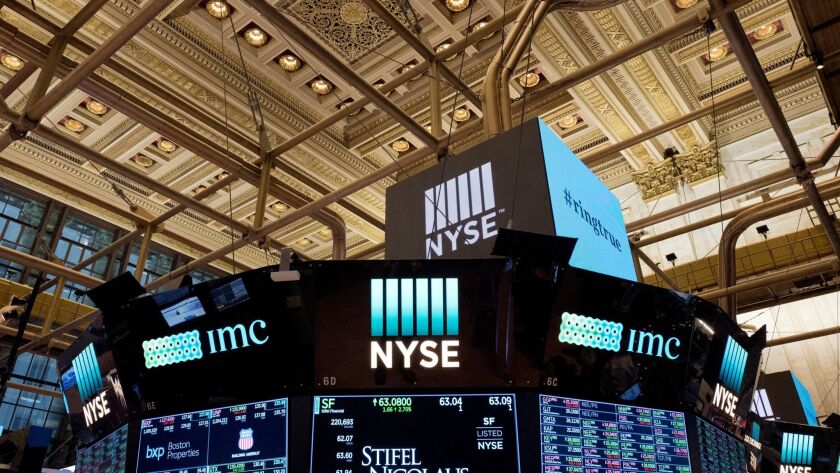 Hefty gains for energy and technology companies helped U.S. stocks set more records Monday. Drug makers announced two major deals worth about $20 billion and smaller-company stocks climbed after the Senate reached a short-term deal to end the government shutdown.
Stocks were slightly higher in the early going as strong fourth-quarter results from Halliburton helped energy companies, and big technology companies like Alphabet and Microsoft continued their ascent. Starting at noon, after Senate Democrats said they would support a three-week government funding bill, bond yields increased and smaller-companies shook off their early losses to turn higher.
The Standard & Poor's 500 index picked up 22.67 points, or 0.8%, to 2,832.97. The Dow Jones industrial average rose 142.88 points, or 0.5%, to 26,214.60. The Nasdaq composite added 71.65 points, or 1%, to 7,408.03. The Russell 2000 index of smaller-company stocks gained 7.54 points, or 0.5%, to 1,605.17.
The Senate was poised to pass a bill that will fund the federal government until early February. That came after Republican leaders said they will soon address immigration and other contentious political issues.
French drug maker Sanofi is buying hemophilia treatment maker Bioverativ in a deal the companies valued at $11.6 billion, while Celgene will buy cancer treatment maker Juno Therapeutics for $9 billion. In the financial sector, insurer AIG is buying Validus, a provider of reinsurance, primary insurance, and asset management services, for $5.56 billion.
Bioverativ jumped $39.68, or 61.9%, to $103.79 while Sanofi lost $1.40, or 3.1%, to $43.20. Bioverativ makes Eloctate and Alprolix, which treat two different types of hemophilia. The deal is part of Sanofi's growing focus on rare diseases, which can command high prices at a time generic medications for more common ailments are falling.
Meanwhile Celgene will pay $87 a share for its partner Juno Therapeutics. Juno is one of several companies developing CAR-T cancer therapies, which genetically engineer patients' blood cells into "living drugs" that fight cancer. The stock surged last week on reports Celgene might buy the company. On Monday it rose $18.19, or 26.8%, to $86 while Celgene added 26 cents to $102.91.
Bond prices gave up an early gain. The yield on the 10-year Treasury note remained at 2.66%, a three-year high.
Benchmark U.S. crude rose 25 cents to $63.62 a barrel in New York. Brent crude, used to price international oils, added 42 cents to $69.03 a barrel in London.
The dollar rose to 110.99 yen from 110.60 yen from 110.98 yen. The euro edged up to $1.2258 from $1.2234.
Gold slipped $1.20 to $1,331.90 an ounce. Silver lost 5 cents to $16.99 an ounce. Copper gained 1 cent to $3.20 a pound.
---
UPDATES:
1:45 p.m.: This article has been updated with the market's close.
This article was originally published at 7 a.m.
---
Your guide to our new economic reality.
Get our free business newsletter for insights and tips for getting by.
You may occasionally receive promotional content from the Los Angeles Times.