Dow industrials dive 666 points; stock market has its worst week in two years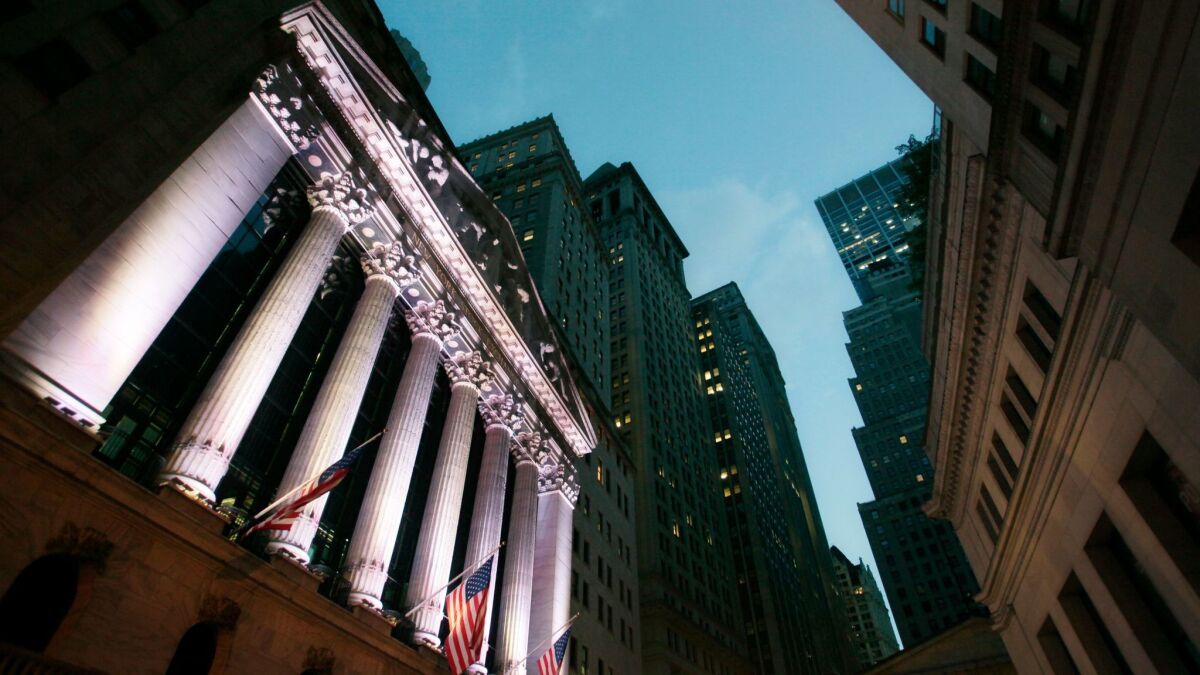 U.S. stocks slumped Friday, pulling down the Dow Jones industrial average 666 points and giving the market its worst week in two years.
Technology and energy stocks accounted for much of the broad slide as several major companies, including Exxon Mobil and Alphabet, Google's parent company, sank after reporting weak earnings.
Investors have grown increasingly worried that a rapid rise in interest rates, spurred by higher inflation, could derail the market's strong and calm ride upward. And they're concerned the Federal Reserve will respond to higher inflation by raising interest rates more quickly than expected.
The yield on the 10-year Treasury note, a benchmark for many kinds of loans, including mortgages, climbed Friday to its highest level in roughly four years.
The prospect of higher interest rates, which can weigh on company earnings and stock prices, derailed the market's strong start to 2018, pulling the indexes lower for much of this week.
"We've enjoyed low interest rates for so long, we're having to deal with a little bit higher rates now, so the market is trying to figure out what that could mean for inflation," said Darrell Cronk, head of the Wells Fargo Investment Institute. "The concern for the stock market is as interest rates go up so does the cost of debt service, the discount rate that you would use in factoring earnings growth for companies."
The Standard & Poor's 500 index slid 60 points, or 2.1%, to 2,762. The Dow Jones industrial average slid 666 points, or 2.5%, to 25,521. The Nasdaq slid 145 points, or 2%, to 7,241.
This week's market pullback has come even as U.S. economic data continue to reflect strong growth.
U.S. employers added a robust 200,000 jobs in January, slightly above market expectations for a 185,000 increase. Meanwhile, wages rose at the fastest pace in more than eight years, suggesting employers are competing more fiercely for workers. The figures point to an economy on strong footing even in its ninth year of expansion, fueled by global economic growth and healthy consumer spending at home.
The pickup in hourly wages, along with a recent uptick in inflation, may make it more likely the Fed will raise short-term interest rates more quickly in the coming months. Some economists were predicting Friday that the central bank will raise its benchmark rate four times this year, rather than the three times most previously expected.
"With financial conditions continuing to ease and core price inflation also starting to pick up, we expect this will persuade the Fed to hike rates four times this year," Andrew Hunter, an economist with Capital Economics, wrote in a published note Friday.
This week's sell-off comes as more money has been going into stock funds. In the three weeks through Jan. 24, investors have pushed a net $18.3 billion into U.S. stock funds, according to estimates from the Investment Company Institute.
Traders continued to sift through a raft of corporate earnings reports Friday.
Roughly halfway through this earnings reporting season, some 78% of companies have turned in profits above analysts' expectations. Revenues also have been stronger than expected, an indication that the improving global economy is translating into better sales. Altogether, 64% of reporting S&P 500 companies have beaten expectations for both revenue and earnings, according to S&P Global Market Intelligence. That's up from 54% a quarter earlier.
Although earnings overall have been strong, some big companies have posted disappointing results.
Oil futures declined. Benchmark U.S. crude slid 35 cents, or 0.5%, to settle at $65.45 a barrel on the New York Mercantile Exchange. Brent crude, used to price international oils, fell $1.07, or 1.5%, to $68.58 a barrel in London.
---
UPDATES:
1:10 p.m.: This article was updated with closing prices.
12:20 p.m.: This article was updated with more recent market prices and context.
11:30 a.m.: This article was updated with more recent market movement.
7:55 a.m.: This article was updated with market prices and context.
This article was originally published at 6:55 a.m.
---
Sign up for the California Politics newsletter to get exclusive analysis from our reporters.
You may occasionally receive promotional content from the Los Angeles Times.