Stocks leap as investors question whether Trump will really risk a trade war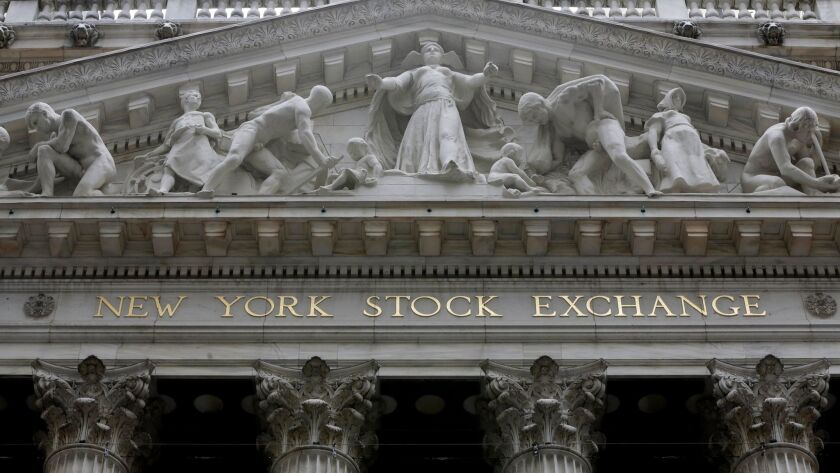 Stocks shook off morning losses Monday and surged, sending the Standard & Poor's 500 index to its best day in a week. It's the latest turn for a market suddenly prone to quick shifts not only day to day but also hour to hour, as investors question whether President Trump will really risk a trade war.
The S&P 500 lost as much as 0.6% shortly after trading began, only to finish the day up 1.1% — the index ended the day with a gain of 29.69 pointsto 2,720.94. It's reminiscent of what happened Friday, when stocks reversed course on speculation that Trump was making an opening bid, rather than a final offer, when he promised to impose stiff tariffs on imported steel and aluminum.
The Dow Jones industrial average jumped 336.70, or 1.4%, to 24,874.76, and the Nasdaq composite advanced 72.84, or 1%, to 7,330.70. Both came back from early morning losses.
Trump took to Twitter again Monday to defend the promised tariffs, which have riled trading partners around the world and already sparked talk of retaliation to heighten the worries about a possible trade war. Trump highlighted trade deficits with Canada and Mexico (although the U.S. actually runs an overall trade surplus with Canada), and he said tariffs "will only come off if" a new free-trade agreement between the three countries is signed.
Later in the day, House Speaker Paul Ryan said that he is "extremely worried" about the consequences of a global trade war and urged the White House "to not advance with this plan," according to a statement issued by his office.
"It's incredibly difficult to try to understand the whims of this current administration and to try to make forecasts," said Emily Roland, head of capital markets research for John Hancock Investments. If a trade war does occur, it would hurt the global economy and the healthy profit growth that companies have been producing, two of the big drivers for the market.
"But right now, we think the impact should continue to be modest, as long as it's all talk and no action," Roland said.
Boeing offered a good example of how quickly the market shifted. The aerospace giant got the majority of its revenue from outside the United States last year, so it would be hurt if countries put up more barriers to global trade. Boeing shares were down as much as 2.3% in the morning before ending the day up 2.3%.
From its low point of the day to its high, the S&P 500 index carried investors through a swing of 1.9 percentage points. It's the fifth straight day with a gap of more than 1.5 percentage points, as trading has become much more wild since the market's placid, record-setting run from 2017 into January. During that period, the typical day saw the S&P 500 drift just 0.5 percentage points from its low point to high.
The biggest gainer in the S&P 500 was XL Group, which surged 29.1% to $55.92 after AXA said that it will acquire the insurance and reinsurance company for $15.3 billion. Investors would get $57.60 per XL Group share.
Among California companies, Dermira dived 65.9% to $8.59 after it said an experimental acne treatment failed in two late-stage clinical studies. And mobile payments company Square leaped 9.6% to $50.42 after old news about bitcoin integration made the rounds again.
In overseas stock markets, Europe was mostly higher, with Italy an exception after elections there saw no single party emerge with a majority in Parliament. That raises uncertainty about how closely Italy will work with the rest of the European Union. France's CAC 40 rose 0.6%, Germany's DAX gained 1.5% and the FTSE 100 in London was up 0.7%. In Asia, Japan's Nikkei 225 fell 0.7%, South Korea's Kospi dropped 1.1% and the Hang Seng in Hong Kong dived 2.3%.
Investors are also looking ahead to the U.S. jobs report that's due out at the end of the week.
What first jolted the stock market from its peaceful rise to records was last month's jobs report, which raised the specter of higher inflation. If wages continue to accelerate, investors probably would see it as more evidence that the Federal Reserve will raise interest rates higher and faster than expected, which could further upset markets.
As a demonstration of how nervous investors are, Roland pointed to Fed Chairman Jerome Powell's testimony before Congress last week, in which Powell said the economy is improving.
"That first day, he didn't say anything he hadn't said before, and the market was so volatile," Roland said.
On Monday, the yield on the 10-year Treasury rose to 2.88% from 2.87% on Friday.
In the commodities markets, benchmark U.S. crude rose $1.32 to $62.57 a barrel. Brent crude, the international standard, rose $1.17 to $65.54 a barrel. Natural gas rose a penny to $2.70 per 1,000 cubic feet. Heating oil rose 2 cents to $1.90 a gallon. Wholesale gasoline climbed 3 cents to $1.93 a gallon.
Gold fell $3.50 to $1,319.90 an ounce. Silver fell 5 cents to $16.41 an ounce. Copper was nearly flat at $3.13 a pound.
The dollar rose to 106.20 yen from 105.54 yen. The euro slipped to $1.2327 from $1.2331 and the British pound climbed to $1.3833 from $1.3790.
---
UPDATES:
2:50 p.m.: This article was updated with closing prices, context and analyst comment.
1:20 p.m.: This article was updated with the close of markets.
8:50 a.m.: This article was updated with more recent market information.
This article was originally published at 7:40 a.m.
---
Your guide to our clean energy future
Get our Boiling Point newsletter for the latest on the power sector, water wars and more — and what they mean for California.
You may occasionally receive promotional content from the Los Angeles Times.