Stocks slip as Amazon, Tesla drag down market after news reports rattle traders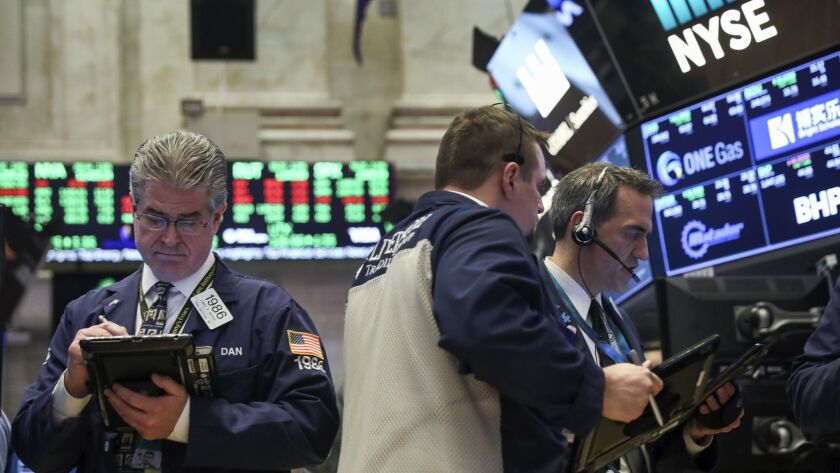 Despite a crop of strong earnings reports and market-boosting deals, negative headlines involving Amazon and Tesla helped drag down the market on Wednesday.
Though the latest decline was modest compared with the previous day's steep drop, both were largely driven by a sell-off in technology stocks.
"The news continues to be volatile, and the markets are just highly sensitive to it in a way that they weren't sensitive to it last year," said Tom Martin, senior portfolio manager with Globalt Investments.
The benchmark S&P 500 index lost 7.62 points, or 0.3%, at 2,605. The Dow Jones industrial average fell 9.29 points, or 0.04%, to 23,848.42. The Nasdaq composite slid 59.58 points, or 0.8%, to 6,949.23. The Russell 2000 index of smaller-company stocks lost 0.54 points, or 0.04%, to 1,513.03. More stocks rose than fell on the New York Stock Exchange.
Bond prices were little changed. The yield on the 10-year Treasury held at 2.78%.
The major stock indexes wobbled between gains and losses for much of the day as investors weighed the latest developments with some of the market's biggest names.
Tesla tumbled 7.7% after Moody's downgraded the electric car maker's credit rating. The move piles more pain on Tesla, whose stock has been pummeled by news that authorities will investigate a fatal crash involving a Tesla electric SUV equipped with a semi-autonomous control system. The stock lost $21.40 to close at $257.78.
Investors also fretted about Amazon after Axios, citing anonymous sources, reported Wednesday that President Trump has wondered aloud if there was a way to "go after" Amazon with antitrust or competition law.
Amazon has long been a target of Trump, who has tweeted in the past that the online retailer didn't pay enough taxes or needed to pay the U.S. post office more for handling shipments. Amazon CEO Jeff Bezos also personally owns the Washington Post, which Trump has labeled "fake news" when unfavorable stories are written about him or his administration. Shares in the e-commerce giant fell $65.63, or 4.4%, to $1,431.42.
Facebook, which has taken a beating in recent days over privacy concerns, reflected the broader movement of the market, dipping into the red at times before eking out a small gain.
The social media giant started the trading day off with an announcement it would give its privacy tools a makeover. The move is in response to criticisms over its data practices and the prospect of tighter European regulations in the coming months. The stock gained 81 cents, or 0.5%, to $153.03.
Software company Red Hat was the technology sector's biggest decliner, sliding $8.22, or 5.3%, to $146.20.
Netflix also declined, shedding $14.92, or 5%, to $285.77.
Investors welcomed strong quarterly report cards from Walgreens Boots Alliance, Lululemon Athletica and RH, the operator of Restoration Hardware.
Walgreens gained 2.5% after the largest U.S. drugstore chain reported quarterly earnings and revenue that came in ahead of analysts' forecasts. The stock rose $1.63 to $67.59. Investors also bid up shares in CVS Health, which climbed $2.11, or 3.5%, to $62.71.
Lululemon jumped 9.2% after the seller of premium yoga wear reported strong results for its fourth quarter and also released an upbeat outlook. The stock gained $7.25 to $85.96. Shares in RH vaulted 22.5% after the home furnishings retailer reported earnings that easily beat analysts' forecasts. The stock rose $16.93 to $92.24.
Irish drugmaker Shire Plc jumped 12.2% after Japanese rival Takeda said it's considering a takeover offer. Takeda said that buying Shire would enhance its research and development and its reach into the U.S. Shire's U.S.-listed shares climbed $15.66 to $144.53.
Benchmark U.S. crude lost 87 cents, or 1.3%, to settle at $64.38 per barrel on the New York Mercantile Exchange. Brent crude, used to price international oils, fell 58 cents, or 0.8%, to $69.53 per barrel in London.
The slide in oil prices weighed on energy sector stocks. Occidental Petroleum gave up $2.67, or 4.1%, to $63.15.
In other energy futures trading, heating oil dropped 1 cent to $2.01 a gallon. Wholesale gasoline was little changed at $2.01 a gallon. Natural gas dropped 2 cents to $2.70 per 1,000 cubic feet.
The dollar rose to 106.88 yen from 105.54 yen. The euro fell to $1.2313 from $1.2402.
Gold fell $17.80, or 1.3%, to $1,324.20 an ounce. Silver dropped 29 cents to $16.25 an ounce. Copper was little changed at $3 a pound.
Major indexes in Europe finished mostly higher. Germany's DAX lost 0.3%, while France's CAC 40 gained 0.3% and Britain's FTSE 100 rose 0.6%. Indexes in Asia finished lower. Japan's Nikkei 225 sank 1.3%, and South Korea's Kospi slid 1.3%. Hong Kong's Hang Seng index slumped 2.5%. Stocks in Taiwan, Singapore and other Southeast Asian countries also fell.
---
UPDATES:
2:35 p.m.: This article was updated with final market data.
9:50 a.m.: This article was updated with the latest market data.
This article was originally published at 7:40 a.m.
---
Must-read stories from the L.A. Times
Get the day's top news with our Today's Headlines newsletter, sent every weekday morning.
You may occasionally receive promotional content from the Los Angeles Times.