Stocks jump, encouraged by China's tone on trade; Facebook climbs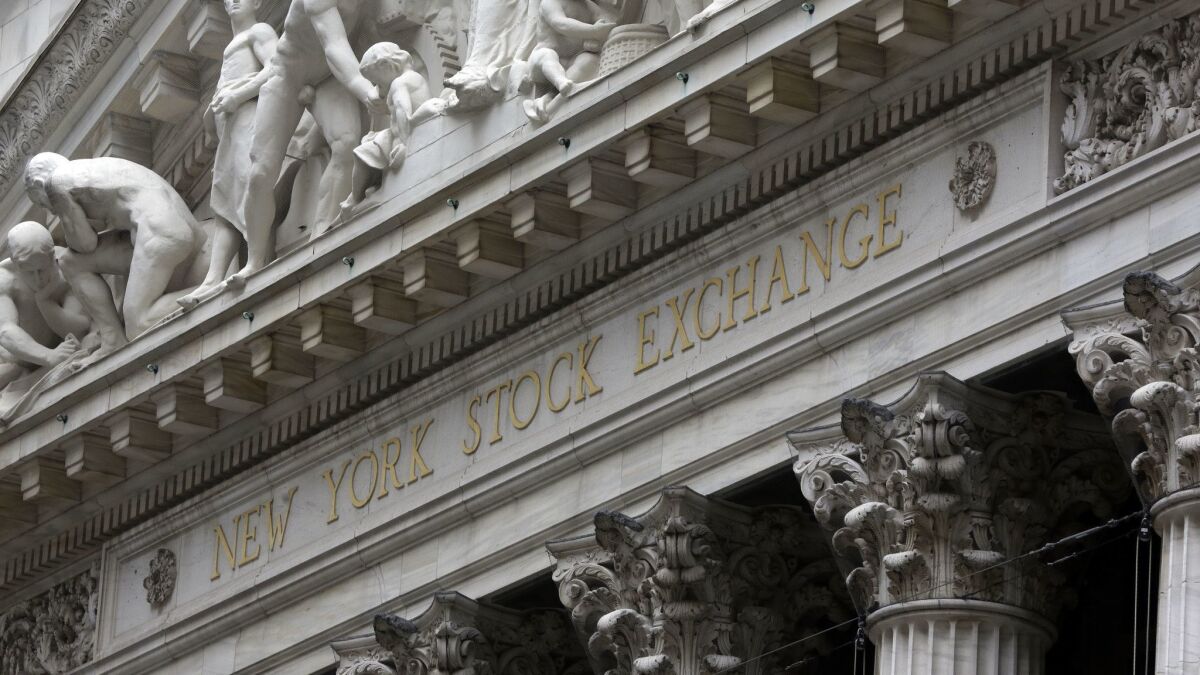 Stocks jumped Tuesday after Chinese President Xi Jinping said Beijing would reduce tariffs on imported cars and improve intellectual property protection, steps that could ease trade tensions. Facebook climbed as Chief Executive Mark Zuckerberg testified before senators about his company's privacy scandal.
Xi's proposals could help the United States and China resolve their differences and prevent a trade dispute from growing severe enough to slow global commerce. The dialing back of tensions helped send the price of crude oil up 3.3%.
Xi pledges to slash tariffs and open China's markets »
"The market's increasing expectation is that the two sides will sit down now," said Paul Christopher, head of global market strategy for Wells Fargo Investment Institute, although stocks could bounce around as those negotiations proceed. "There's still a lot at stake because you have a global supply chain that could be interrupted because of tariffs."
Facebook, Twitter and Snap rallied as senators questioned Zuckerberg about the Cambridge Analytica privacy scandal that has engulfed Facebook over the last four weeks. Technology companies have stumbled as investors wondered if the government will implement tighter regulations on technology companies, and those worries eased Tuesday. Zuckerberg will testify before members of the House of Representatives on Wednesday.
Facebook's Mark Zuckerberg says he'd welcome the 'right regulations' »
The Standard & Poor's 500 index surged 43.71 points, or 1.7%, to 2,656.87. The Dow Jones industrial average jumped 428.90 points, or 1.8%, to 24,408. Earlier in the day, it was up as much as 532 points. The Nasdaq composite leaped 143.96 points, or 2.1%, to 7,094.30. The Russell 2000 index of smaller-company stocks advanced 28.97 points, or 1.9%, to 1,543.43.
Indexes overseas also climbed. Germany's DAX jumped 1.1%, the British FTSE 100 climbed 1%, and the French CAC 40 gained 0.8%. Japan's benchmark Nikkei 225 advanced 0.5%. South Korea's Kospi rose 0.3%. Hong Kong's Hang Seng leaped 1.7%.
Speaking at a business conference, Xi promised changes in some areas that the U.S. has identified as priorities. He didn't address other thorny topics, such as requirements for foreign companies to give technology to potential local competitors.
His remarks propelled American automakers. General Motors rose 3.3% to $39.07. Tesla climbed 5.2% to $304.70.
Technology companies have made some of the biggest swings on the market during the trade spat. If trade conditions get worse, they might face higher costs as well as lower sales. They also have done better than most other parts of the market for more than a year, and companies such as Apple, Microsoft and Alphabet, Google's parent company, have made up an outsize portion of the market's gains.
Apple jumped 1.9% to $173.25 on Tuesday. Microsoft rose 2.3% to $92.88.
So far the U.S. has proposed tariffs on at least $150 billion worth of products made in China, and China has said it could put tariffs on $50 billion in goods imported from the U.S.
Christopher, of Wells Fargo, said the U.S. still has a lot of leverage because it has mostly targeted products that are only partly assembled in China.
"The U.S., in the next round of tariffs, could start targeting goods that the Chinese do mostly produce themselves," he said. That would cause China more economic pain.
Facebook rallied 4.5% to $165.04, making big gains during Zuckerberg's testimony. Twitter jumped 5.4% to $29.53, and Snap advanced 2.3% to $14.48. Although Tuesday was the best day for Facebook stock in two years, the shares are down 11% since the Cambridge Analytica scandal — which affected as many as 87 million Facebook users — emerged in March.
Benchmark U.S. crude rose 3.3% to $65.51 a barrel in New York. Brent crude, used to price international oils, leaped 3.5% to $71.04 a barrel in London. Oil prices have bounced up and down recently as investors wonder if the trade dispute will hamper global economic growth.
Exxon Mobil shares climbed 2.9% to $77.07. Marathon Oil shares jumped 4.3% to $17.06.
VeriFone Systems surged 51.9% to $22.78 after the company, which makes terminals for electronic payments, agreed to be bought by Francisco Partners and British Columbia Investment Group. The investment group will pay $23.04 a share, or $2.54 billion, for VeriFone.
Utilities and other companies that pay big dividends lagged behind the rest of the market as investors felt more comfortable buying riskier stocks.
Bond prices turned lower. The yield on the 10-year Treasury note rose to 2.80% from 2.78%.
Wholesale gasoline rose 2.9% to $2.04 a gallon. Heating oil rose 3.4% to $2.06 a gallon. Natural gas fell 1.4% to $2.66 per 1,000 cubic feet.
Gold rose 0.4% to $1,345.90 an ounce. Silver rose 0.4% to $16.60 an ounce. Copper rose 1.9% to $3.14 a pound.
The dollar climbed to 107.17 yen from 106.78 yen. The euro rose to $1.2361 from $1.2322.
---
UPDATES:
3 p.m.: This article was updated with closing prices, context and analyst comment.
10 a.m.: This article was updated with market prices and context.
9:30 a.m.: This article was updated with market movements and context.
This article was originally published at 7 a.m.
---
Sign up for the California Politics newsletter to get exclusive analysis from our reporters.
You may occasionally receive promotional content from the Los Angeles Times.