Bank and technology stocks fall; oil prices climb to a 3-year high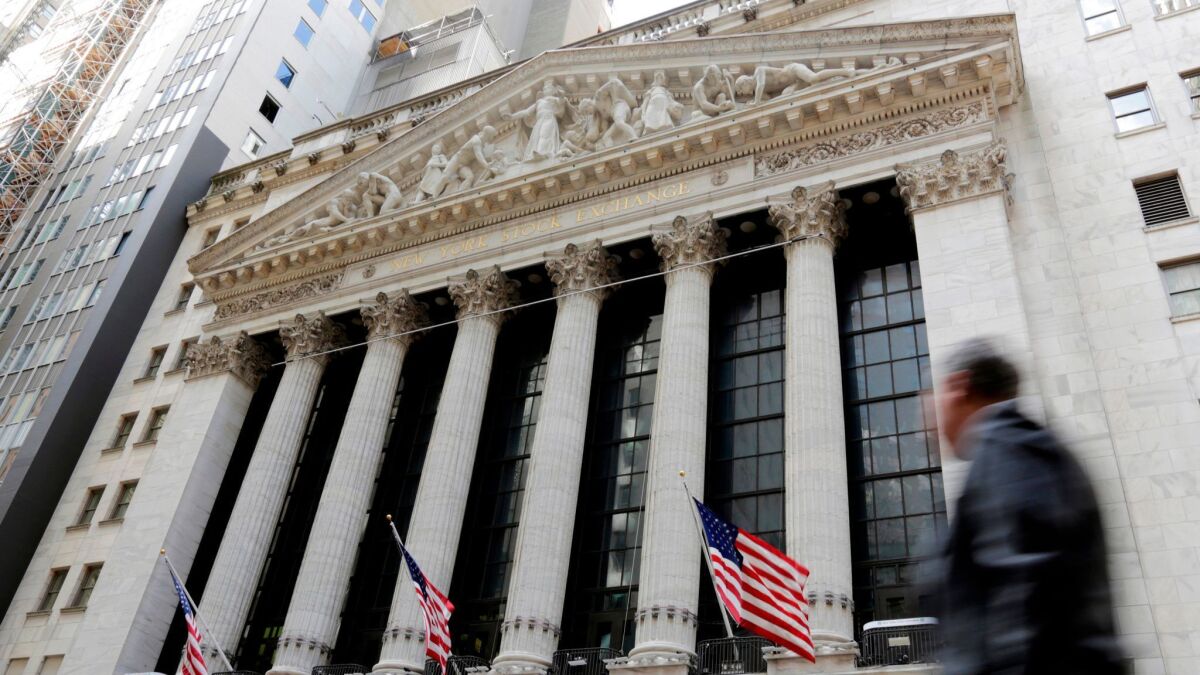 Companies including banks and technology and healthcare firms fell Wednesday, the day after U.S. stock indexes surged. Oil prices hit a three-year high after President Trump tweeted that the United States will launch missiles at targets in Syria.
Aside from energy companies, stocks were slightly lower most of the day. Banks slipped along with interest rates, while healthcare and technology companies gave up some of the big gains they made Tuesday. Trump said the U.S. will respond to the recent suspected chemical attack in Syria, and Saudi Arabia said it intercepted missiles fired by rebels in Yemen. Fighting in the Middle East could restrict oil supplies and push up prices.
The Federal Reserve released minutes from its meeting in March. Some policymakers felt the central bank may have to increase rates more quickly in response to faster economic growth and rising inflation, and it might have to focus on slowing the economy to keep inflation under control. The market didn't react dramatically to that development, but stock indexes trailed off in the afternoon.
Simona Mocuta, senior economist for State Street Global Advisors, said it's a challenge for investors to respond to events such as possible strikes in Syria because it's not clear what the outcomes will be.
"There is so much uncertainty about the geopolitics that it's hard for the market even to price on a day-to-day basis," she said.
The Standard & Poor's 500 index fell 14.68 points, or 0.6%, to 2,642.19; the previous day, it surged 1.7%. The Dow Jones industrial average slid 218.55 points, or 0.9%, to 24,189.45. The Nasdaq composite fell 25.27 points, or 0.4%, to 7,069.03. But the Russell 2000 index of smaller-company stocks rose 3.36 points, or 0.2%, to 1,546.70, and most of the stocks on the New York Stock Exchange finished higher.
Facebook stock continued to rise as Chief Executive Mark Zuckerberg testified before Congress for a second day. The stock surged Tuesday afternoon at the beginning of Zuckerberg's testimony. It rose 0.8% to $166.32 on Wednesday.
Daniel Ives, head of technology research for GBH Insights, said Facebook rallied for two reasons. One is that Zuckerberg did well in his testimony after investors had their doubts about how he would perform on Capitol Hill. The other is that Wall Street felt many members of Congress weren't very tough on Facebook because they don't grasp some of the relevant issues. As a result, investors grew less worried that the government will crack down on Facebook and other technology companies.
"A lot of the regulators and politicians don't really understand Facebook and its [business] model, so how can you expect that regulation is going to be a near-term issue?" he said. "The political theater and grandstanding has actually worked to the benefit of Facebook and Zuckerberg rather than to its detriment."
Facebook's stock is still down 10% since its Cambridge Analytica privacy scandal broke in mid-March.
Other social media companies, including Snap and Twitter, also rallied over the last two days.
Energy companies rose as benchmark U.S. crude climbed 2% to $66.82 a barrel in New York. Brent crude, used to price international oils, rose 1.4% to $72.06 a barrel in London. Oil prices jumped more than 3% on Tuesday as investors got more optimistic about a possible resolution to the U.S.-China trade spat.
Overseas markets mostly fell, losing some of their gains from the day before. Germany's DAX lost 0.8% and the CAC 40 in France dropped 0.6%. Britain's FTSE 100 edged down 0.1%. Japan's Nikkei 225 stock index lost 0.5%. The Kospi in South Korea declined 0.3%. Hong Kong's Hang Seng climbed 0.6%.
The yield on the 10-year Treasury note fell to 2.78% from 2.80%. That put pressure on banks. When bond yields fall, it forces down interest rates on mortgages and other kinds of loans, meaning lower profits for banks. JPMorgan Chase shares fell 1.7% to $110.62. Bank of America shares declined 1.9% to $29.90.
Medical and security imaging equipment maker Analogic agreed to be bought by Altaris Capital Partners for $84 a share, or $1.05 billion. That was much less than investors had hoped for, and the stock dropped 13.2% to $83.35. Analogic spiked from about $84 in March to as much as $96 a share Tuesday. Analogic noted that the stock price was lower than that when it announced it would consider a sale.
The dollar fell to 106.95 yen from 107.17 yen. The euro edged up to $1.2362 from $1.2361.
Gold rose 1% to $1,360 an ounce. Silver rose 1% to $16.77 an ounce. Copper fell 0.6% to $3.12 a pound.
Wholesale gasoline rose 1.3% to $2.07 a gallon. Heating oil rose 1.4% to $2.09 a gallon. Natural gas rose 0.7% to $2.68 per 1,000 cubic feet.
---
UPDATES:
3:05 p.m.: This article was updated with closing prices and context.
This article was originally published at 10:45 a.m.
---
Sign up for the California Politics newsletter to get exclusive analysis from our reporters.
You may occasionally receive promotional content from the Los Angeles Times.