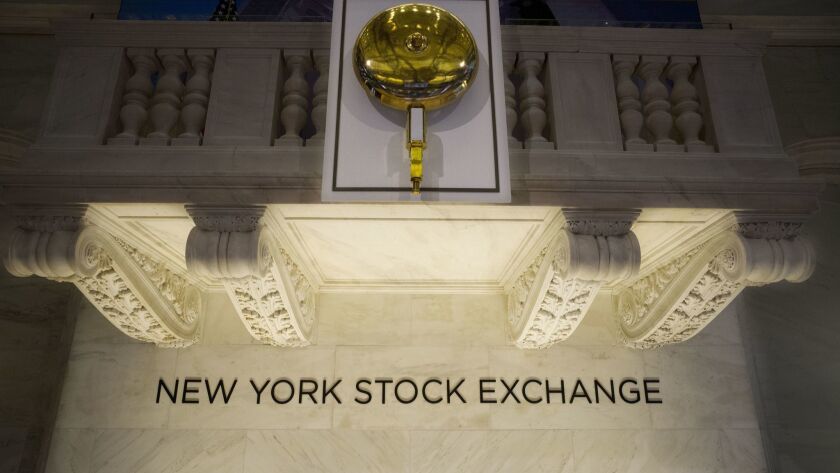 Industrial and technology companies led stocks to solid gains Monday after the United States and China appeared to make significant progress in trade talks. That helped ease concerns among investors that the world's two biggest economies would become mired in a trade war.
After another round of talks, the two countries agreed not to place tariffs on goods imported from each other. The Chinese government said it will buy more U.S. goods, including energy and agricultural products, and U.S. Treasury Secretary Steven Mnuchin said the United States postponed its proposal to put tariffs on up to $150 billion in goods from China. The two sides gave no indication of how much progress they had made toward ending their dispute entirely. Both said hostilities could increase again.
Mark Hackett, chief of investment research at Nationwide Investment Management, said investors overreacted to the trade tensions and may be slowly learning to take a more patient approach with statements by the Trump administration and other nations.
"Treating Trump literally is destructive for investors," he said. "There's a lot of these issues where there are going to be hyperbolic statements made in the public sphere by both sides."
The Standard & Poor's 500 index climbed 20.04 points, or 0.7%, to 2,733.01. The Dow Jones industrial average rose as much as 371 points during the morning before subsiding somewhat; it finished with a gain of 298.20 points, or 1.2%, at 25,013.29. The Nasdaq composite rose 39.70 points, or 0.5%, to 7,394.04. The Russell 2000 index of smaller-company stocks climbed 10.81 points, or 0.7%, to 1,637.44, a new record-high close.
All 11 sectors in the S&P 500 index moved up. Among industrial companies, Boeing shares rose 3.6% to $363.92 and construction equipment maker Caterpillar rose 2.1% to $158.92. In the financial sector, Bank of New York Mellon advanced 1.3% to $57.72 and JPMorgan Chase rose 0.9% to $112.15.
Trade disputes have occupied a lot of investors' attention for the last two months. Stocks have rallied on signs that progress was being made, only to fall back when the situation appeared to worsen. Hackett said Wall Street could get over its trade worries relatively quickly if talks go well.
If that happens, he said, stocks could be set for further gains because they are still below their early-2018 highs and analysts expect stronger earnings growth, which makes stock prices seem less expensive.
General Electric rose 1.9% to $15.26 after announcing that its train engine division will combine with railroad equipment maker Westinghouse Air Brake Technologies in a deal worth $11.1 billion. It's the latest step by GE's chief executive, John Flannery, to break off parts of the conglomerate. GE is to get $2.9 billion in cash and own 50.1% of the combined company, and the deal will help it narrow its business down to the aviation, healthcare and energy industries. Wabtec shares rose 3.5% to $98.55.
Chipmakers rallied after Micron Technology raised its profit and revenue forecasts for its fiscal third quarter. Micron shares jumped 3.9% to $55.48. Intel ticked up 1.5% to $54.32, and Lam Research advanced 2.2% to $199.87.
That contributed to a broad rally in technology stocks. Microsoft rose 1.3% to $97.60. Google's parent company, Alphabet, rose 1.3% to $1,084.01.
Fifth Third Bancorp is buying Chicago's MB Financial for about $4.7 billion, mostly in stock. The deal values MB at $54.20 per share, and its stock rose 12.9% to $49.28 while Fifth Third shares tumbled 7.9% to $30.90.
Investment manager Blackstone agreed to buy LaSalle Hotel Properties for $33.50 a share, or $3.7 billion in cash. LaSalle jumped 5.4% to $33.61. Blackstone rose along with other financial firms, advancing 1.6% to $31.79.
Healthcare companies finished a bit higher overall but didn't do as well as the rest of the market. Biotechnology companies lost ground as Celgene dropped 4.7% to $74.69 and Alexion Pharmaceuticals fell 1.4% to $119.37.
The dollar rose to 111.11 yen from 110.68 yen. The euro slipped to $1.1772 from $1.1773.
Energy companies advanced as benchmark U.S. crude oil rose 1.3% to $72.24 a barrel in New York. Brent crude, used to price international oil, rose 0.9% to $79.22 a barrel in London.
Wholesale gasoline rose 1% to $2.26 a gallon. Heating oil rose 0.4% to $2.27 a gallon. Natural gas fell 1.3% to $2.81 per 1,000 cubic feet.
Gold was little changed at $1,290.90 an ounce. Silver rose 0.4% to $16.52 an ounce. Copper rose 1.1% to $3.10 a pound.
Bond prices held steady. The yield on the 10-year Treasury note stayed at 3.06%.
The British FTSE 100 gained 1% and France's CAC 40 rose 0.5%. The German market was closed for a holiday. Japan's Nikkei 225 rose 0.3%. Hong Kong's Hang Seng gained 0.6%, and South Korea's Kospi rose 0.2%.
---
UPDATES:
3:20 p.m.: This article was updated with closing prices, context and analyst comment.
1:20 p.m.: This article was updated with the close of markets.
This article was originally published at 7:30 a.m.
---