Stocks edge up; technology and retail companies climb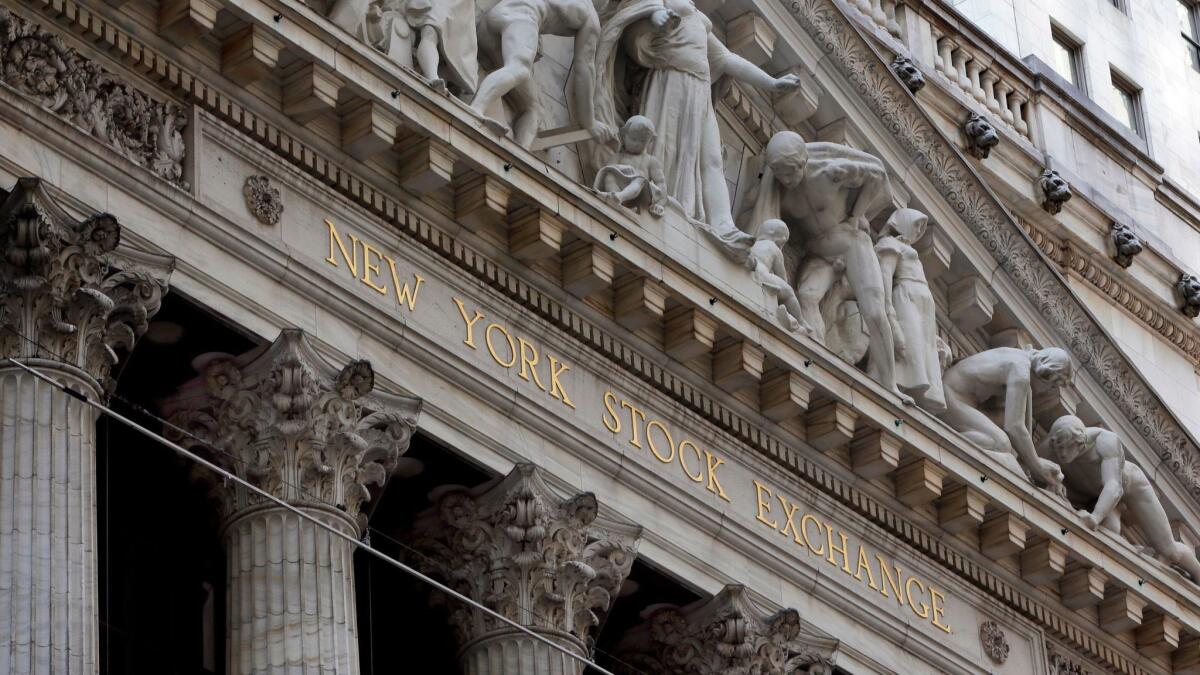 U.S. stocks finished mostly higher Tuesday as weeks of up-and-down trading, much of it related to trade tensions, gave way to smaller moves. Technology companies, retailers and U.S.-focused companies kept rising. Bank shares fell along with interest rates.
The market spent the day alternating between small gains and losses. Tech companies such as Apple and EBay rose for a third straight day, and the Nasdaq composite again set an all-time high.
The Labor Department said job openings increased in April, which could help lead to higher pay and greater consumer spending. Retailers climbed, and smaller ones fared especially well after reporting some strong first-quarter results. Larger companies such as Amazon and Macy's also rose.
"When people have extra income, they're going to spend it on discretionary goods," said Jason Draho, the head of asset allocation for UBS. "The jobs data would suggest a lot of job openings [and] that's going to lead to higher wage growth."
Healthcare companies traded lower. Starbucks fell after it said longtime Chairman Howard Schultz is leaving the company.
The Standard & Poor's 500 index edged up 1.93 points, or 0.1%, to 2,748.80. The Dow Jones industrial average slipped 13.71 points, or 0.1%, to 24,799.98. The Nasdaq composite rose 31.40 points, or 0.4%, to 7,637.86. The Russell 2000 climbed 11.25 points, or 0.7%, to 1,664.63.
The Nasdaq, which includes a heavy weighting of technology companies, and the Russell, an index of smaller and more U.S.-focused companies, are at record highs. The S&P 500 is still 4% below the record high it set Jan. 26, and the Dow is 7% below the record high it set the same day.
The Labor Department said that for the first time since records began in December 2000, there are more job openings than unemployed Americans. That could give workers more leverage for pay raises, while high levels of employment and greater consumer spending are expected to lead to faster economic growth in the coming months.
Retailers helped lead the way Tuesday as more of them reported quarterly results. G-III Apparel Group shares climbed 10.8% to $47.53 after the company raised its annual profit and sales forecasts following a strong first quarter. Ascena Retail shares shook off early losses and rose 7.9% to $3.95.
Amazon finished at a record high after it rose 1.9% to $1,696.35. Target rose 2.8% to $78.50. Macy's jumped 8% to $40.05.
Draho said smaller companies are leading the market because they're seen as less vulnerable to tariffs and trade disputes, and because economic growth in the United States is picking up while Europe and other regions don't look quite as strong. He added that technology companies did well in the first quarter, and big companies including Apple and Facebook have shaken off some recent struggles.
Starbucks fell 2.4% to $55.68 after Schultz said he's stepping down as the coffee chain's chairman. Schultz has been chairman since 2000 and oversaw enormous expansion for Starbucks over that time.
S&P Dow Jones Indices said late Monday that Twitter will be added to the benchmark S&P 500 index as of Thursday after Monsanto officially becomes part of Bayer. Twitter jumped 5.1% to $39.80. Netflix, which will become part of the S&P 100 index, rose 1.1% to $365.80.
Bond prices rose. The yield on the 10-year Treasury note fell to 2.92% from 2.94%.
Financial companies fell in tandem with bond yields. Lower yields force down interest rates on mortgages and other kinds of loans, which means lower profits for banks. Morgan Stanley shares fell 1.5% to $50.78. Capital One shares fell 1.1% to $94.35.
Mylan climbed 3.8% to $39.98 after federal regulators approved its version of Amgen's anti-infection drug Neulasta. The Mylan drug, Fulphila, is called a biosimilar, meaning it's the generic equivalent of a complex biotech drug. It was approved to reduce the risks of infections during treatment for cancer. Amgen fell 2% to $181.73.
Oil prices moved up. U.S. crude climbed 1.2% to $65.52 a barrel in New York. Brent crude, used to price international oils, edged up 0.1% to $75.38 a barrel in London.
Wholesale gasoline fell 0.8% to $2.11 a gallon. Heating oil slipped 0.5% to $2.14 a gallon. Natural gas slid 1.4% to $2.89 per 1,000 cubic feet.
Gold rose 0.4% to $1,302.20 an ounce. Silver rose 0.7% to $16.54 an ounce. Copper jumped 2% to $3.20 a pound.
The dollar rose to 109.76 yen from 109.58 yen. The euro slipped to $1.1715 from $1.1719.
In overseas markets, Germany's DAX rose 0.1% and the French CAC 40 slipped 0.2%. Britain's FTSE 100 dropped 0.7%.
Japan's benchmark Nikkei 225 index, South Korea's Kospi and Hong Kong's Hang Seng all rose 0.3%.
---
UPDATES:
2:40 p.m.: This article was updated with closing prices, context and analyst comment.
This article was originally published at 7:35 a.m.