Stocks finish mostly higher as energy companies climb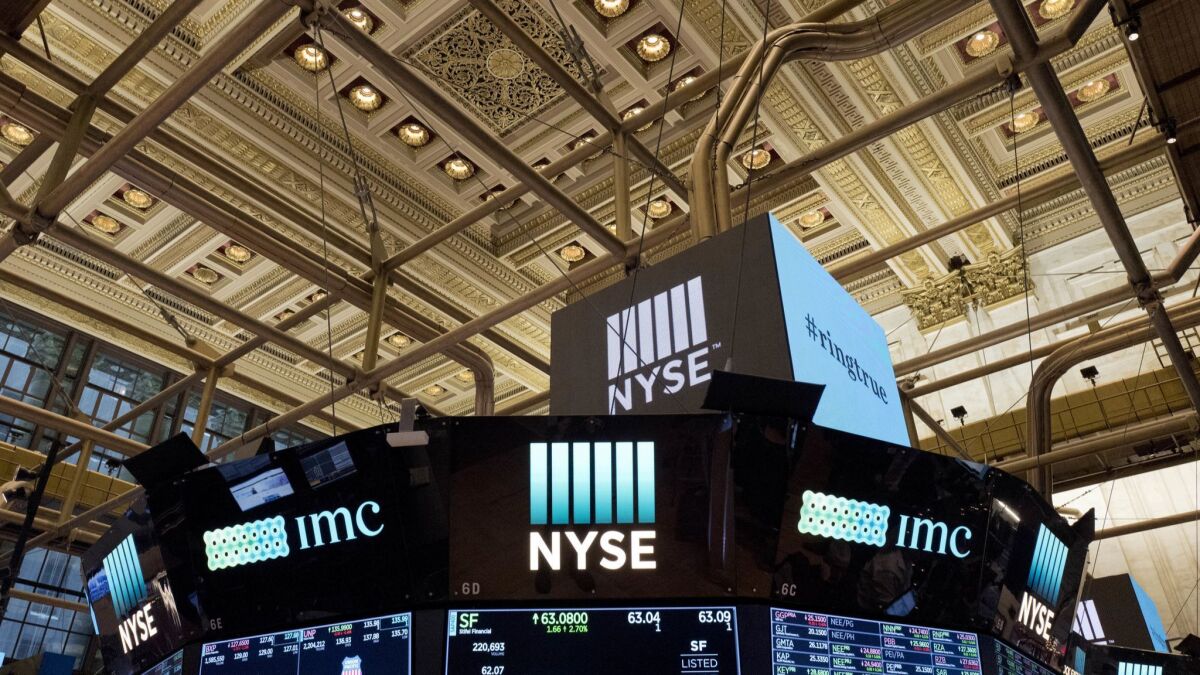 Oil prices and energy stocks rallied Friday after OPEC said it will produce more oil, but not as much as investors feared. Though trade tensions remained in the headlines, U.S. stocks finished slightly higher at the end of a bumpy week.
The Dow Jones industrial average broke an eight-day losing streak, gaining 119.19 points to 24,580.89. The Dow lost 2% this week, with Boeing off 5.3% and Caterpillar down 6.7%. The Standard & Poor's 500 index added 5.12 points to 2,754.88. The Nasdaq composite fell 20.13 points to 7,692.82.
U.S. crude futures jumped 4.6% after nation members of the Organization of the Petroleum Exporting Countries agreed to produce about 1 million additional barrels of oil per day. Investors have expected an increase in production for weeks and many of them thought a bigger boost was coming, which would have sent prices lower.
U.S. crude climbed 4.6% to $68.58 a barrel in New York. That was its biggest one-day gain since November 2016, when OPEC and a group of other countries including Russia agreed to cut production by 1.8 million barrels a day. Prices have been rising since then, and U.S. crude hit a three-year high of about $72 a barrel in May. Brent crude, the standard for international oil prices, rose 3.4% to $75.55 a barrel in London.
Although oil prices usually go down when production rises, investors thought OPEC might take a bigger step based on reports over the last few weeks.
"People were pricing crude in the last couple of weeks [expecting] a bigger increase by OPEC than what they agreed to," said Jim Paulsen, chief investment strategist for the Leuthold Group.
Exxon Mobil picked up 2.1% to $81.38, and Marathon Oil surged 7.8% to $21.48.
The European Union followed through on its promise to put import taxes on $3.4 billion worth of U.S. goods — including bourbon, peanut butter and orange juice, with many of the choices apparently designed to create political pressure on President Trump and senior U.S. politicians — in response to U.S. tariffs on steel and aluminum.
On Twitter, Trump threatened to impose a 20% tax on cars imported from the EU if barriers to trade are not removed soon. That jolted car companies. In Germany, shares of BMW lost 1.1% and Daimler sank 0.3%. Daimler fell more than 4% Thursday after it said Chinese tariffs on U.S. cars would contribute to a decline in its earnings this year. Ford and Toyota also fell, while Peugeot and General Motors rose.
Open source software maker Red Hat dropped 12.4% to $142.14 after it cut its sales forecasts due to the strengthening dollar. Other technology companies also declined.
Bitcoin extended losses as it approached the lowest price for the year after Japanese regulators hit six of the country's biggest cryptocurrency trading venues with business-improvement orders. The biggest virtual currency fell as much as 10% to $6,045.31, testing the low for the year of $5,922 that was set on Feb. 6, according to prices compiled by Bloomberg. Bitcoin is down about 57% this year.
Gold slid 0.3% to $1,270.70 an ounce. Silver added 0.8% to $16.46 an ounce. Copper edged up 0.2% to $3.03 a pound.
Bond prices were little changed. The yield on the 10-year Treasury note stayed at 2.90%.
The dollar rose to 109.91 yen, from 109.90 yen. The euro advanced to $1.1663, from $1.1617.
Bloomberg contributed to this report.
---
UPDATES:
1:40 p.m.: This article was updated with closing stock prices.
This article was originally published at 7:30 a.m.
---
Sign up for the California Politics newsletter to get exclusive analysis from our reporters.
You may occasionally receive promotional content from the Los Angeles Times.