Stocks jump again as trade-war worries take a back seat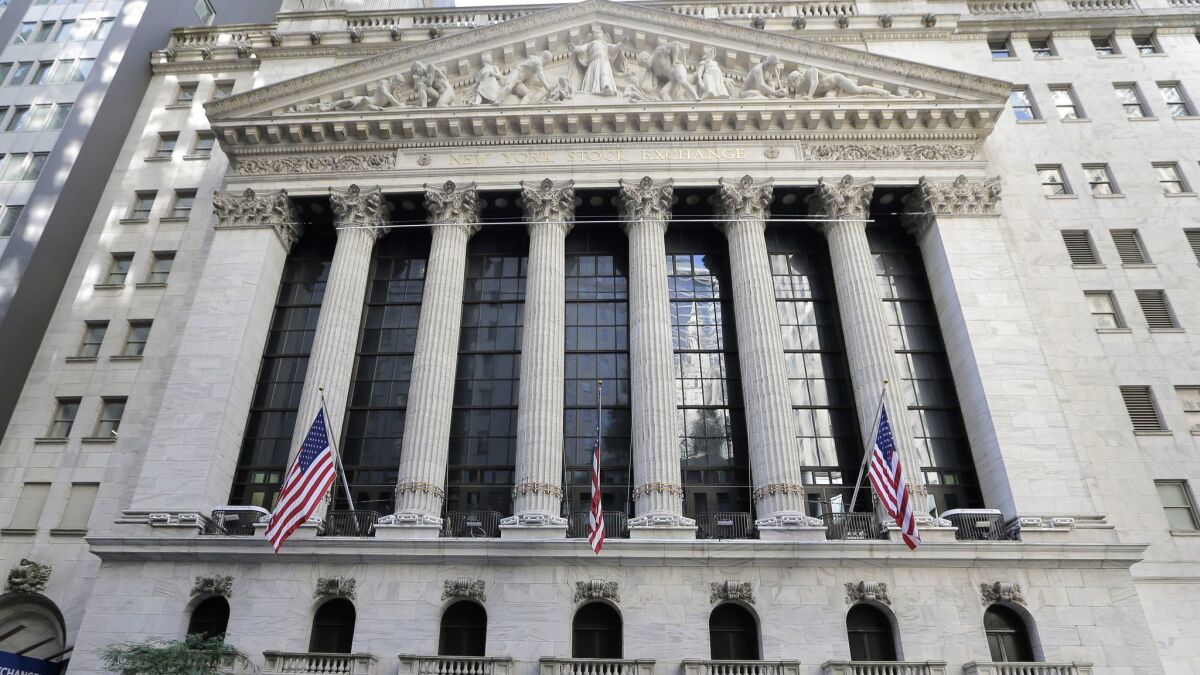 Nevermind the trade war. Here comes earnings season.
U.S. stocks climbed with other markets Monday as concerns about trade tensions between the United States and the rest of the world took a back seat. The calendar for upcoming weeks is full of companies telling investors how much profit they made during the spring, and the expectation is for another quarter of gangbusters growth.
That plus Friday's report showing U.S. hiring remains strong have helped to support markets despite the United States and China — the world's two largest economies — imposing dueling tariffs on each other at the end of last week.
The Standard & Poor's 500 index rose 24.35 points, or 0.9%, to 2,784.17. The Dow Jones industrial average jumped 320.11 points, or 1.3%, to 24,776.59, and the Nasdaq composite advanced 67.81 points, or 0.9%, to 7,756.20.
It's the third straight day that the S&P 500 has climbed at least 0.8%. It follows a rocky few months when some investors sold stocks on the assumption that a full-blown, harmful trade war was a certainty. Others still expect negotiated settlements to be the final result.
"The market in the second quarter tried to price in this whole thing, and it was probably a little too fast for that," said Matthew Miskin, market strategist with John Hancock Investments. "There still are a lot of negative developments happening here, but before earnings season typically tends to be a sweet spot for the market. "
Stocks often rise in anticipation of healthy earnings reports, Miskin said, and the results for this latest quarter are forecast to be much stronger than usual for companies this many years into an economic expansion.
Across the S&P 500, analysts are calling for 19% growth in earnings per share compared with a year earlier, according to S&P Global Market Intelligence. Lower tax rates and stronger revenues are helping to drive the gains.
The growth may be peaking, however. Perhaps more important than the numbers for last quarter will be what chief executives say in conference calls about how much the trade tensions will hurt their profits later in the year.
"It's hard to not see it being an issue that hurts margins," Miskin said.
Citigroup, JPMorgan Chase and Wells Fargo are among this week's headliners, and all three plan to report their results Friday.
Bank stocks were among the market's biggest winners Monday. Financial stocks in the S&P 500 jumped 2.3%, the largest gain among the 11 sectors that make up the index.
They rose with Treasury yields, which can translate into bigger profits for banks by enabling them to charge higher rates for mortgages and other loans.
The yield on the 10-year Treasury note climbed to 2.86% from 2.82%.
Higher interest rates can cause buyers to move away from high-dividend stocks because they become more interested in bonds. That led to losses for telecom and real-estate investment trust shares. Utilities were the worst-performing area of the S&P 500, dropping 3.1%.
Among Monday's market winners was Helen of Troy, which surged 12.7% to $114.85 after the consumer-products company reported stronger revenue for the spring, with particularly solid growth in online sales.
Groupon leaped 10.8% to $4.83 after Recode reported that the online coupon company is looking for a buyer.
Twitter slid 5.4% after the Washington Post reported that the company suspended more than 70 million suspicious accounts in May and June.
The dollar edged up to 110.82 yen from 110.45 yen. The euro inched up to $1.1749 from $1.1745, and the British pound slipped to $1.325 from $1.3266.
Benchmark U.S. crude rose 5 cents to $73.85 a barrel. Brent crude, the international standard, rose 96 cents to $78.07 a barrel.
Heating oil rose 3 cents to $2.20 a gallon. Wholesale gasoline rose 4 cents to $2.15 a gallon. Natural gas fell 3 cents to $2.83 per 1,000 cubic feet.
Gold rose $3.80 to settle at $1,259.60. Silver rose 7 cents to $16.14 per ounce. Copper rose 3 cents to $2.85 a pound.
In overseas markets, France's CAC 40 and Germany's DAX each rose 0.4%. Britain's FTSE 100 climbed 0.9%. Japan's Nikkei 225 jumped 1.2%, the Hang Seng in Hong Kong climbed 1.3% and the Kospi in South Korea added 0.6%.
Stocks from emerging markets, which have been on a wild ride up and down this year, jumped 1.5%.
---
Sign up for the California Politics newsletter to get exclusive analysis from our reporters.
You may occasionally receive promotional content from the Los Angeles Times.