Stocks climb again; Pepsi leads household goods rally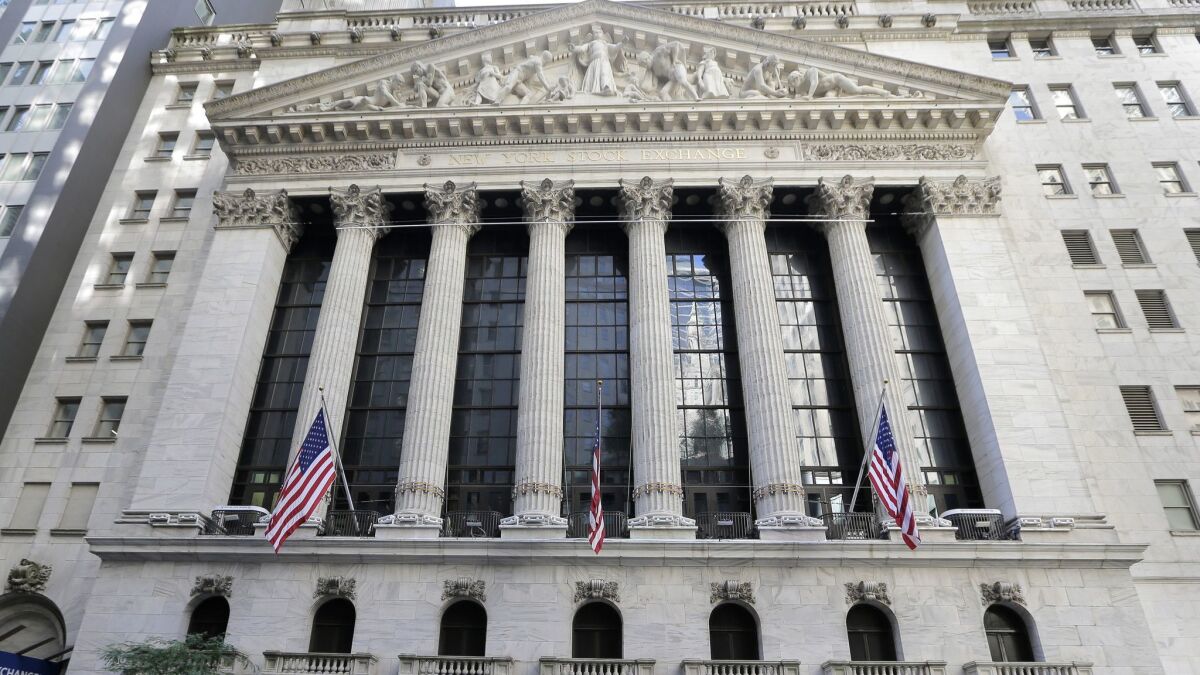 U.S. stocks shook off some midday doldrums Tuesday and rose for the fourth day in a row as strong results from Pepsi helped household goods companies. The market is at its highest level since early February.
Shares of most kinds of large companies finished higher, with food and consumer products makers, energy companies and utilities making some of the biggest gains. Pepsi staged its biggest rally in almost nine years after issuing a solid second-quarter report. Oil prices rose.
The Standard & Poor's 500 index is the highest it has been since Feb. 1 and has climbed seven times in the last eight days even though the United States and China are now in open conflict over trade. Wall Street has focused instead on last week's strong jobs report for June as well as company earnings reports.
Invesco Chief Global Market Strategist Kristina Hooper said investors are taking a risk by overlooking how damaging the trade war might get.
"This is all about pushing aside that which is messy and difficult to calculate," she said. "It's far easier to ignore it."
The S&P 500 index rose 9.67 points, or 0.3%, to 2,793.84. The Dow Jones industrial average climbed 143.07 points, or 0.6%, to 24,919.66.
The Nasdaq composite ticked up three points to 7,759.20. The Russell 2000 index of smaller-company stocks fell 8.99 points, or 0.5%, to 1,695.62, giving back some of the big gains it made over the previous five days. Slightly more stocks rose than fell on the New York Stock Exchange.
Major U.S. banks, including JPMorgan Chase and Citigroup, will announce their earnings results Friday morning, and most of the companies in the S&P 500 will report their results in the weeks after that.
Pepsi's beverage sales are still struggling as the company tries to adjust to Americans' changing drinking habits. The maker of Gatorade, Mountain Dew and Tropicana said sales in North America fell, but its earnings were better than expected, and analysts were pleased with its results in other markets. The stock rose 4.8% to $112.89.
Investors are looking forward to another round of strong profit growth thanks to the growing U.S. economy and the corporate tax cut that took effect at the end of 2017. Hooper, of Invesco, said that could help stocks over the next few weeks, but she said the market might struggle after that.
Hooper said that the taxes the United States placed on imported washing machines in January have clearly hurt sales, and that there are signs the newer tariffs are affecting business spending.
Lowe's climbed 2.1% to $99.01 as a shakeup at the home improvement chain continued: The company said its chief operating officer and several other executives are leaving because their jobs are being eliminated or assigned to other executives. Marvin Ellison became Lowe's chief executive July 2, and the company's chief financial officer announced his retirement in June.
J.M. Smucker fell 1.6% to $109.14 after it said it will sell its U.S. baking business, including Pillsbury. Brynwood Partners will buy the division for $375 million. Smucker said the business had about $370 million in sales over its last fiscal year and the sale will reduce its adjusted profit by 25 to 30 cents a share this year.
Financial companies have fared far worse than the rest of the market this year, and that continued Tuesday. Citigroup fell 1% to $68.23, and insurer MetLife lost 1.2% to $44.91.
Bond prices were little changed after dropping sharply a day earlier. The yield on the 10-year Treasury note held steady at 2.86%.
Utilities and phone companies recovered some of Monday's losses. Those stocks pay large dividends, and investors often view them as alternatives to bonds. When bond yields rise, the big dividend payers become less appealing to investors who are seeking a source of steady income.
U.S. crude oil rose 0.4% to $74.11 a barrel in New York. Brent crude, used to price international oils, climbed 1% to $78.86 a barrel in London.
Wholesale gasoline rose 0.5% to $2.16 a gallon. Heating oil rose 1.2% to $2.22 a gallon. Natural gas fell 1.4% to $2.79 per 1,000 cubic feet.
Gold fell 0.3% to $1,255.40 an ounce. Silver fell 0.3% to $16.09 an ounce. Copper fell 0.4% to $2.84 a pound.
The dollar rose to 111.28 yen from 110.82 yen. The euro fell to $1.1745 from $1.1749.
France's CAC 40 rose 0.7%. The German DAX added 0.5%. The FTSE 100 index of British shares edged up 0.1%. The FTSE 100 has rallied over the last few days as investors saw signs Britain would keep closer trade ties with the European Union after it leaves the EU.
Japan's benchmark Nikkei 225 rose 0.7%. South Korea's Kospi gained 0.4%. In Hong Kong, the Hang Seng slipped less than 0.1%.
---
UPDATES:
2:25 p.m.: This article was updated with closing prices, context and analyst comment.
This article was originally published at 7:05 a.m.
---
Sign up for the California Politics newsletter to get exclusive analysis from our reporters.
You may occasionally receive promotional content from the Los Angeles Times.