Stocks edge up; airlines, railroads and banks jump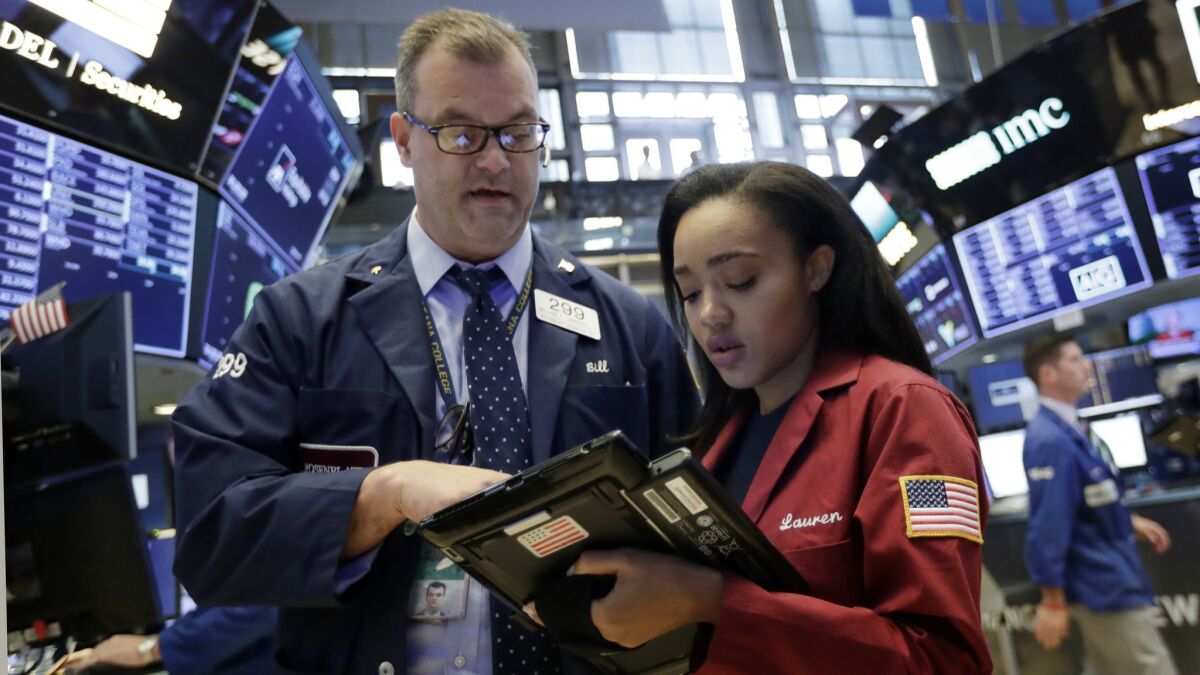 Big gains for banks and transportation companies such as airlines and railroads took U.S. stock indexes slightly higher Wednesday. Other parts of the market didn't move much.
United Continental had its best day in two years after it said strong demand is resulting in higher ticket prices, and railroad company CSX said it's still cutting costs and improving operations. Their competitors also jumped.
Banks and other financial companies got a boost from strong second-quarter results, and Warren Buffett's Berkshire Hathaway made its biggest gain in almost seven years after it loosened its rules on stock buybacks.
Brad McMillan, chief investment officer for Commonwealth Financial Network, said the combination of strong consumer spending, rising business investment and good economic data is likely to lead to another quarter of strong earnings growth.
"Everything is going right at the moment," he said. "This quarter's earnings are going to reflect that."
The Standard & Poor's 500 index rose 6.07 points, or 0.2%, to 2,815.62. The Dow Jones industrial average rose 79.40 points, or 0.3%, to 25,199.29. The Nasdaq composite slipped 0.67 of a point to 7,854.44. The Russell 2000 index of smaller-company stocks rose 4.61 points, or 0.3%, to 1,691.87.
Stocks have been rising this month, despite the trade war between the United States and China, as investors anticipate solid second-quarter earnings reports from U.S. companies. The S&P 500 is up 3.6% so far in July.
United Continental surged 8.8% to $79 on Wednesday after it posted results that surpassed Wall Street projections and said strong demand is resulting in higher prices as the summer travel season sets in.
CSX advanced 7.1% to $69 after saying its profit climbed 72% in its latest quarter as it kept cutting costs and improving its operations. The results were stronger than analysts expected.
Maintenance supply company W.W. Grainger jumped 11.2% to $338.99 — the biggest gain in the S&P 500 — after posting quarterly results that blew past analysts' estimates. The company posted strong U.S. growth, with more business with large and medium-size customers, and it raised its forecasts for the year.
Berkshire Hathaway, the conglomerate that owns Geico and other insurance companies, jumped as investors hoped it would give some money back to shareholders by buying back its own stock. The company had $108 billion in cash and short-term investments as of March. Berkshire's Class B shares rose 5.3% to $200.44 in heavy trading.
Other financial companies including Morgan Stanley, M&T Bank and Northern Trust climbed after their quarterly reports.
Federal Reserve Chairman Jerome Powell wrapped up his testimony to Congress about economic and monetary policy. He said the U.S.-China trade war might make inflation speed up, but he continued to express a very positive view of the state of the economy overall.
McMillan, of Commonwealth, said that Powell's comments were so upbeat, he wonders if the Fed is really reckoning with the risks posed by tariffs and higher interest rates.
"I've never seen a central bank look quite that confident, and frankly it makes me nervous," he said.
While investors are focusing more on company earnings than trade policy at the moment, U.S. uranium mining companies rose after the Commerce Department started an investigation into the effect of uranium imports on U.S. national security. That could result in tariffs, similar to the investigation into steel and aluminum imports that resulted in big taxes on steel from the European Union, Canada, Mexico and Japan.
Energy Fuels, one of the companies that requested the investigation, rose 3.9% to $1.60. Uranium Energy rose 1.3% to $2.34.
Bond prices slipped. The yield on the 10-year Treasury note rose to 2.88% from 2.86%. That pushed down big-dividend stocks such as household goods companies and utilities.
Benchmark U.S. crude recovered from an early loss and rose 1% to $68.76 a barrel in New York. Brent crude, used to price international oils, rose 1% to $72.90 a barrel in London. U.S. crude has tumbled 8% in July but is still up 42% over the last 12 months.
Wholesale gasoline rose 0.9% to $2.04 a gallon. Heating oil rose 1% to $2.09 a gallon. Natural gas fell 0.7% to $2.72 per 1,000 cubic feet.
Gold was little changed at $1,227.90 an ounce. Silver fell 0.3% to $15.57 an ounce. Copper rose 0.5% to $2.76 a pound.
Germany's DAX rose 0.8%. The British FTSE 100 advanced 0.7%. The CAC 40 in France gained 0.5%.
Japan's benchmark Nikkei 225 gained 0.4%. The Kospi in South Korea lost 0.3% as the country's government downgraded its forecasts for job creation and growth. Hong Kong's Hang Seng slipped 0.2%.
---
Sign up for the California Politics newsletter to get exclusive analysis from our reporters.
You may occasionally receive promotional content from the Los Angeles Times.