Tech stocks lead market lower again as Twitter takes a dive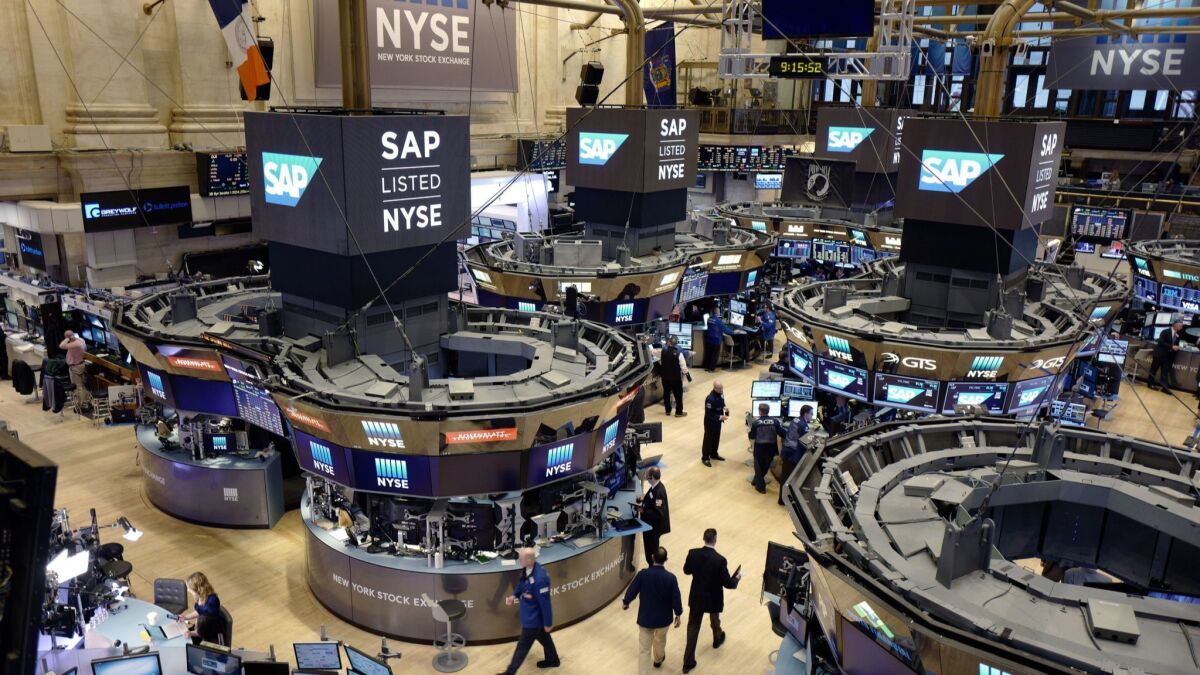 Technology companies led a slide in U.S. stocks Friday, adding to the market's losses from another tech-driven sell-off a day earlier.
Twitter plunged more than 20%, its second-biggest loss since going public in 2013, after the social media network said its monthly users declined in the second quarter.
Although tech stocks made up much of the market's drop, smaller-company stocks fell more than the rest of the market. The losses outweighed gains in banks and phone companies.
Even so, the Standard & Poor's 500, the market's benchmark index, had its fourth weekly gain in a row.
The week ended largely as it began, with investors focused on a cavalcade of company earnings reports, most of which have topped Wall Street's forecasts.
"There were clearly high expectations coming into second-quarter earnings, and we've seen where companies have performed well relative to those expectations, they've typically been rewarded, and where they have fallen short of those expectations, either in current quarter or future guidance, is where you're seeing [selling] occur," said Bill Northey, senior vice president at U.S. Bank Wealth Management.
The S&P 500 slid 18.62 points, or 0.7%, to 2,818.82. The Dow Jones industrial average fell 76.01 points, or 0.3%, to 25,451.06. The Nasdaq composite index, which is heavily weighted with tech firms, sank 114.77 points, or 1.5%, to 7,737.42. The Russell 2000 index of smaller-company stocks dropped 32.02 points, or 1.9%, to 1,663.34.
This was the busiest stretch of the second-quarter earnings season, with roughly a third of companies in the S&P 500 reporting results. Although some companies posted results that fell short of analysts' forecasts, most delivered better-than-expected results and favorable outlooks.
Of the 49% of the companies in the S&P 500 that had issued quarterly results as of Friday, some 65% reported earnings and revenue that beat analysts' forecasts, according to S&P Global Market Intelligence.
That has reinforced the underlying perception in the financial markets that the U.S. economy is performing strongly and that the Federal Reserve will raise interest rates again next week.
The government said Friday that the U.S. economy surged in the April-through-June quarter to an annual growth rate of 4.1%. That's the fastest pace since 2014, driven by consumers who began spending the money President Trump's tax cuts saved them and by exporters rushing to get their products delivered before retaliatory tariffs kicked in.
The economic snapshot had been widely expected, so it didn't have a noticeable effect on the market or the sell-off in tech stocks.
For the second straight day a social media company led a steep decline in the tech sector. Twitter plummeted 20.5% to $34.12 after the company disclosed user totals and issued a forecast that disappointed investors.
Snap, the company behind the Snapchat messaging app, slid 4% to $12.83. Facebook shares slipped 0.8% to $174.89, adding to its huge loss from the day before.
Facebook's steep drop, which erased nearly $120 billion of the company's market value, was brought on by its warning to investors that it sees slower revenue growth ahead. With Friday's losses, Facebook shares came within a hairbreadth of finishing in a bear market, which is defined as a drop of 20% from a recent peak.
Other technology companies also had a rough day.
Intel skidded 8.6% to $47.68 after the chipmaker's latest quarterly report left analysts concerned about the company's profit margins and key businesses.
Computer hard drive companies also fell. Western Digital sank 7.7% to $71.13. Seagate Technology slid 5% to $54.69.
CBS dropped 6.1% to $54.01, the biggest one-day loss for the stock in more than six years, following reports of sexual misconduct allegations against its chief executive, Les Moonves.
Investors bid up shares in companies that reported solid quarterly results.
Expedia Group surged 9.5% to $137.79 after the online travel portal's quarterly earnings topped analysts' forecasts.
Chipotle Mexican Grill climbed 5.7% to $472.30 after the restaurant chain said sales online and at established stores improved in its latest quarter.
Amazon.com rose 0.5% to $1,817.27 after the online retailer reported its biggest profit ever as its advertising and cloud computing businesses kept growing.
Benchmark U.S. crude fell 92 cents, or 1.3%, to $68.69 a barrel in New York. Brent crude, used to price international oils, fell 25 cents to $74.29 in London. Heating oil slid 2 cents to $2.16 a gallon. Wholesale gasoline was little changed at $2.16 a gallon. Natural gas rose 4 cents to $2.82 per 1,000 cubic feet.
Bond prices rose, sending yields lower. The yield on the 10-year Treasury fell to 2.96% from 2.97%.
The dollar slipped to 111 yen from 111.23 yen. The euro strengthened to $1.1656 from $1.1645.
Gold fell $2.70 to $1,223 an ounce. Silver was little changed at $15.49 an ounce. Copper fell 2 cents to $2.80 a pound.
Major indexes in Europe finished higher. Germany's DAX advanced 0.4%. The CAC 40 in France gained 0.6%. Britain's FTSE 100 ticked up 0.5%. In Asia, Japan's Nikkei 225 index rose 0.6%, the Kospi in South Korea advanced 0.3%, and Hong Kong's Hang Seng index edged down 0.1%.
---
UPDATES:
2:30 p.m.: This article was updated with additional details.
This article was originally published at 7:10 a.m.
---
Sign up for the California Politics newsletter to get exclusive analysis from our reporters.
You may occasionally receive promotional content from the Los Angeles Times.