Stocks fall as investors worry Turkey's economic troubles may spread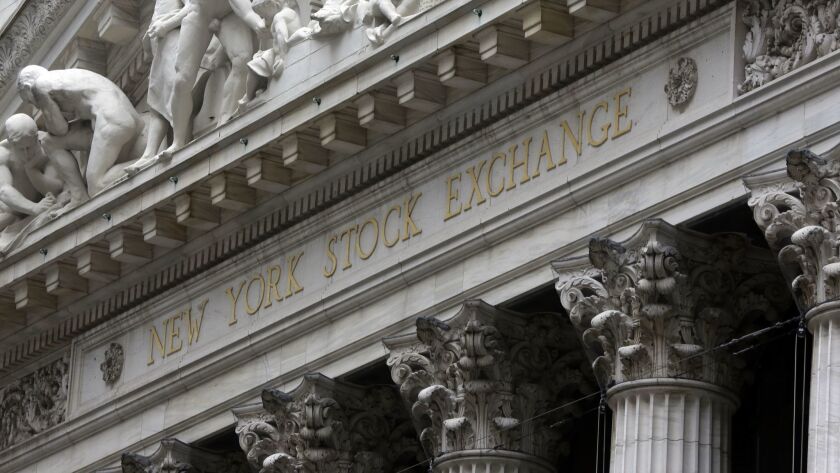 Stocks fell further Monday on Wall Street as Turkey's central bank was unable to stop a steep plunge in that nation's currency. That helped lift the value of the dollar, a move that hurts big U.S. exporters.
Stocks were coming off their worst losses in a month as investors worried about financial and economic upheaval in Turkey and the possibility it will spread to other countries. Asian markets fell overnight, and European markets edged down.
Global markets skidded Friday as investors worried that financial distress in Turkey could affect the international banking system and the broader economy. Many analysts say that isn't likely, but it has caused sharp losses for stocks.
On Monday, Turkey's central bank announced measures to help that country's banks, but the Turkish lira and Turkey's stock market continued to slide.
The lira has been tumbling as investors question whether the government of President Recep Tayyip Erdogan can cope with problems including the weakening currency and a diplomatic spat with Washington that has resulted in higher U.S. tariffs.
Erdogan has ruled out the possibility of higher interest rates, which can slow economic growth, but independent analysts say higher rates are urgently needed to stabilize the country's currency. Erdogan's refusal is one of several factors worrying investors.
Investors also backed away from Argentina's stock market. The Argentinian peso sank to an all-time low amid investor caution and a local corruption scandal involving former government officials.
Turkey and Argentina face very different political situations, but their currencies have both tumbled to all-time lows against the dollar, partly because rising interest rates in the U.S. can prompt investors to take money out of their markets and move it to the United States.
The U.S. dollar is the strongest it has been in more than a year, which could eventually create problems for U.S. companies that make a lot of sales overseas.
Terry Sandven, chief equity strategist at U.S. Bank Wealth Management, said the dollar has strengthened because U.S. economic growth has picked up and other regions aren't doing as well.
"The U.S. is a relative beacon of strength with [a] stable-to-improving economy. That suggests a stronger dollar," Sandven said.
The Standard & Poor's 500 index fell 11.35 points, or 0.4%, to 2,821.93; on Friday, it slid 0.7%. The Dow Jones industrial average fell 125.44 points, or 0.5%, to 25,187.70.
Energy, industrial and basic materials companies took some of the worst losses. Technology companies held up better.
The Nasdaq composite slipped 19.40 points, or 0.2%, to 7,819.71. The Russell 2000 index of smaller-company stocks declined 11.49 points, or 0.7%, to 1,675.32.
Investors are worried about a confluence of factors including Turkey's reliance on foreign loans, which become more difficult to repay when Turkey's currency is plunging. Also, a diplomatic spat with the United States is resulting in sharply higher tariffs on Turkish steel and aluminum.
After a yearlong stretch in which much of the global economy was speeding up and stocks were rising, the recent losses for Turkey and Argentina have caused emerging-market indexes to fall out of favor.
U.S. stocks were on a five-week winning streak before last week, and strong corporate earnings reports were a big factor. But most of those reports are done, and U.S. Bank's Sandven said stocks may spend the next two months wavering.
In corporate news, German conglomerate Bayer took a dive — tumbling 10.3% in Germany — after a U.S. jury ruled against its Monsanto unit Friday and awarded $289 million to a former school groundskeeper who said exposure to Monsanto's Roundup weed killer caused cancer. Monsanto said government agencies and hundreds of studies have concluded Roundup is safe.
Harley-Davidson fell 4.3% to $41.38 after President Trump tweeted in support of a potential boycott of the motorcycle maker's products. Trump has been criticizing Harley since June, when it said it would move more manufacturing out of the United States to avoid European tariffs. The European Union put new taxes on U.S. motorcycles in response to the Trump administration's tariffs on products imported from Europe.
Nielsen Holdings jumped 12.1% to $24.62 after Elliott Management, a firm run by activist investor Paul Singer, disclosed an ownership stake and said Nielsen should consider selling itself or some of its assets to boost its stock price. Nielsen's stock has been sinking since it traded above $50 two years ago.
VF Corp. fell 3.6% to $92.82 after the clothing company — which makes Wrangler and Lee jeans, as well as North Face gear, Timberland boots, JanSport backpacks and Vans shoes — said it will make its denim business a separate company and focus on activewear and outdoor apparel.
Most retailers were down, but Amazon ticked up 0.5% to $1,896.20. It passed travel website Booking Holdings to become the highest-priced stock on the S&P 500.
U.S. crude oil fell 0.6% to $67.20 a barrel in New York. Brent crude, the international standard, fell 0.3% to $72.61 a barrel in London.
Wholesale gasoline fell 1.2% to $2.01 a gallon. Heating oil slipped 0.1% to $2.14 a gallon. Natural gas fell 0.5% to $2.93 per 1,000 cubic feet.
Gold dropped 1.6% to $1,198.90 an ounce, its lowest price since January 2017. Silver fell 2% to $14.98 an ounce. Copper fell 0.4% to $2.73 a pound.
Bond prices were little changed. The yield on the 10-year Treasury note stayed at 2.88%.
The dollar rose to 110.69 yen from 110.64 yen. The euro slipped to $1.1394 from $1.1398.
In overseas markets, Tokyo's Nikkei 225 lost 2%. Hong Kong's Hang Seng and South Korea's Kospi both retreated 1.5%.
Germany's DAX declined 0.5%. London's FTSE 100 fell 0.3%. France's CAC 40 edged down less than 0.1%.
---
UPDATES:
5:40 p.m.: This article was updated with closing prices, context and analyst comment.
1:20 p.m.: This article was updated with the close of markets.
This article was originally published at 7:05 a.m.
---
For reporting and exclusive analysis from bureau chief John Myers, get our California Politics newsletter.
You may occasionally receive promotional content from the Los Angeles Times.