Stocks drop again; Dow falls 545 points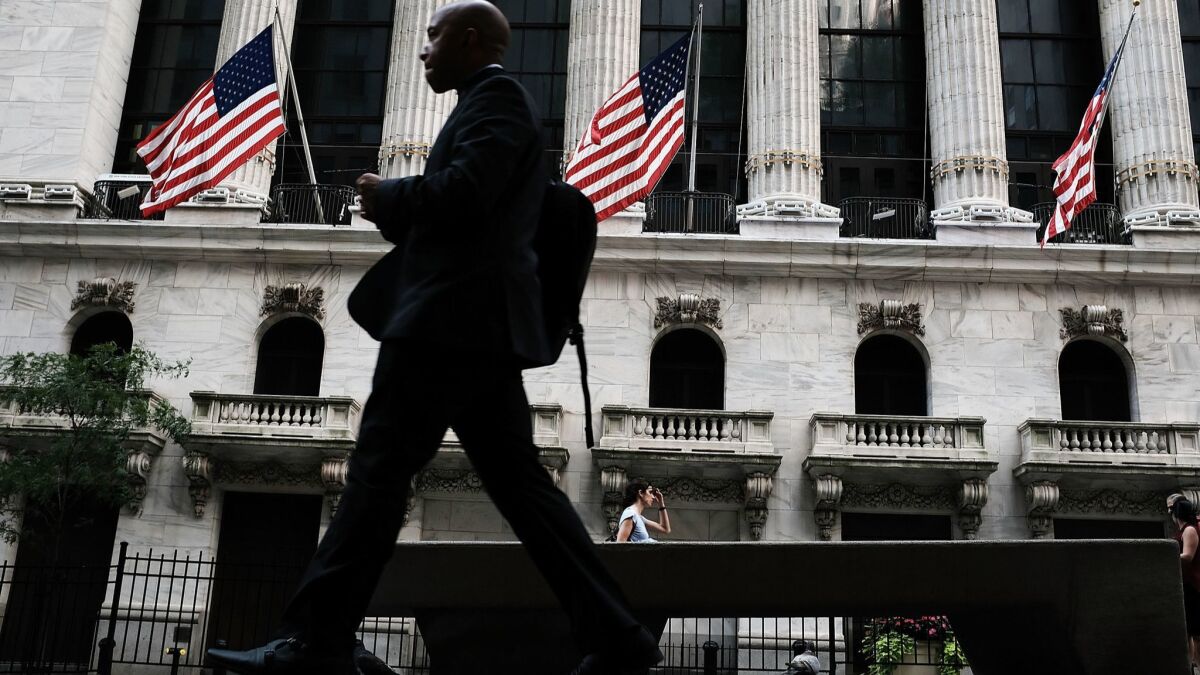 U.S. stocks fell sharply again Thursday in a volatile session as investors grappled with the question of whether rising interest rates could slow the U.S. economy's growth and seriously disrupt the stock market's years-long rally.
As President Trump continued to criticize the Federal Reserve — accusing the central bank of denting the market's momentum by lifting short-term interest rates — the Dow Jones industrial average tumbled 545.91 points, or 2.1%, to 25,052.83. That extended a rout that began Wednesday, when the blue-chip index sank 832 points, or 3.1%.
The final two hours of trading Thursday reflected investors' conflicted views of the market's outlook. At one point, the Dow was down nearly 700 points, then rebounded for a while before sliding again in the minutes leading up to the closing bell.
"The bulls and the bears were really duking it out today," said Matthew Peron, chief investment officer at City National Bank.
As investors sought refuge, the price of gold had its biggest single-day jump in two years.
The benchmark Standard & Poor's 500 index dropped 57.31 points, or 2.1%, to 2,728.37, notching its sixth consecutive loss. That decline is the index's longest since a nine-day skid shortly before the 2016 presidential election. It has climbed 27.5% since Trump was elected.
The tech-heavy Nasdaq composite index slid 92.99 points, or 1.3%, to 7,329.06; it has now skidded 9.6% from its record high of 8,109.69 reached Aug. 29.
When an index or stock drops 10% or more from its most recent high, the movement is what Wall Street dubs a correction, although others use the word to describe any significant pullback.
The Dow and the S&P 500 are down 6.6% and 6.9%, respectively, from their record highs.
The Russell 2000 index of smaller-company stocks entered official correction territory. It dropped 30.03 points, or 1.9%, to 1,545.38 Thursday, down 11.2% from its Aug. 31 peak.
As the U.S. economy and corporate earnings continued to grow this year, the stock market has climbed. But the Federal Reserve — in an effort to prevent the economy from overheating and sending inflation sharply higher — has been raising its key lending rates.
That has helped lift the returns to be earned from bonds — the yield on the 10-year Treasury note was 3.14% on Thursday, up from 2.3% a year earlier — and prompted stock investors to sell shares and take profits from the market's runup.
The Fed's moves also have annoyed Trump, who has routinely cited the stock market's gains since his election as evidence that his economic policies have been effective.
After asserting Wednesday that the "Fed has gone crazy" with interest-rate increases, he told reporters Thursday that the stock market was in "a correction that I think is caused by the Federal Reserve with interest rates."
"I think the Fed is out of control," Trump said. "The Fed is far too stringent and they're making a mistake and it's not right. It's not necessary, in my opinion, and I think I know about it better than they do, believe me."
Trump said he would not fire Fed Chairman Jerome H. Powell, a Trump appointee who legally can be fired only for cause, not policy disputes. "I'm just disappointed at the clip" of rate increases, Trump said.
Larry Kudlow, Trump's chief economic advisor, said Thursday morning on CNBC that the president "has his own views" on interest rates and "is not dictating policy to the Fed. We all know the Fed is independent."
Kudlow also called the market's drop this week "a normal correction in a bull market" and said that "the economy is very, very sound."
"If you have a strong economy, that will provide confidence for stocks," Kudlow said. "But corrections come and go. I'll just leave it right there."
The upshot is that "volatility is back and it may require more active strategies on the part of investors to pursue their long-term goals," John Lynch, chief investment strategist at LPL Financial, said in a note to clients. "But remember that fundamentals are still strong."
Investors also are concerned about the escalating U.S.-China trade war, with the two nations slapping tariffs on billions of dollars' worth of each other's goods.
There is speculation that Trump might meet with Chinese President Xi Jinping at the G20 economic summit in Buenos Aires on Nov. 30, which could lead to a breakthrough in the dispute. "There may be a meeting, but it has not been set in concrete," Kudlow said. "We'll see."
City National's Peron said he expects more market volatility in the coming days. "I'd be surprised if it were a one- or two-day event and we're done," he said.
He also said the market was not exceptionally overpriced, noting that "the ratio of stock prices to corporate earnings, at this level of interest rates, is quite reasonable when you look at history." That ratio is 16.1 for the S&P 500's average earnings forecast for the next 12 months, according to FactSet.
And in September at least, U.S. inflation rose less than expected. The consumer price index edged up 0.1% last month after rising 0.2% in August, the Labor Department said Thursday.
Financial, real estate and energy stocks were among the hardest hit Thursday. But the market's pullback also gave bullish investors an opportunity to buy some stocks at prices 5% to 6% lower than they had been 24 hours earlier.
Facebook shares rose 1.3% to $153.35. Delta Air Lines jumped 3.6% to $51.48, and PayPal Holdings rose 0.6% to $75.90.
U.S. crude dropped 3% to $70.97 a barrel in New York. Brent crude, the international standard, dropped 3.4% to $80.26 a barrel in London. After months of declines, the price of gold jumped by the most in two years, rising 2.9% to $1,227.60 an ounce.
The stock market's sharp drop Wednesday also had extended overseas, with stocks tumbling in Asia and Europe on Thursday.
The Associated Press was used in compiling this report.
---
UPDATES:
2:40 p.m.: This article was updated throughout with market prices and comments from market analysts, President Trump and White House economic advisor Larry Kudlow.
1 p.m.: This article was updated with the close of markets.
11:55 a.m.: This article was updated with stock market developments.
8:40 a.m.: This article was updated throughout with Times staff reporting.
This article was originally published at 7:35 a.m.
Sign up for the California Politics newsletter to get exclusive analysis from our reporters.
You may occasionally receive promotional content from the Los Angeles Times.