Stocks mostly recover from their early plunge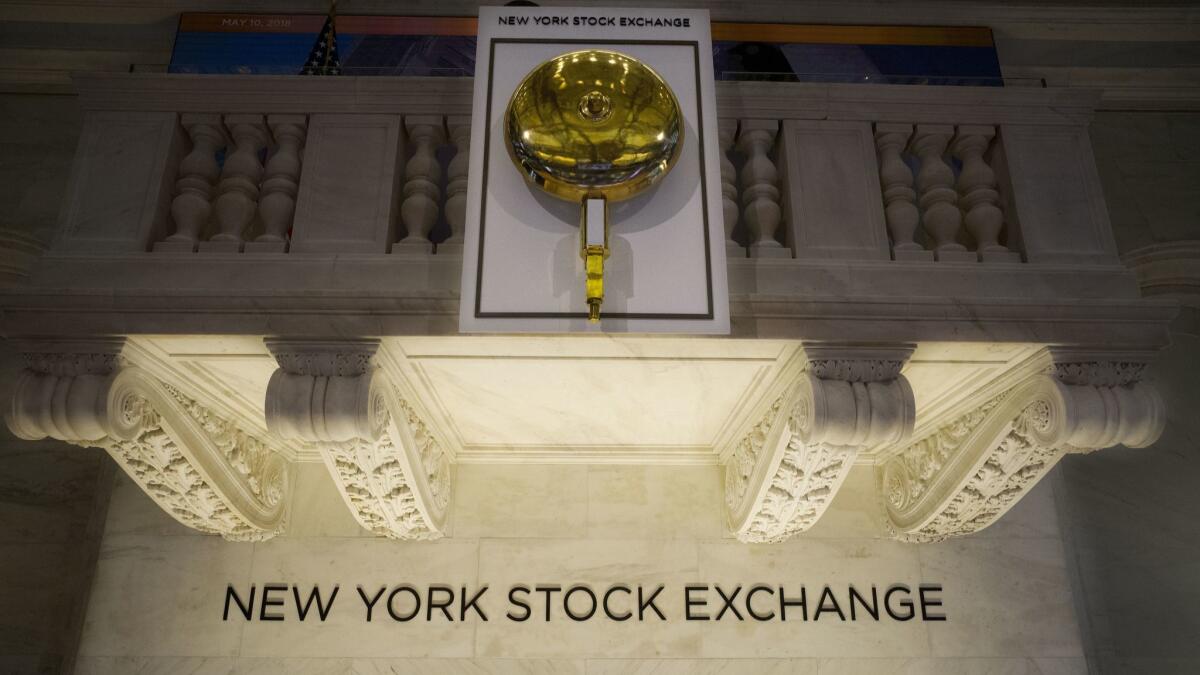 A turbulent day on Wall Street ended Tuesday with stocks climbing nearly all the way out of a steep, broad sell-off that at one point erased more than 500 points from the Dow Jones industrial average.
Even with the rebound, stocks extended the market's recent string of declines, giving the benchmark Standard & Poor's 500 index its fifth consecutive loss. Bond prices rose, sending yields lower, as investors sought safer investments.
Hong Kong's Hang Seng index sank 3.1%. European markets also closed sharply lower.
The latest selling came as investors grew unsettled over slowing economic growth in China and increased signs that President Trump's aggressive trade policies are beginning to weigh on corporate earnings. Caterpillar and 3M slumped Tuesday after the companies warned of rising costs related to tariffs.
Focus is on "not the current-quarter results, but the commentary going forward, the impact of tariffs and what that means in terms of costs," said Willie Delwiche, an investment strategist at Baird. "If tariffs didn't come up in earnings calls and commentary, then maybe you could say we were moving away from that, but the opposite is happening."
The S&P 500 fell 15.19 points, or 0.6%, to 2,740.69. The Dow ended the day down 125.98 points, or 0.5%, at 25,191.43; in the morning, it fell more than 540 points. The Nasdaq slid 31.09 points, or 0.4%, to 7,437.54.
The Russell 2000 index of smaller-company stocks fell 12.91 points, or 0.8%, to 1,526.59. The index is now down for the year.
Markets have been rattled in recent weeks by increased worries over the effect that rising interest rates, inflation and the escalating U.S.-China trade dispute may have on corporate America.
Trump has imposed tariffs on about $250 billion worth of Chinese imports, and Beijing has retaliated with tariffs on $110 billion worth of U.S. products. Trump has threatened to tax an additional $267 billion of Chinese products, which would cover virtually everything China ships to America.
The two countries are locked in a dispute over U.S. allegations that China steals U.S. technology and forces U.S. companies to share trade secrets in exchange for access to the Chinese market.
Meanwhile, the strong U.S. economy has helped power earnings growth for companies in the S&P 500. Those companies are expected to deliver 21.9% earnings growth for the third quarter, according to S&P Global Market Intelligence, but investors are concerned about future growth amid rising inflation and interest rates, as well as uncertainty over trade.
Caterpillar skidded 7.6% to $118.98 after the heavy-equipment manufacturer warned that Trump's taxes on imported steel were driving up production costs.
3M fell 4.4% to $192.55 after its earnings missed Wall Street's targets. The industrial manufacturer said it expects prices of raw materials to continue climbing and tariffs to have a roughly $100-million negative effect on its sourcing costs next year.
Caterpillar and 3M were, by far, the biggest decliners in the 30-company Dow average.
Declines by banks, energy companies and tech firms outweighed gains by internet and consumer-goods stocks. A sharp sell-off in Chinese and other global markets set the stage for the volatile day on Wall Street.
Computer-driven trading, which uses algorithms to guide buying and selling, probably drove the gradual, partial rebound toward the end of the day, said Quincy Krosby, chief market strategist at Prudential Financial.
"On the downside and the upside, the algorithms are going to kick in, and they really push the market in one direction or another," Krosby said.
Bond prices rose, sending the yield on the 10-year Treasury note down to 3.17% from 3.19%.
A big drop in oil prices weighed on energy stocks. Marathon Oil slid 4.8% to $19.48.
Truck maker Paccar fell 5.1% to $57.40. Engine manufacturer Cummins fell 3.8% to $134.64.
Communications stocks were among the biggest gainers. Verizon Communications climbed 4.1% to $57.21
McDonald's climbed 6.3% to $177.15 after the fast-food chain reported third-quarter results that beat analysts' forecasts.
Nearly 17% of companies in the broad S&P 500 index have reported earnings for the third quarter, and more than half of those did better than expected.
"They're coming in ahead of expectations, generally, but the degree to which they're beating expectations is less than what it has been in previous quarters," Delwiche said. "That's why there's some concern there."
Tesla shares leaped 12.7% to $294.14 after Citron Research, a company that for years had bet against the stock, reversed its position and put out a note saying it would be a long-term investor in the electric car and solar panel company.
U.S. crude fell 4.2% to $66.43 a barrel. Brent crude, used to price international oils, dropped 4.2% to $76.44 a barrel. Heating oil slid 3% to $2.25 a gallon. Wholesale gasoline fell 3.7% to $1.84 a gallon. Natural gas rose 2.4% to $3.21 per 1,000 cubic feet.
The dollar fell to 112.47 yen from 112.82 yen. The euro edged up to $1.1467 from $1.1466.
Gold rose 1% to $1,236.80 an ounce. Silver rose 1.4% to $14.79 an ounce. Copper fell 1% to $2.76 a pound.
In Europe, the focus was on Italy's dispute with the European Union over its plan to ramp up public spending. The European Union has rejected Italy's budget, a first for an EU member.
Germany's DAX slid 2.2%. France's CAC 40 fell 1.7%. Britain's FTSE 100 lost 1.2%. Japan's Nikkei 225 index sank 2.7%. The Kospi in South Korea tumbled 2.6%.
---
UPDATES:
2:40 p.m.: This article was updated with closing prices, context and analyst comment.
1:20 p.m.: This article was updated with the close of markets.
10:20 a.m.: This article was updated with stocks' and indexes' movement, information about Treasury bonds and oil prices and additional analyst comment.
7:25 a.m.: This article was updated with stocks' and indexes' movement.
This article was originally published at 7:10 a.m.