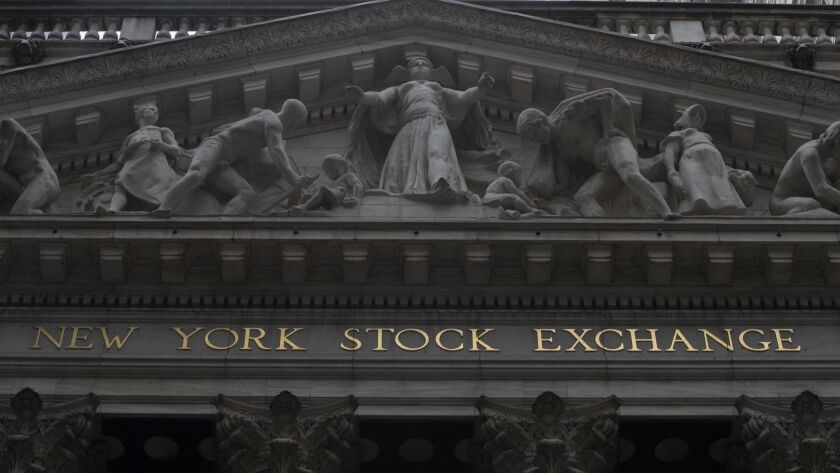 Global stocks are rising Monday morning as big technology and retail shares in the U.S. recover some of their recent losses on the first full trading day of the holiday shopping season. Indexes in Europe and Asia are also higher.
London's main stock index is rising after the British government and the European Union agreed to terms governing Britain's departure from the EU in March, but it's not clear if Parliament will approve the deal.
Crude oil prices are rising after plunging by about one-third since early October.
KEEPING SCORE: The Standard & Poor's 500 index climbed 37 points, or 1.4%, to 2,670 as of 10 a.m. EST. On Friday the S&P 500 closed 10.2% beneath the record high it had set in late September. That's the second time this year the index has dropped 10% from a recent peak, a mark known on Wall Street as a correction.
The Dow Jones industrial average gained 369 points, or 1.5%, to 24,655. The Nasdaq composite rose 120 points, or 1.7%, to 7,059. The Russell 2000 index of smaller-company stocks added 18 points, or 1.3%, to 1,507. The Nasdaq and Russell have both entered corrections since setting record highs in late August.
TRADE TALKS: President Trump and Chinese President Xi Jinping are scheduled to discuss their trade dispute in Buenos Aires at the end of this week. Stocks have skidded recently as investors have grown pessimistic that the two countries will be able to resolve their differences over technology policy and other issues, and they're fearful that the rising tariffs imposed by the U.S. and China on each other's goods will slow down global economic growth.
Rising interest rates are also contributing to those fears. The Federal Reserve is expected to raise interest rates in mid-December, and investors will look for clues about the Fed's plans for further increases in 2019.
ENERGY: Benchmark U.S. crude rose 2.9% to $51.86 a barrel in New York. Brent crude, the international standard, climbed 3.2% to $60.69 a barrel in London.
Crude prices have plunged by about one-third since early October as global supplies swelled. Worries that the global economy is slowing down have contributed to the drop. Another factor is the combination of rising oil production and the waivers the Trump administration granted to several countries that import a lot of oil from Iran. The administration reimposed sanctions on Iran's energy industry earlier this year and had insisted countries that buy oil from Iran would have to end their imports.
Representatives of OPEC and other major oil producers will meet in Vienna in early December to discuss a possible cut in production.
BREXIT DEAL: The European Union and Britain finally sealed an agreement governing the country's departure from the bloc on March 29. British Prime Minister Theresa May must now get her divided Parliament to back the deal, which leaves Britain subject to rules of the bloc at least until the end of 2020, but avoids the worst-case scenario for businesses of a sudden return of tariffs and customs checks. It's not clear if the deal will be approved, as May is facing opposition from both pro-Brexit and pro-EU camps.
OVERSEAS: Germany's DAX index rose 1.4%. France's CAC 40 rose 0.9%, as did the British FTSE 100.
Japan's benchmark Nikkei 225, reopening after a holiday, added 0.8% and South Korea's Kospi jumped 1.2%. Hong Kong's Hang Seng index rebounded 1.7%.
TECH AND RETAIL RALLY: Technology companies and retailers have been hit hard during the market's recent slide, and they made some of the largest gains Monday morning. Apple rose 1.1% to $174.31 and Microsoft added 2.4% to $105.51. Cisco Systems gained 2.4% to $45.58.
Amazon rallied 3.2% to $1,549 and Nike rose 1.8% to $72.74.
BONDS: Bond prices fell. The yield on the 10-year Treasury note rose to 3.08% from 3.05%. That sent interest rates higher, which helped banks. JPMorgan Chase jumped 2.1% to $108.90 and Bank of America climbed 2% to $27.52.
Utility and real estate companies and makers of household goods didn't rise as much as the rest of the market. Those stocks have made big gains during the market's bout of turbulence in October and November because investors see them as safer options that offer steady returns with less risk. They also pay large dividends, which makes them less appealing when bond yields are rising.
CURRENCIES: The dollar rose to 113.42 yen from 112.88 yen late Friday. The euro edged up to $1.1353 from $1.1330. The British pound rose to $1.2840 from $1.2810.
---