Dow jumps 617 points: Stocks surge on hopes the Fed will slow its interest rate hikes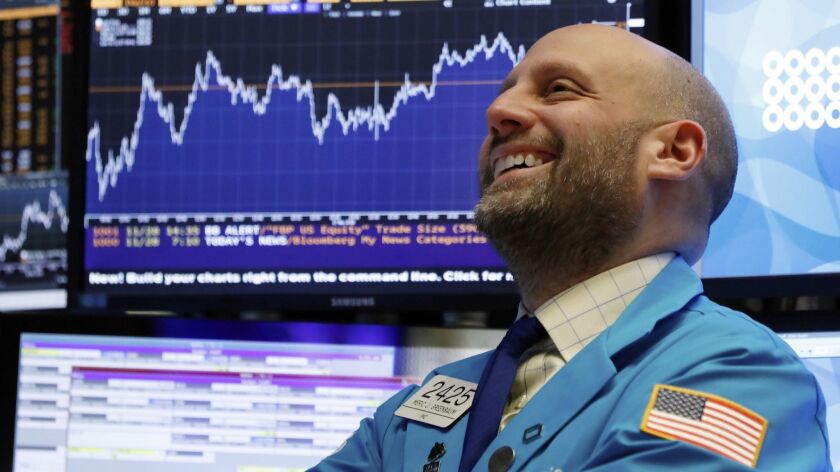 U.S. stocks rocketed to their biggest gain in eight months Wednesday after Federal Reserve Chairman Jerome H. Powell hinted that the Fed might not raise interest rates much further. The Dow Jones industrial average surged 617 points.
Powell's remarks relieved investors who feel the 9-year-old bull market could come to an end if interest rates rise too fast. Those worries have contributed to the market's big slump in October and November.
Stocks rose in morning trading and nearly tripled their gains as Powell spoke. Bond yields slipped and the dollar weakened as investors adjusted their expectations for how quickly interest rates might rise in the future.
After slashing interest rates to near zero before the 2008-09 financial crisis, the Fed has been steadily raising them since the end of 2015 and is expected to announce another increase in December. But higher interest rates tend to slow economic growth, and since growth in the United States and other regions is already expected to slow next year, investors are worried that the increases will hinder the economy.
"He's acknowledging that if you make an interest rate move today, you're not really going to feel the effects of it for 12 to 18 months," said Jack Ablin, chief investment officer of Cresset Wealth Advisors. "Global central bank tightening [of rates] was probably the biggest risk that equity investors faced over the next four quarters, so having the Fed chairman come out and suggest they're almost done is welcome news."
The Standard & Poor's 500 index surged 61.61 points, or 2.3%, to 2,743.78, its biggest gain since March 26. The index has gained 4.2% this week, but it would still need to rise an additional 6.8% to return to its record high from late September.
The Dow jumped 617.70 points, or 2.5%, to 25,366.43. The Nasdaq composite leaped 208.89 points, or 2.9%, to 7,291.59. The Russell 2000 index of smaller-company stocks advanced 37.53 points, or 2.5%, to 1,530.38.
After an initial decline, bond prices turned higher, sending yields down. The yield on the 10-year Treasury note fell to 3.06% from 3.07% earlier in the day. It stood at 3.05% late Tuesday. The yield on the two-year note steadied at 2.81%.
The dollar weakened, which sent metals prices higher. The ICE U.S. dollar index lost 0.6%.
Customer management software developer Salesforce surged 10.3% to $140.64 after it reported earnings and revenue that beat analyst expectations. That helped pull technology companies higher. Software maker Adobe jumped 7.3% to $249.21. Apple climbed 3.8% to $180.94. Microsoft rose 3.7% to $111.12.
Tiffany skidded 11.8% to $92.54 after it said foreign tourists, especially from China, didn't spend as much at its stores in its latest quarter. That contributed to disappointing sales for the jewelry company. Chinese economic growth has slowed since the government there clamped down on bank lending last year as part of an effort to rein in surging debt. The U.S.-China trade war has also contributed to the slowdown.
J.M. Smucker slid 7.2% to $101.28 after the maker of jam and packaged foods reported a smaller profit and less revenue than analysts expected. Smucker also lowered its forecasts for the full year.
Boeing rose 4.9% to $333.50, recovering some of its recent losses, as investigators in Indonesia discussed their probe into the crash of a Boeing 737 Max 8. Indonesian authorities said they were still struggling to understand why the Lion Air plane crashed into the Java Sea on Oct. 28, killing all 189 people aboard.
The Max is Boeing's newest plane, and questions about the crash have pulled Boeing's stock lower. The stock is still down 10% since Nov. 8, when federal regulators gave an emergency directive telling pilots how to handle incorrect data from a sensor that may have malfunctioned during the flight. Pilots for U.S. airlines have said that they were not told about a new feature in the Max that could pitch the nose down sharply if sensors indicate that the plane is about to stall.
The dollar fell to 113.53 yen from 113.79 yen. The euro rose to $1.1376 from $1.1296.
Benchmark U.S. crude slid 2.5% to $50.29 a barrel in New York. Brent crude, the standard for international oil prices, fell 2.4% to $58.76 a barrel in London.
Wholesale gasoline fell 1.6% to $1.40 a gallon. Heating oil fell 2.5% to $1.84 a gallon. Natural gas leaped 10.6% to $14.72 per 1,000 cubic feet.
Gold rose 0.8% to $1,223.60 an ounce. Silver rose 1.7% to $14.33 an ounce. Copper climbed 3.3% to $2.80 a pound.
---
UPDATES:
2:15 p.m.: This article was updated with additional market moves and context.
This article was originally published at 1:55 p.m.
---
Your guide to our new economic reality.
Get our free business newsletter for insights and tips for getting by.
You may occasionally receive promotional content from the Los Angeles Times.