Stocks drop, weighed down by Apple and manufacturing data; Dow sinks 2.8%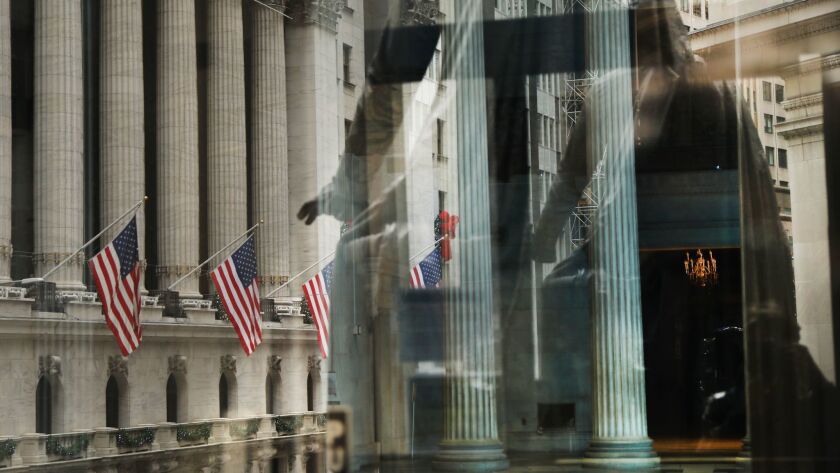 Stocks tumbled Thursday on Wall Street, with technology companies suffering their biggest loss in seven years, after Apple reported that iPhone sales are slipping in China.
The rare warning of disappointing results from Apple stoked investors' fears that China's economy, the world's second-largest, is losing steam and that the U.S.-China trade war is making things worse.
The sell-off also came after a surprisingly weak U.S. manufacturing report. The Institute for Supply Management said that its index of U.S. manufacturing fell to its lowest level in two years and that new orders have fallen sharply since November. Manufacturing is still growing, but at a slower pace than it has recently.
The Dow Jones industrial average slid 660 points, or 2.8%, to 22,686.22. The broader Standard & Poor's 500 index fell 2.5% to 2,447.89 points, and the technology-heavy Nasdaq composite dropped 3% to 6,463.50 points.
Apple stock plummeted 10%, wiping out more than $74 billion of the company's market value. That's almost as much as Starbucks is worth and more than Lockheed Martin, Lowe's, Caterpillar, General Electric or Morgan Stanley.
RELATED: Apple's iPhone problem goes beyond China: It's falling short on innovation, analysts say »
Other major exporters, including heavy-machinery manufacturers and tech companies such as Intel and Microsoft, also took big losses.
"For a while now, there's been an adage in the markets that as long as Apple was doing fine, everyone else would be OK," said Neil Wilson, chief markets analyst at Markets.com. "Therefore, Apple's rare profit warning is a red flag for market watchers. The question is to what extent this is more Apple-specific."
In a letter to shareholders Wednesday, Apple CEO Tim Cook said that iPhone demand is waning in China and that the company expects revenue of $84 billion for the quarter that just ended — $7 billion less than analysts expected.
Cook's comments echoed the concerns that have pushed investors to flee stocks over the past three months, as 2018 was the U.S. market's worst year in a decade.
RELATED: Apple's stark warning may be ominous news about China's economy »
Apple isn't alone in cutting guidance. Among U.S. companies issuing estimates for the fourth quarter, 46% have revised the outlook lower, the most since President Trump's inauguration. With White House economic advisor Kevin Hassett predicting more downgrades to come, it's drumming up angst for investors who hoped December's volatility would clear up in the new year.
On Thursday, airline stocks dropped after Delta Air Lines said its fourth-quarter revenue won't grow as much as it expected. Delta shares dropped 8.9% to $45.61.
Evidence of an earnings-season disaster remains scant, but weakening guidance is the last thing Wall Street wants to hear as investors search for tangible signs that a trade war and tightening Federal Reserve are biting the bottom line. Expectations that earnings will rise 8% in 2019 is a pillar in bull cases that have been decimated in one of the most volatile stretches for stocks since 2008.
"We've seen earnings growth for the fourth quarter get cut across every sector," said Jerry Braakman, chief investment officer at First American Trust. "That's why the market … moved down in December. And today is another challenging day."
U.S. government bond prices surged, sending yields to their lowest level in almost a year, and gold and high-dividend stocks such as utilities also rose as investors looked for safer places to put their money.
Apple's stock has slumped 39% since early October. The company also recently announced that it would stop disclosing how many iPhones it sold each quarter, a move many investors suspected was an attempt to hide bad news.
Apple's 10% drop Thursday was its biggest in six years and brought the shares to $142.19. Microsoft fell 3.7% and Intel 5.5%. The S&P 500 technology companies had their worst day since August 2011.
Among big industrial companies that could suffer from a drop in demand from China, Caterpillar declined 3.9%, Deere fell 2.7%, and Boeing slid 4%.
"This situation is yet another example of how politics — in this case, the trade war — has exacerbated real but manageable economic concerns and turned them into something worse than they have to be," Brad McMillan, chief investment officer for Commonwealth Financial Network, wrote in a note to clients.
Oil prices rose. U.S. crude climbed 1.2% to $47.09 a barrel in New York, and Brent crude advanced 1.9% to $55.95 a barrel in London. Oil prices have nosedived almost 40% since early October, and investors' fears about falling demand in China and elsewhere were a key reason for the decline.
The yield on the 2-year Treasury note slid to 2.39% from 2.50%, and the yield on the 10-year note sank to 2.56% from 2.66%. Both were large moves.
The dollar weakened to 107.777 yen from 109.21 yen. The euro rose to $1.1391 from $1.344. The British pound fell to $1.2630 from $1.2690.
Gold climbed 0.8% to $1,294.80 an ounce. Silver rose 0.9% to $15.80 an ounce. Copper, which is used in construction and wiring, fell 2.1% to $2.57 a pound.
Wholesale gasoline rose 1.8% to $1.35 a gallon. Heating oil climbed 2.4% to $1.74 a gallon. Natural gas fell 0.4% to $2.95 per 1,000 cubic feet.
Jay writes for the Associated Press. Bloomberg was used in compiling this report.
---
For reporting and exclusive analysis from bureau chief John Myers, get our California Politics newsletter.
You may occasionally receive promotional content from the Los Angeles Times.