Play's still the thing as Mattel tries to inject joy back into toy making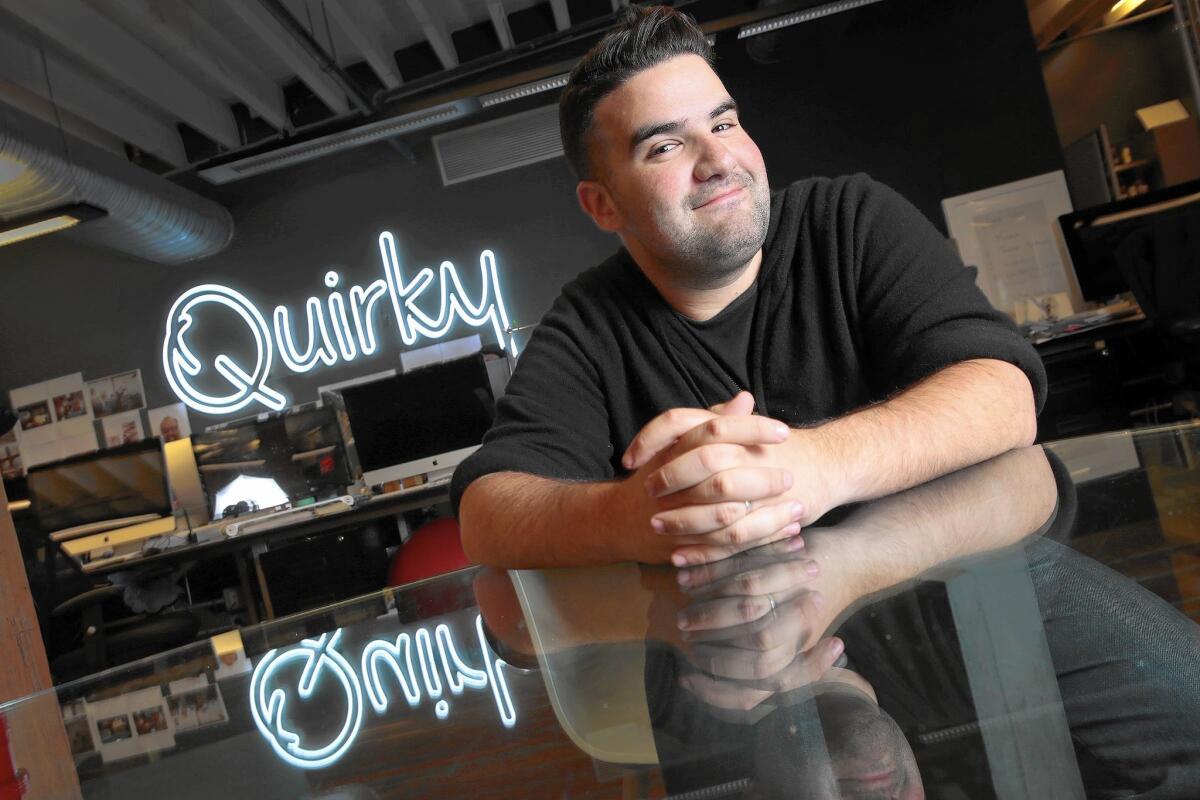 The Hot Wheels photos on a wall at Mattel's design center are riddled with post-it notes: "Cool idea," one says. "Like it," goes a second, "but it's missing something."
And another, more bluntly: "Boring."
There's little mincing of words by Richard Dickson, Mattel's chief operating officer, when he critiques ideas for new toy cars, trucks and other toys for kids. Dickson can't worry about offending egos or wasting time, not given Mattel's recent troubles.
It's a radical departure for Mattel.
"The speed — there's not a lot of discussion," Dickson said, snapping his fingers. "We don't even have a meeting. You don't have to wait for anything. We can work in real time."
For years, the El Segundo company's devotion to PowerPoint slides and layers of bureaucracy dimmed the creative spark at a business that lives and dies on hot playthings. The bottom line suffered as sales dropped for six straight quarters. Barbie sales have fallen for three years, and core brands such as Fisher-Price also struggled.
But with the ouster of Chief Executive Bryan Stockton in January, Mattel is trying to inject joy back into the toy-making process.
Dickson, who oversaw Barbie's last surge in popularity around 2010, is in charge of reinventing the company. He was brought back to Mattel last year after a stint at Jones Group, and promoted to chief operating officer in April. Analysts said he is the heir apparent to Christopher Sinclair, a longtime director who took over as chief executive after Stockton.
He has a lot of work ahead. The company must strengthen its ties with entertainment companies like Disney, roll out more technologically driven products and, above all, jump-start sales.
Mattel is already taking one unconventional path toward fixing the problems: It's outsourcing creativity. Mattel partnered with New York design firm Quirky, which functions like a sifter for inventions. Taking suggestions from around the world — everything from a gender-neutral doll to a trivia game that shoots water at losing players — Quirky will help turn out "dozens and dozens" of new toys for Mattel, said Ben Kaufman, Quirky's chief executive.
Even though Mattel is already trying to streamline its process, Quirky believes it can help Mattel hustle toys into stores at warp speed — two or three months — compared with Mattel's usual 16-month product cycle.
"In meetings they talk about products they want to launch in holiday 2017," Kaufman said. "That's not how the world works. ... We can go from an idea from a mother in Alabama to a full product rollout in a couple of months."
Although industry experts said Mattel is headed in the right direction, it's too soon to say whether their bets will translate into hit toys.
Jaime Katz, an analyst at Morningstar, forecasts that the company will grow sales by a modest 1% next year. Mattel's stock, recently hovering around $27 a share, has dropped about 44% since a high of $47.82 at the end of 2013.
"In the toy industry, product is king. That is the biggest area they need to fix," said Jim Silver, editor in chief of toy review website TTPM. "But it's not like flipping a switch. ... You can't turn it around overnight."
Analysts and former executives describe Mattel as a company hampered by a culture that valued cost-cutting over innovation. Some critics blamed Mattel's tendency to promote business-savvy employees instead of creative types.
When Stockton took over as chief executive officer in 2012, he brought an even more intense focus on cost controls and profit, former executives said. Innovation was often a casualty.
"It got to the point over the last three or four years, the upside on taking risks was not as great as the downside to failure," one executive said.
Dickson readily admits that Mattel lost its way.
"We became very email-centric, we became very data-centric, we became heavy in process," he said in a recent interview. "So what we're trying to do is frankly have more conversations, hear about more ideas, alter different ways for ideas to rise to the top quicker."
Dickson says his "most vital" goal is to kick-start the core brands, including American Girl, Barbie, Fisher Price and Hot Wheels. He has already reorganized the brands into separate business units and promoted people with deep backgrounds in toy design to head Barbie and Hot Wheels — jobs that traditionally, he said, would have gone to "business-oriented, marketing" types.
Within each brand, Dickson is also working to reduce the hurdles to making decisions.
Take Barbie as an example.
Now every two weeks, employees involved in each slice of the leggy doll's life cycle — from product development to public relations — gather for a face-to-face meeting
The group hashes out what they're doing and ensures Barbie's story stays cohesive as it passes from one department to the next. That prevents "fragmented" ideas that don't hang together in the public's mind, Dickson said.
We get to "make decisions on the spot to say 'Oh, we gotta stop doing that,'" he says.
At his office in Mattel's design center, housed in a former airplane parts factory, Dickson pointed to a row of poster boards illustrating the final product of all that talking: a new line of ethnically diverse Barbies with different skin tones, eye shapes and hair colors. One board showed an advertising spread in Italian Vogue, another a music video of the multiracial Barbies strutting their stuff on a city street.
"As you look at the brand as a whole, it's incredibly consistent," he said. "It's surgical in its precision and messaging."
Technology will be another area of focus at the new Mattel.
In an era when toy makers are hustling to incorporate technology into products to entice children who are drawn to smartphones and video games, the company partnered with Google to upgrade its classic ViewMaster.
The original ViewMaster, now 75 years old, used cardboard reels to give viewers a 3D view of tourist attractions and scenic spots from around the world.
To use the new iteration, users have to download an app and then insert their smartphone into the gadget. Users peer at a plastic reel — of San Francisco, for example — through the ViewMaster, and augmented reality icons pop out. Focusing on Alcatraz and then clicking a button will bring a sweeping panoramic view of the island whenever you turn your head.
The ViewMaster, which will debut in October for $29.99, will take 10 months from concept to hitting shelves, compared with 14 or 16 months before.
"Even our teams were like, 'I can't believe we're doing this, I can't believe how fast we're moving,'" Dickson said.
Both the Google and Quirky partnerships indicate that Mattel is willing to listen to good ideas, no matter where they come from — a welcome change from recent years, analysts said.
"Over a period of years, they were creating more products internally and working less with inventors," Silver said. "It appears they have put a sign on the door now saying 'Open for business' to all inventors."
Viewmaster is also one of the toys coming out of Toy Box, a new group within Mattel designed to innovate faster and take more risks.
While core brands could deliver single-digit growth, Dickson said he believes Mattel's "next big breakthrough is going to come from Toy Box."
The last piece of the Mattel reinvention involves strengthening its partnerships with entertainment companies.
That's an especially important goal after Mattel was dealt a huge blow when it lost the doll licenses to Disney's hit "Frozen" and Princess properties to rival Hasbro starting in 2016.
The problems that has plagued Mattel internally also hurt its relationship with partners like Disney, Dickson said.
"We became incredibly insular in the context of our process," he said. "So the speed at which we were moving, the decision-making process, the fragmented approach to how we were driving brands and relationships was becoming a frustrating place to be partnered with."
Dickson said he believes Mattel has entered its next chapter: the toddler phase. But he acknowledged there's much more to do: "It takes a while to move culture."
Twitter: @ByShanLi