McDonald's will shift to more humane chicken slaughter policy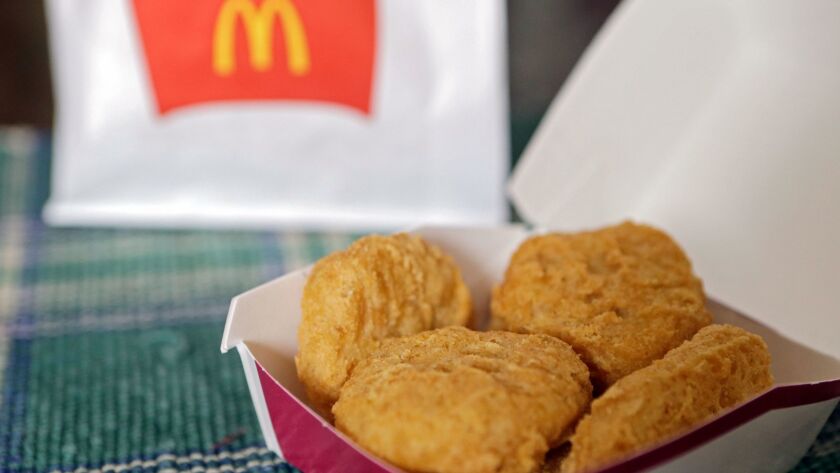 McDonald's took another step Friday toward softening its image with animal-conscious consumers, saying it will require suppliers to treat chickens better and slaughter them more humanely.
Birds sold to the chain by poultry giants such as Tyson Foods Inc. and Cargill no longer will be shocked, shackled by the feet to conveyors and have their throats slit, McDonald's announced. Such methods can leave chickens fully conscious when they are slaughtered.
The suppliers will be required to switch to a gassing system that more reliably knocks the chickens out. Chickens also will live in brighter enclosures where they have access to perches and can more readily engage in natural behaviors such as dust bathing and pecking, McDonald's said.
The moves, outlined in an eight-point agenda, will be implemented by 2024 and affect about 70% of the company's supply chain.
McDonald's also said it would conduct trials to measure the economics of changing other practices, including how chickens are bred, how rapidly they mature and how densely they are housed.
"As one of the world's largest food companies, we aim to use our scale as an opportunity to achieve impactful change on key societal issues, and we will continue to collaborate with our suppliers, franchisees and employees to achieve real impact," McDonald's said in a statement.
Earlier this year, McDonald's expanded its policy to avoid buying chicken raised with antibiotics that are important for human health. Overuse of antibiotics in humans and farm animals has been linked to the rise of "superbugs" that can cause fatal infections.
Other fast-food companies have adopted both stricter antibiotics policies and higher humane standards for animals, including Subway, Burger King, TGI Fridays, Panera Bread, Jack in the Box and Aramark.
Not all animal activist groups were satisfied with McDonald's' latest move. Mercy for Animals, which regularly conducts undercover investigations at poultry plants, urged the company to more rapidly end feeding and breeding practices that leave chickens unable to stand and function normally.
"As long as McDonald's allows its suppliers to breed birds to grow so large and fast they can't even walk without pain and overcrowd them inside dark warehouses, the company will lag behind its competitors on animal welfare," said Mercy for Animals spokesman Brent Cox.
Follow me: @LATgeoffmohan
---
For reporting and exclusive analysis from bureau chief John Myers, get our California Politics newsletter.
You may occasionally receive promotional content from the Los Angeles Times.