Alex Meruelo sees L.A. Latinos as key part of his highest-profile bet: a Las Vegas casino
Three decades ago, a 23-year-old kid from Whittier, the son of Cuban immigrants, had an idea for a new kind of pizzeria — one that would serve predominantly Latino neighborhoods and offer then-uncommon toppings like chorizo and jalapeños.
He took over a failed pizza joint in Huntington Park, called it La Pizza Loca and, within five years, had more than two dozen locations and sales of nearly $10 million.
That bet on an untapped market became the foundation of the sprawling business empire of Alex Meruelo, a low-profile investor and entrepreneur who has just made his biggest and highest-profile bet yet — on a historic but faltering casino on the Las Vegas Strip.
His company last month finalized its purchase of the SLS Las Vegas, which for decades operated as the Sahara before L.A. nightlife impresario Sam Nazarian bought it for a reported $300 million to $400 million then spent at least that much trying to transform the aging property into a hipster hangout.
But the top-dollar acquisition on the eve of the recession proved to be an ill-timed bet on Sin City — followed by other troubles, including revelations Nazarian had used cocaine and had paid millions to a convicted felon who had allegedly extorted from him.
Now, Meruelo, who already owns the Grand Sierra Resort hotel and casino in Reno, believes he can succeed where Nazarian failed. And as with La Pizza Loca, appealing to Latino customers is part of Meruelo's game plan.
"In my opinion, the Hispanic market has been underserved in Vegas and Reno," said Meruelo, 55, during a rare interview at his office in Downey.
"That doesn't mean I'm only going to focus on the Hispanic market," he said. "I am Hispanic and I'm very proud of that, but that's just one more underserved market we plan to go after."
Among Las Vegas visitors from Southern California in 2016, the most recent year for which statistics are available from the city's Convention and Visitors Authority, about 26% were Latino — though they account for more like 45% of Southern California's population.
And Meruelo believes he has a running start in being able to reach those potential customers.
Among his Meruelo Group holdings — a hodgepodge that includes real estate, construction companies, an Orange County bank and a maker of prepackaged sushi — are KWHY-TV and KBEH-TV, two Spanish-language stations that run a mix of Mexico-focused news, classic Mexican movies and telenovelas. He also owns L.A.'s No. 1 and No. 3-ranked hip-hop radio stations: Power 106, which plays new music, and old-school station KDAY (93.5).
The media properties broadcast in Southern California, a market that provides Las Vegas with about one-third of its domestic visitors.
"To own those assets and work them all together, it's never been done before," Meruelo said.
Otto Padron, a former Univision executive who runs Meruelo's media holdings, said the TV and radio stations could not only advertise Meruelo's hotel and casino properties but also promote concerts, events and nightlife at the venues and draw musicians who have relationships with KDAY and Power 106.
For instance, Padron said he's putting together a Power 106 promotion that would give contest winners a plane trip to Vegas, a stay at the SLS and access to an intimate show with a Power 106 artist. Meruelo said he's even tinkering with the idea of building a recording studio at the property.
"For us to reach out to talent and have them be part of our gaming and resort properties, it's a force multiplier," Padron said, likening the combination of media assets and resorts to the synergy at Disney or NBC Universal. "You get to enjoy the content, but it also translates into experiential elements."
Even before founding La Pizza Loca, Meruelo was running companies and making deals.
His parents, both accountants, fled Cuba after Fidel Castro came to power. They headed to Miami, then New York, where Meruelo was born, and soon after moved west and settled in Whittier. They ran a bridal shop on Broadway in downtown L.A. and invested in local real estate.
When Meruelo was 16 and still in high school at Rosemead's Don Bosco Tech, he took over the tuxedo-rental business next to his parents' shop. He saved up enough to start investing in property himself, first buying a small apartment building in Huntington Park and later a plot of land in Riverside that he'd later sell to Walmart, a deal he said made him a millionaire in his early 20s.
He won't say precisely how much he's worth now. But paraphrasing oil baron J. Paul Getty, Meruelo said, "If you have to count your money, you're not a billionaire. I've never counted."
After earning a business degree from Cal State Long Beach and starting La Pizza Loca in 1986, he snatched up apartment buildings amid the recession of the early '90s, as property values in California were declining. He then sold them a few years later for almost five times as much, he said.
Over the years, he's continued to buy low, acquiring troubled assets — his two casinos are prime examples — then improving them and holding on. He generally prefers to continue to own and operate his companies rather than sell.
"I just look at opportunities and I buy at distressed values," he said. "I'm not much of a seller."
Meruelo's holdings include a portfolio of construction companies, prepared sushi-makers FujiSan and Fuji Food Products and a controlling interest in Irvine's Commercial Bank of California.
He's spent much of his career in relative anonymity, which sets him apart from his two brothers.
Younger brother Richard was chairman and chief executive of Meruelo Maddux Properties, a firm that was once the largest landlord in downtown L.A. before filing for bankruptcy in 2009. Older brother Homero has developed several high-profile projects in Miami but lost properties to foreclosure and was accused of failing to repay millions of dollars in deposits to buyers of condos that were never built.
Alex, meanwhile, has been quietly buying and operating businesses. He's shunned most interviews.
"I don't need to be in the limelight," he said. "That's just not who I am. I'm very low-key."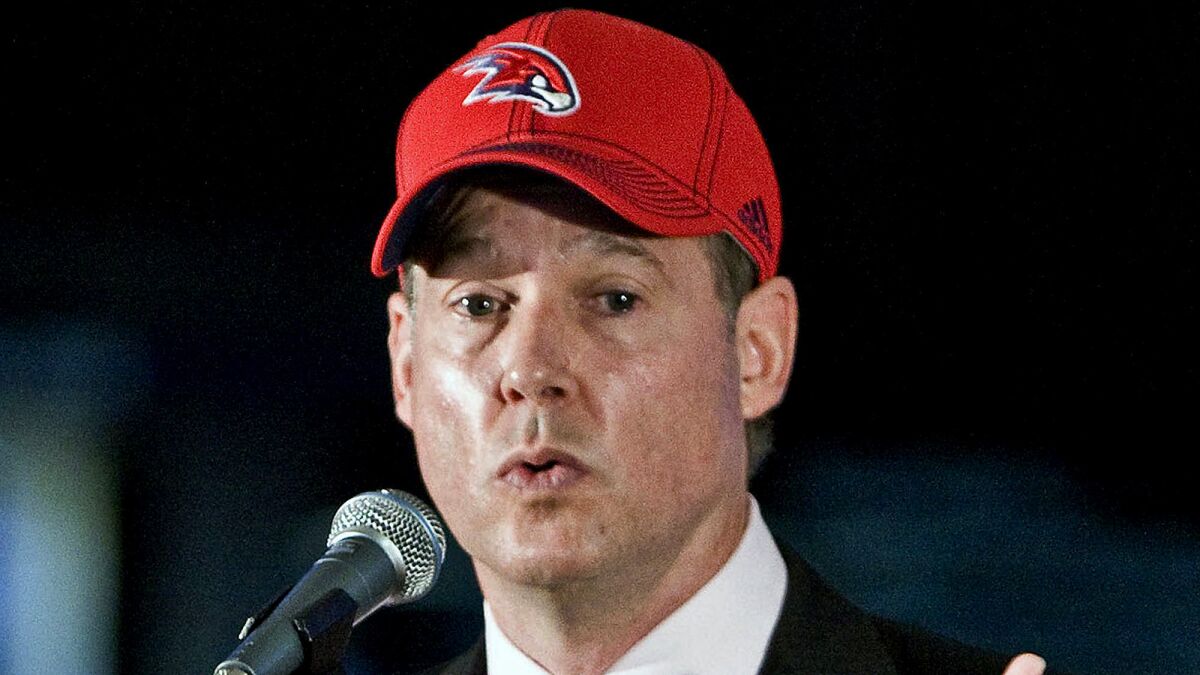 That changed at least somewhat in 2011, the year he acquired his Reno casino and made an unsuccessful bid to buy the NBA's Atlanta Hawks. Now that he's bought a casino on the Las Vegas Strip, his days of flying under the radar are over.
"This purchase, to me, is bigger than owning a sports team," he said. "There's over 120 sports teams you can buy, but there is almost zero real estate on the Las Vegas Boulevard. It's one of the most unique purchases in the world."
Meruelo is affable and soft-spoken until the conversation turns to something he's passionate about. He's blown up deals because he was unwilling to renegotiate.
That's how he lost the Hawks. By his account, he and former owner Bruce Levenson agreed to a price — but league officials demanded he pay more.
"The NBA wanted me to put up another $50 million, and I said no," he said. Just a few years later, the team would sell for a reported $850 million — more than twice what Meruelo would have paid — to a group led by another Angeleno, private equity investor Antony Ressler.
"Now, in hindsight, I should have accepted," Meruelo said. "But I just stick to my principles."
Meruelo would not disclose the price for the SLS, but he said that he put down about $100 million in cash and that the deal wiped out nearly all of the casino's old debts.
Alan X. Reay, president of hotel brokerage and advisory firm Atlas Hospitality, said it's a near-certainty that Meruelo paid substantially less for the SLS than Nazarian and his primary investor, Stockbridge Capital, spent just on renovating the property.
"He's obviously a very smart, savvy investor," Reay said. "From a timing standpoint, he seems to have made a very good business of buying right. It doesn't matter how strong the market is — if you don't buy it right, not much else matters."
Still, turning around the SLS will be a task.
Through the first nine months of 2015, the most recent period for which the property released a public financial report, the hotel and casino lost $123 million and had about $585 million in debt. Chinese investors who poured millions into the renovation of the SLS and have sued the project's former owners, saying the hotel and casino were never profitable.
Part of the trouble could stem from its location. The SLS is more than a mile north of the densest stretch of the Strip and doesn't benefit from the foot traffic that helps keep other casino floors humming. Just south of the SLS is a vacant lot, a half-finished resort and a parking lot that was once home to the Riviera, which was demolished in 2016.
"You had a number of successful resorts on the North Strip, but over the past 10 to 15 years, many of them closed," said David Schwartz, director of the Center for Gaming Research at the University of Nevada, Las Vegas. "Other developments were started, but they're not open yet."
But Meruelo believes that the SLS' fortunes will improve as developments halted by the recession finally come on line.
"There's billions of dollars [in development] coming my way," he said. "Never in the history of Las Vegas has there been so much money coming to the north side of the Strip."
Nearby projects Resorts World and the Drew, formerly known as the Fontainebleau, are finally set to open in 2020. There are also plans to build a 22,000-seat arena along with a hotel and retail space on the vacant lot next door to the SLS.
Still, Schwartz said Meruelo can't count on those projects just yet. "There may be this wave of development, but I believe it when it opens," he said.
Paul Hobson, a gambling industry veteran Meruelo hired as general manager of the SLS, said North Strip development can only help the SLS, but he's not dependent on that.
"We're not going to wait for the cavalry to come over the hill and save us," Hobson said.
For now, he and Meruelo are focused on making cosmetic changes they believe will make the SLS more inviting and more traditional. Meruelo plans to spend $100 million on renovations and upgrades, starting with rethinking the look of the casino.
Under Nazarian, a developer of boutique hotels and hip nightclubs, the casino floor was redesigned to look more like a club: It's dark, with a high ceiling and exposed ductwork.
"I think we'd like to present something a little more recognizable," Hobson said. "If we put a more formal ceiling in, we'll be able to create zones where people feel more comfortable and lighter."
Hobson also plans to renovate one of the property's three hotel towers, one where rooms were given a kind of urban-loft treatment with angular furniture, spare gray walls and exposed concrete ceilings.
"They're a little unconventional," Hobson said. "It's not off-putting or offensive, but it may not line up with the expectations of the typical traveler."
Hobson is taking the lead on those projects, but Meruelo will sign off on the details. His lieutenants describe him as a hands-on boss, one who's direct, likes to be involved and is prone to making late-night phone calls.
"I don't think he sleeps much," Hobson said.
On a recent Monday, Meruelo had back-to-back meetings at the headquarters of his Meruelo Group holding company, a two-story office building on Firestone Boulevard situated between a carwash and a liquor store. He pointed to a stack of papers on his desk: a list of all the recent checks written by his companies.
"I talk to all my presidents almost daily. I still review all the check runs from all the companies," Meruelo said. "I have hundreds and hundreds that I review. I remember companies and numbers. Faces and names, I can't. But numbers I don't forget."
Meruelo said he doesn't spend much time at his Downey headquarters anymore. He and Liset, his wife of 28 years, raised three children in Orange County but moved to Reno shortly after he acquired the Grand Sierra. He's spent at least half of the last year in Las Vegas as he worked to close the SLS deal.
Meruelo Group doesn't have any outside investors, making him the sole owner of his portfolio of companies. When he was trying to acquire the Hawks he told The Times that he worried every new deal could be the one that brings him down.
"I still worry about that," he said. "I say that because it's M.O.M. — my own money. So any deal I do could ruin me. I've had my balls on the line for 38 years of my life."
To read this article in Spanish, click here

Follow me: @jrkoren
Sign up for the California Politics newsletter to get exclusive analysis from our reporters.
You may occasionally receive promotional content from the Los Angeles Times.