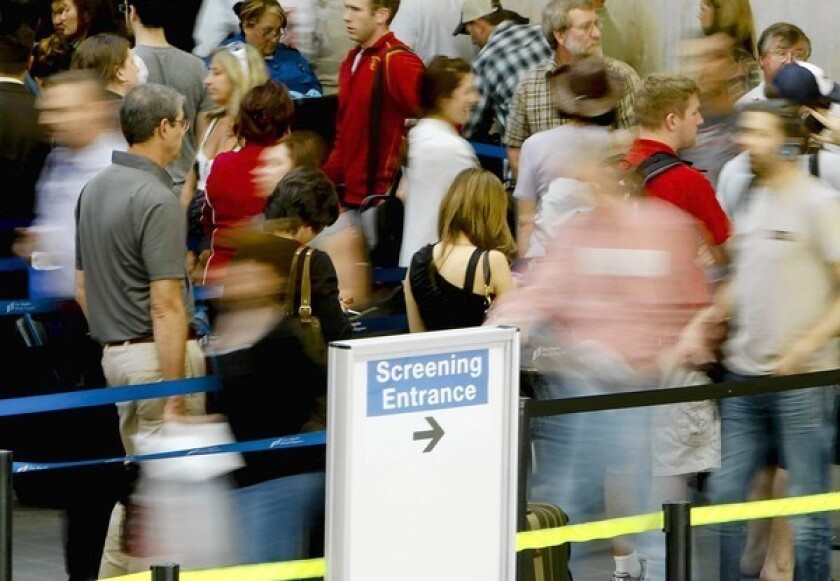 If demand for air travel continues rising at its current pace, many of the nation's biggest airports — including Los Angeles International Airport — will face holiday-like congestion once or twice a week within the next decade.
That is the warning issued in a new study from the U.S. Travel Assn., the trade group for the nation's travel industry. The group says major investments in the nation's airports are needed to alleviate airport congestion and passenger frustration.
"The gap between the busiest travel day of the year, the Wednesday before Thanksgiving, and the average day in the rest of the year is closing fast," said Roger Dow, the industry group's chief executive.
In fact, the report says that seven of the nation's biggest airports, including San Francisco International and McCarran International in Las Vegas, already endure at least once a week the kind of passenger volumes that occur on the day before Thanksgiving.
At LAX, the U.S. Travel Assn. predicts that by 2015 one day a week will be as crowded as the Wednesday before Thanksgiving. If no major investments are made to upgrade the airport, everyday at LAX will feel like the Wednesday before Thanksgiving by 2033.
Even though passenger volume has been dropping at some Southern California regional airports, such as Ontario International Airport and Burbank's Bob Hope Airport, the travel association predicts the congestion will eventually spread to the smaller airports.
ALSO:
Airport food getting healthier, study finds
Southwest Airlines joins TSA PreCheck screening process
United Airlines plans to cut $2 billion in costs, collect more fees
---