Costco unsure how cooked chicken was tainted in salmonella outbreak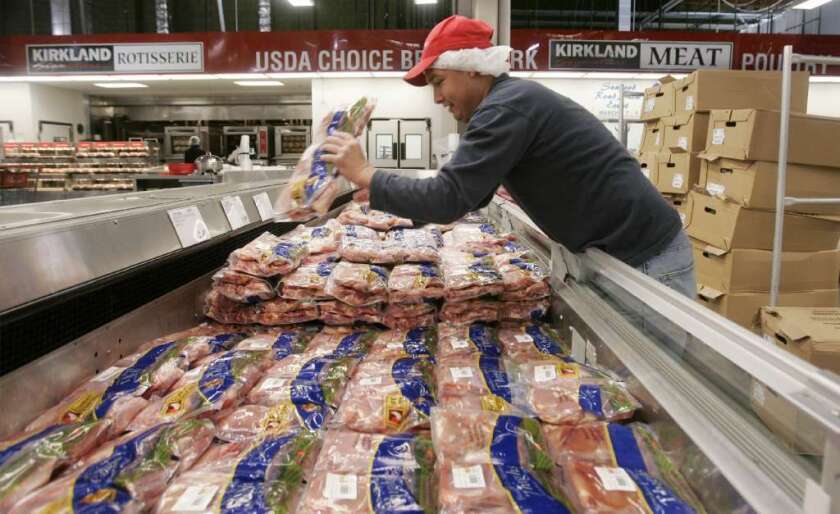 Investigators are still unsure how cooked rotisserie chicken sold at a Costco store in South San Francisco was contaminated with a strain of salmonella involved in a national outbreak linked to Foster Farms brand poultry.
At least one person was sickened by one of the chain's roasted chickens, prompting Costco to order a recall over the weekend of nearly 40,000 pounds of rotisserie chicken products sold between Sept. 11 and Sept. 23 from the store at 1600 El Camino Real.
The U.S. Department of Agriculture and Foster Farms have assured consumers that poultry contaminated with salmonella is safe to eat so long as its cooked to a minimum of 165 degrees Fahrenheit.
Costco rotisserie chicken is cooked to at least 180 degrees Fahrenheit, said Craig Wilson, Costco's vice president for food safety.
QUIZ: How much do you know about the stock market?
"It was well-cooked," Wilson said in a phone interview Monday. How someone got sick is "part of the mystery."
He added: "It may have been a very, very uncommon cross-contamination issue. We're still researching."
In total, Costco recalled 8,730 Kirkland Signature Foster Farms rotisserie chickens and 313 units of Kirkland Farm rotisserie chicken soup, rotisserie chicken leg quarters and rotisserie chicken salad.
Wilson said the company contacted 7,807 customers who had bought one or more of the recalled products. So far, no one else has reportedly fallen ill, he said.
Consumer advocates have called for a mandatory recall of Foster Farms chicken, but the poultry producer and the USDA say such a move is unnecessary.
Costco is currently carrying new batches of Foster Farms chicken. The only other major chain to pull Foster Farms poultry was Kroger Co., parent of Ralphs and Food 4 Less. The supermarket company removed chicken from the three Foster Farms plants linked to the outbreak.
The chicken in question can be identified in supermarkets with USDA marks of inspection P6137, P6137A or P7632.
Since March, 317 people have been sickened by a surge in Salmonella Heidelberg, which has been tied in the past to human illness.
The Centers for Disease Control and Prevention said the strain of Salmonella Heidelberg was particularly virulent and, at times, resistant to antibiotics. It's one of the reasons people are being hospitalized at twice the rate as in a typical salmonella outbreak, experts say.
The USDA threatened last week to close the three Foster Farms plants, but it chose not to when presented with plans to clean up the facilities. Two of the plants are in Fresno and one is in Livingston, Calif., where the company is headquartered.
CDC spokeswoman Barbara Reynolds said it was unlikely a properly cooked chicken could sicken someone with salmonella. It's more common for prepared foods to be undercooked, she said.
One potential cause: The Costco warehouse with the recall roasts 1,000 chickens a day, a number Wilson said was extremely high compared with other stores.
"We have to figure out if there was a slip-up in procedures," he said.
ALSO:
Most Americans expect to work during 'retirement,' poll finds
Watch SpaceX's rocket soar half a mile above Earth and return
Upset over U.S. fiscal crisis, China urges a 'de-Americanized world'
Twitter: @dhpierson
---
Your guide to our new economic reality.
Get our free business newsletter for insights and tips for getting by.
You may occasionally receive promotional content from the Los Angeles Times.