Costco extends recall of chicken linked to salmonella outbreak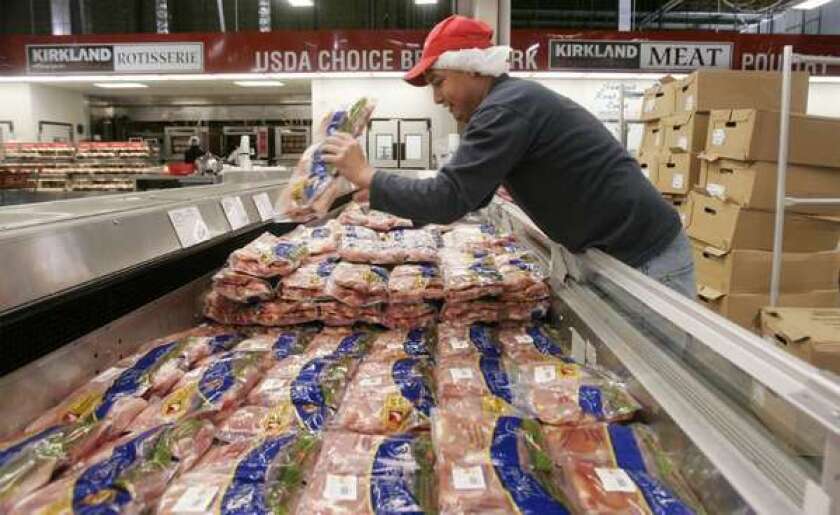 Costco extended a recall of rotisserie chicken products Thursday from a South San Francisco store because of an outbreak of salmonella that has sickened at least 317 people nationwide.
The recall targets 13,455 units of Kirkland Signature Foster Farms rotisserie chickens and 638 total units of Kirkland Farm rotisserie chicken soup, rotisserie chicken leg quarters and rotisserie chicken salad purchased between Sept. 24 and Oct. 15.
This is in addition to a recall announced Saturday targeting nearly 40,000 pounds of rotisserie chicken products sold between Sept. 11 and Sept. 23 from the same store at 1600 El Camino Real.
"Costco and the California Department of Public Health discovered through a follow-up investigation to the previous recall that additional product should be recalled," the U.S. Department of Agriculture said in a prepared statement. "No illnesses have been reported in association with the product being recalled today."
The salmonella outbreak has been linked to three Foster Farms plants in Central California that were nearly shut down last week.
The current outbreak features virulent strains of salmonella that are antibiotic resistant -- sending double the rate of people to hospitals as an ordinary salmonella outbreak.
Foster Farms is a supplier to Costco and still sells poultry from the company's three plants in question.
The USDA and Foster Farms say that chicken is safe to eat as long as it's cooked to a minimum of 165 degrees Fahrenheit.
Costco told the Los Angeles Times on Monday that it cooks its rotisserie chicken to a minimum of 180 degrees Fahrenheit.
"At this time, it appears that the problem may be the result of cross-contamination after the cooking process in the preparation area," the USDA statement said.
A Costco official could not immediately return a request for comment.
Consumer advocates have demanded a full recall of poultry from the three Foster Farms plants, citing USDA investigations showing multiple instances of unsanitary conditions and fecal matter on carcasses.
"This new recall just reinforces what we've been saying all along, which is they need a full recall, not just of rotisserie chicken from that Costco, but those three Foster Farms plants," said Michael Hansen, senior scientist for Consumers Union.
The USDA's Food Safety and Inspection Service has defended its decision not to shut the plants down or issue a full recall, saying Foster Farms has sufficiently demonstrated a plan to reduce contaminants at its facilities.
Foster Farms has declined to grant tours of its facilities or provide details about its safety upgrades.
"This past weekend, Foster Farms installed six new processes throughout our California facilities known to effectively lower the incidence of salmonella. We are breaking the chain of salmonella at every stage of production -- from the ranch where the birds live, to the plant where the chicken is processed, to the product packaging line," the company said in a notice on its website, which did not describe the processes.
ALSO:
The government shutdown's toll by the numbers
Bay Area home market cools, prices and sales fall
UnitedHealth's shares dip on small increase in quarterly profit
Twitter: @dhpierson
---
Your guide to our clean energy future
Get our Boiling Point newsletter for the latest on the power sector, water wars and more — and what they mean for California.
You may occasionally receive promotional content from the Los Angeles Times.