European Central Bank chief swears to 'preserve the euro,' Dow soars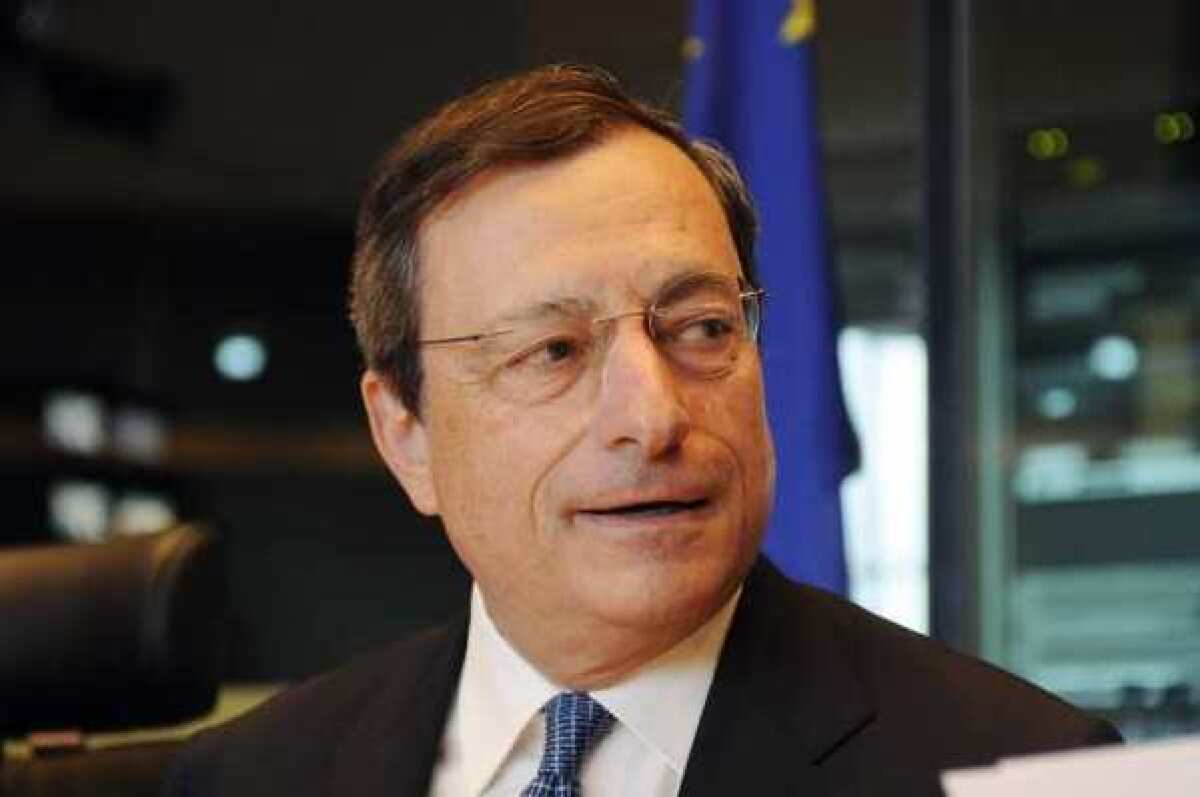 Mario Draghi, president of the European Central Bank, pledged Thursday that the institution "is ready to do whatever it takes to preserve the euro," sending financial markets soaring around the world.
The Dow jumped more than 250 points in morning trading after Draghi said in no uncertain terms that member nations' commitment to the euro currency, whose future has been in doubt as countries -- especially Greece -- consider a return to heritage currencies, is "irreversible."
At the Global Investment Conference in London, Draghi suggested that the bank could be gearing up to use its substantial buying power to strong-arm bond yields into submission.
Higher rates for riskier countries could "hamper the functioning of the monetary policy transmission channel," he said. But keeping borrowing costs in check for struggling Spain and Italy could temper and even reverse the effects of the European debt crisis, analysts hope.
"Believe me, it will be enough," Draghi said of potential action from the ECB, which so far has only sporadically wielded its bond-buying clout.
Spanish and Italian bond yields plunged on his statements. The euro strengthened against the dollar, rising 1.17%. By late morning in New York, the Dow was still up 1.41%, or 178 points, to 12,854.
But some analysts said that ECB policies to stall Spain, Portugal and Greece from defaulting on their debt may not prevent a European recession from lasting through next year.
"The U.S. Federal Reserve has likewise provided considerable liquidity to the US banking system – much quicker and in larger amounts – and this has avoided recession in recent years," said Jeffrey Bergstrand, a finance professor at the University of Notre Dame. "But even this is insufficient to bring down U.S. unemployment in 2012 or have much effect in 2013."
At the conference, a six-week run of business summits hosted by British Cabinet ministers on the eve of the Olympic Games, Draghi co-presented with Bank of England Gov. Sir Mervyn King.
Banks, King said, aren't entirely to blame for the troubles in their sector, despite their "bad behavior."
"This was a crisis which emanated from major mistakes in macroeconomic policy around the world, and fundamentally the inability to successfully coordinate macroeconomic policy so that globally you wouldn't get the imbalances, the capital flows, that created the difficulties in the banking system," he said.
ALSO:
Stocks tumble on renewed worries about Europe
HSBC linked to drug lords and terrorists, Senate report alleges
Break up big banks, former Citigroup CEO Sanford Weill urges
---
Sign up for the California Politics newsletter to get exclusive analysis from our reporters.
You may occasionally receive promotional content from the Los Angeles Times.