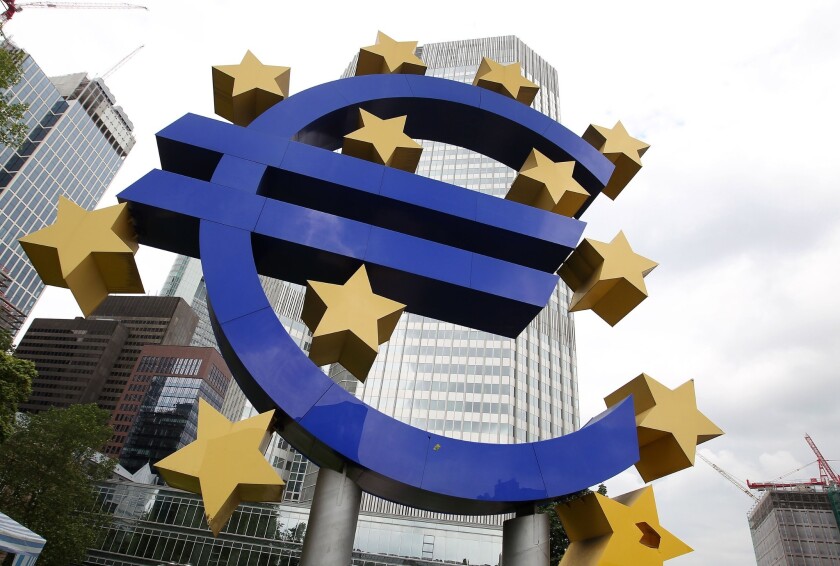 <i>This post has been corrected. See below for details. </i>
The Eurozone, which has struggled with a debt crisis and a prolonged recession, saw its economy expand for the first time in 18 months, according to figures released Wednesday.
Eurostat, the European Union's statistical agency, said the economies for the 17-nation Eurozone and the larger EU grew 0.3% in the second quarter, compared with the first three months of this year.
That growth marks the first positive figures in gross domestic product — the value of the region's goods and services — since it fell into recession in late 2011. The Eurozone consists of EU countries that use the euro as their currency.
Olli Rehn, European commissioner for economic and monetary affairs and the euro, said on his blog that the positive data were encouraging and that the alliance seemed poised to continue growing.
The latest figures give hope that Europe may pull out of the longest recession since the 1999 formation of the Eurozone.
But Rehn also was cautious.
"I hope there will be no premature, self-congratulatory statements suggesting 'the crisis is over,'" Rehn wrote. "For we all know that there are still substantial obstacles to overcome: the growth figures remain low and the tentative signs of growth are still fragile."
Of the countries that use the euro, Germany and Finland posted the highest GDP growth rates, each expanding 0.7% during the second quarter.
Six other countries, including Spain, Italy and the Netherlands, posted negative growth rates during the second quarter, according to Eurostat.
The steepest decline, however, was recorded in the island nation of Cyprus, which saw a banking crisis overwhelm the country last summer. Its GDP declined 1.4% in the second quarter compared with the previous quarter.
The 28-nation European Union and the Eurozone have not determined that the long recession is over. Typically, that decision is made after two consecutive quarters of economic growth and after taking into account other economic data.
[For the Record, 11:10 a.m. PDT Aug. 14: An earlier version of the post said the Czech Republic uses the euro. It does not. Also, though some economists and news media, including the Times, reported the recession had ended, the European Union and the Eurozone have not made that determination.]
ALSO:
Wealthy people are less likely to retire, report says
48% of policyholders will get health-law subsidies, report says
Feds charge former JPMorgan Chase bankers in 'London Whale' case
ricardo.lopez@latimes.com
---