SpaceX CEO Elon Musk says launch 'a giant weight ... off my back'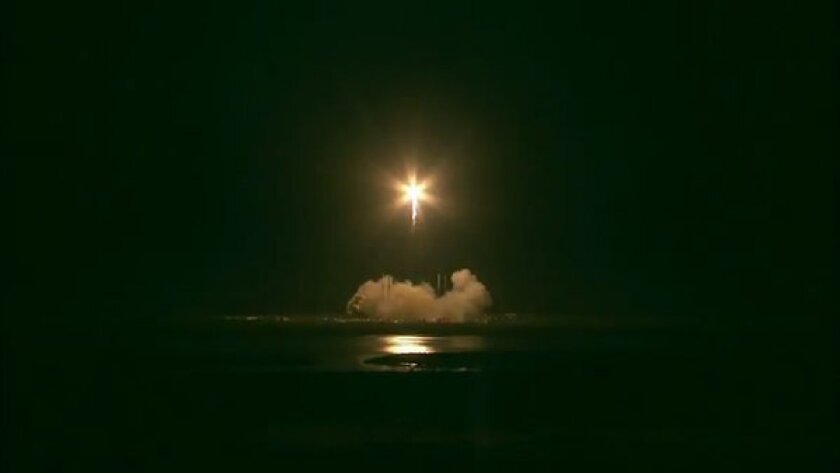 Billionaire Elon Musk, founder and chief executive of SpaceX, sent his Falcon 9 rocket into space early Tuesday morning with an unmanned Dragon capsule after an original mission was aborted over the weekend. How's he feeling? Extremely relieved.
After the rocket blasted off from Cape Canaveral, Fla. at 3.44 a.m., Musk tweeted: "Falcon flew perfectly!! Dragon in orbit, comm locked and solar arrays active!! Feels like a giant weight just came off my back :)"
He then followed with tweets thanking NASA, the Air Force and the Federal Aviation Administration.
Elsewhere on the social networking site, congratulations flowed in from users in Dubai, congressmen, senators, executives at Virgin America, even the Republican Party of Florida.
Some compared Musk to comic book superhero and "Avengers" character Tony Stark.
The launch represents the first time a private company has sent a spacecraft to the International Space Station and the beginnings of NASA's plan to outsource missions now that its fleet of space shuttles is retired.
At the moment, SpaceX's rocket is only hauling cargo. Eventually, the company hopes to carry astronauts.
SpaceX, officially known as Space Exploration Technologies Corp., had tried to send the Falcon 9 into orbit Saturday but had technical difficulties at the last minute.
And it's still too early to tell if the mission is a success. The rocket must now circle Earth to meet up with the space station and then complete a series of complicated tests to determine if it is capable of docking – an event that could happen as early as Friday.
INTERACTIVE GRAPHIC: SpaceX's demonstration mission
But the spacecraft, made in a Hawthorne facility and the first U.S.-produced rocket to fly to the space station in years, is generating plenty of excitement in the interim.
NASA weighed in, with Administrator Charles Bolden proclaiming at the cape that "while there is a lot of work ahead to successfully complete this mission, we are certainly off to a good start."
The White House congratulated the SpaceX and NASA teams on the successful launch in a statement from John P. Holdren, assistant to the president for science and technology.
"Every launch into space is a thrilling event, but this one is especially exciting because it represents the potential of a new era in American spaceflight," Holdren said.
Pairing up with private companies to deliver goods and crew members to the space station "is a cornerstone of the president's plan for maintaining America's leadership in space," Holdren said.
As the morning progressed, Musk – whose past and present ventures also include PayPal and Tesla Motors – tweeted updates as the spaceship continued to perform as planned. "So much nicer than HAL9000 :)," he wrote at one point, comparing Dragon to the malevolent"2001: A Space Odyssey" computer.
RELATED:SpaceX: A new frontier for space travel
The space shuttle's birthplace: A Southland legacy
NASA hails SpaceX launch as 'a new era' for spaceflight
Follow Tiffany Hsu on Twitter and Google+

---
Your guide to our new economic reality.
Get our free business newsletter for insights and tips for getting by.
You may occasionally receive promotional content from the Los Angeles Times.