January retail sales fall short amid storms; J.C. Penney gets new CFO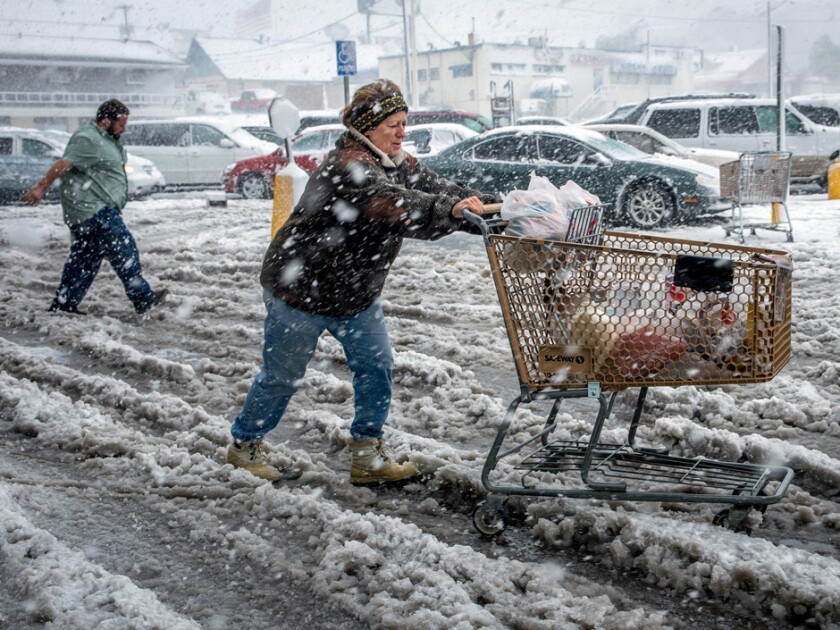 The winter economic blues continue.
Retail sales unexpectedly fell 0.4% in January from December, the government said Thursday. That was the biggest drop in 18 months and the latest in a series of blah reports on the economy.
Sales were "weaker than already low expectations" for flat results, the softness "punctuated by hefty downward revisions to December," according to Credit Suisse.
The bank's analysts said in a note to clients that "at first blush these data appear to be impacted by the frigid weather across the country" and that "February does not offer much hope for relief."
Volatile temperatures may prevent the industry from getting "a clean read on retail demand for quite some time," according to Credit Suisse.
Severe weather is also being blamed for weakening hiring recently.
Commerce Department officials revised down retail sales for the prior two months. Instead of advancing 0.2% in December, as previously estimated, sales declined 0.1% that month, officials said.
Retail sales account for a big chunk of consumer spending, the primary engine of American economic output. After Thursday's report, Barclays Research revised down by 0.4 of a percentage point its estimate of the growth rate for last year's fourth quarter -- to a sluggish annual pace of 2.2%.
The government last month estimated fourth-quarter growth of 3.2%, but disappointing numbers on exports and now the poor sales number for January paint a much weaker picture of last year's finish. Of more concern, the latest data show the economy off to a slow start this year -- a year that many economists had entered feeling very optimistic.
Experts such as new Federal Reserve Chair Janet L. Yellen remain hopeful that the recovery will strengthen this year. Yellen told House lawmakers Tuesday that weather played a role in the weak job growth the last two months, and she cautioned that one shouldn't jump to conclusions. (Yellen had been scheduled to testify before a Senate committee Thursday, but that hearing was postponed because of the heavy snowfall in the region.)
Signs of weather-related impact on retail business were evident last month. Sales at restaurants dropped for a second month in a row, but groceries and building-supply stores saw gains, the latter possibly because consumers bought generators and other tools to deal with the harsh conditions, said Scott Hoyt, an analyst at Moody's Analytics.
Car sales were down 2.1% last month, similar to the decline in December. Sellers of furniture, clothes and sporting goods also took a hit last month.
Hoyt said he thinks that the weakness is likely to prove temporary. "Weather not only disrupted sales directly, to the extent it is responsible for the weakness in growth in jobs and hours, it is temporarily undermining household income," he wrote in a note to clients Thursday. "Further, cold weather will add to utility bills, leaving consumer less money to spend at retail stores.
"When weather normalizes," he concluded, "the economy should regain its prior momentum and sales growth will re-accelerate."
Paul Dales, an economist at Capital Economics, agreed: "We are not too worried by today's data as our positive outlook for employment suggests households will still have the funds to spend at a healthy rate," he wrote.
Still, Dales noted that the big sales drop in January won't be easily made up. It is likely to hold back first-quarter consumer spending growth to 2% to 2.5%, he said. That would be down from over 3% in the fourth quarter.
In other retail news, J.C. Penney Co. said that Ken Hannah would be replaced as chief financial officer on March 24 after holding the role since May 2012. No reason was given for his departure.
Liz Dunn, an analyst at Macquarie Capital, frowned on the decision, describing "management turnover as a negative for JCP given the ongoing attempt to turn the business around and maintain adequate liquidity."
Hannah "has been instrumental in executing many aspects of the turnaround and we believe investors view him as credible and straightforward," Dunn wrote in a note to clients. "Hannah has navigated the business through a very difficult two years."
But Charles Grom of Sterne Agee said Hannah's successor, Edward Record, "is a very positive development for the company."
With 25 years of experience in the retail industry, Record "is very well respected throughout the industry and will add a critical layer of capital discipline that JCP requires at this stage of the game," Grom wrote in a note to clients.
---
Your guide to our clean energy future
Get our Boiling Point newsletter for the latest on the power sector, water wars and more — and what they mean for California.
You may occasionally receive promotional content from the Los Angeles Times.