Adam Fleischman says Umami Burger could grow to 150 locations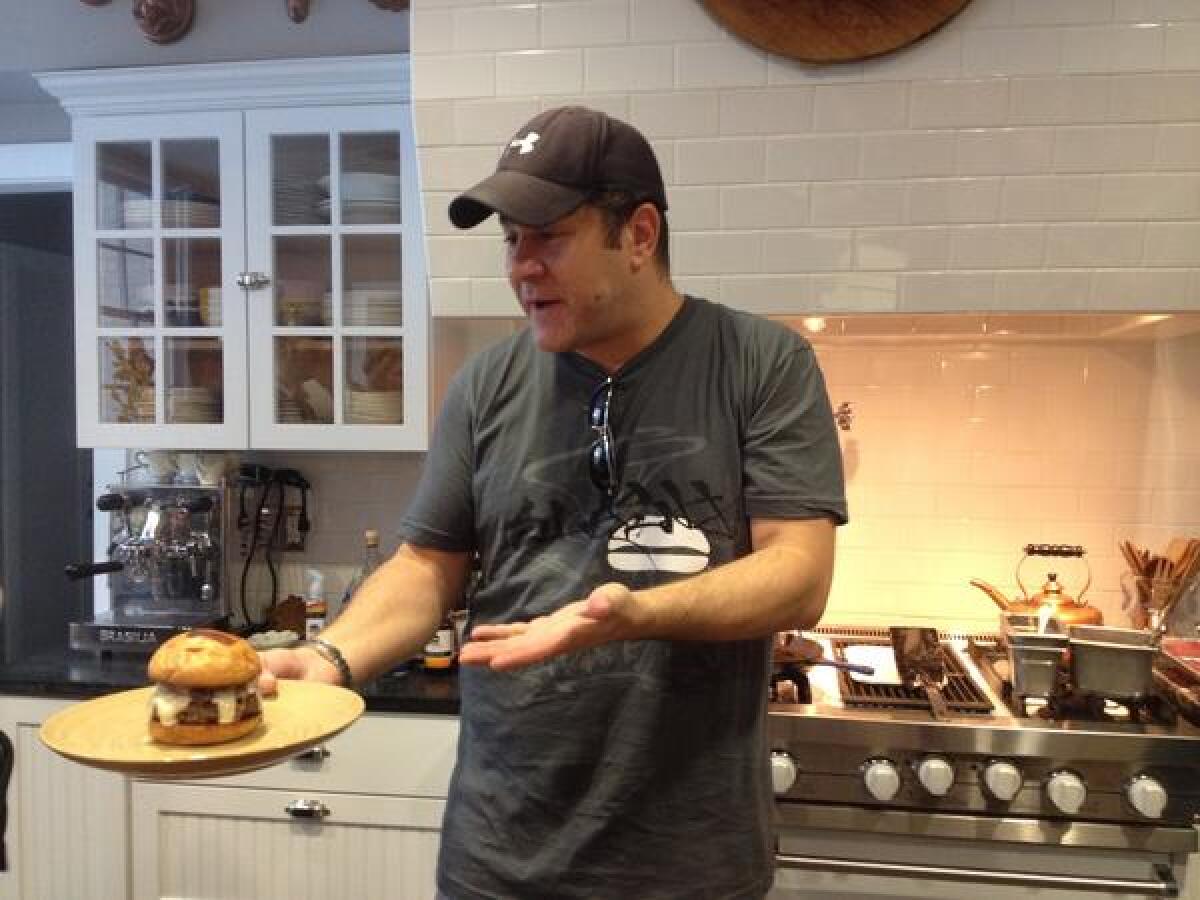 Adam Fleischman's restaurant empire is growing.
The founder of Umami Burger has seen huge success with his burger brand in the four years since he opened its first location on La Brea Avenue.
There are 20 Umami Burgers around California, plus locations in New York and Florida. But Fleischman says he's just getting started.
How big could Umami grow? Fleischman's five-year plan is to open 150 locations worldwide.
The same goes for 800 Degrees, the build-your-own-pizza restaurant concept he helped create. 800 Degrees is in Westwood and at the Tom Bradley International Terminal at LAX, with locations on the way in Santa Monica, downtown L.A. and Las Vegas.
Fleischman has other projects in the works too. Last month, he announced that he would be taking over the former Angeli Caffe space on Melrose Avenue to open Smoke.oil.salt, a Spanish restaurant set to debut in the next few months.
And on Sunday, he opened up his home in the Mid-Wilshire neighborhood to a dozen members of Truffl, a new private members-only club in which he is an investor and strategic partner.
There, in his designer kitchen, Fleischman led a burger-making demo and espoused such cooking wisdom as: Burger buns should feel soft and fluffy "kinda like a baby's bottom" and "treat your burger like your lover" (meaning, don't overly manhandle ground beef when shaping it into a burger patty).
After the demo, Truffl members wandered out to Fleischman's expansive patio and backyard to construct their own custom Umami burgers with toppings including melted truffle cheese, smashed avocado, roasted mushrooms, bacon lardons and port-marinated onions.
Truffl launched six months ago in L.A. and provides small, curated events, typically geared toward food, art and music. There have been about a dozen events so far, including an underground wine dinner, omakase sushi night and electronic music concert.
"No matter what event you pick, it's going to be great. There's no filler events or dud events, it's all good stuff," Fleischman said. "It's not like you're trying to fill this pipeline."
About 1,000 people have signed up for Truffl, which already has a wait list, founder Raphael Farasat said.
Members pay for events on an a la carte basis -- Sunday's Umami event cost $75 -- but Truffl will switch to an annual membership fee sometime next year. Farasat said the annual fee will be tiered and will probably range from $250 to $1,500.
He said Truffl was "taking the time to be deliberative" in who it accepts into the club, and what events are planned. Every application is carefully vetted, with an aim to accept people who are entrepreneurially minded and creative, he said.
"We're not here just trying to be a bunch of rich people slapping hands with each other," Farasat said.
Truffl plans to open in other cities around the U.S., with New York slated to launch next, followed by San Francisco. Events are restricted in size and will generally be about 20 to 25 people.
ALSO:
FDA action would effectively ban trans fats
Some dollar-menu items are passing the buck
Dunkin' Donuts store opens in Barstow; San Diego store coming in 2014
Sign up for the California Politics newsletter to get exclusive analysis from our reporters.
You may occasionally receive promotional content from the Los Angeles Times.