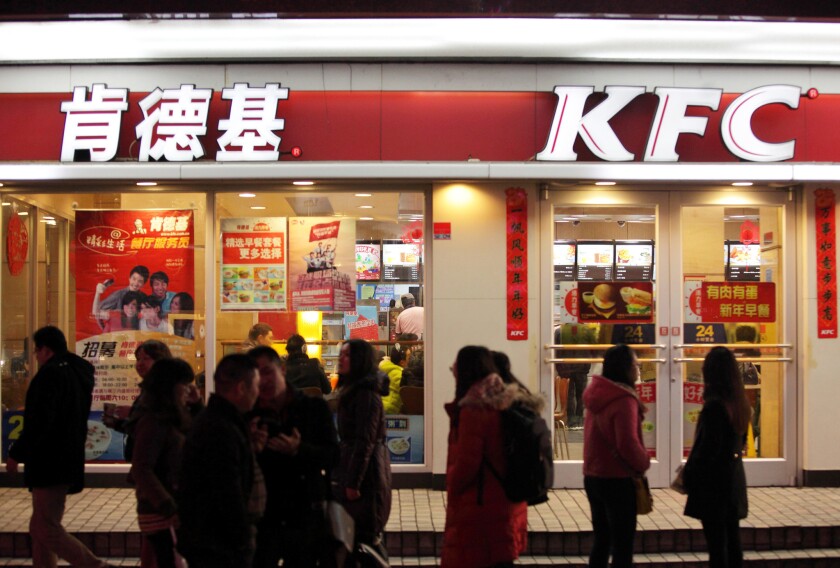 Yum Brands Inc. said is dropping some suppliers of its KFC restaurants in China as it tries to reassure consumers in that country who were scared off by a chicken safety scare last month.
The company on Monday unveiled a new set of quality control guidelines meant to rebuild trust in its brand after KFC's January sales in China plummeted amid reports of excessive levels of antibiotics in the chain's chicken. Yum last year derived 42% of its profit from China.
Now, the chain says it will boost oversight over its supply chain and impose stricter requirements on its poultry producers. The company also slashed more than a thousand smaller producers from its network, saying that those operations were difficult to regulate.
Su Jing Shi, president of Yum's China division, said in a statement that executives "still see some security risks in the chicken supply chain," including the use of outdated equipment.
But KFC intends to run more tests on meat to filter out poultry tainted with banned drugs. Yum, which also owns Taco Bell and Pizza Hut, has more than 4,000 KFC outlets in China.
ALSO:
Ikea Swedish meatballs tainted with horse meat, inspectors say
After KFC chicken scare, Yum plans to 'stay the course in China'
Think that's snapper? Rampant seafood mislabeling in U.S., study says
---